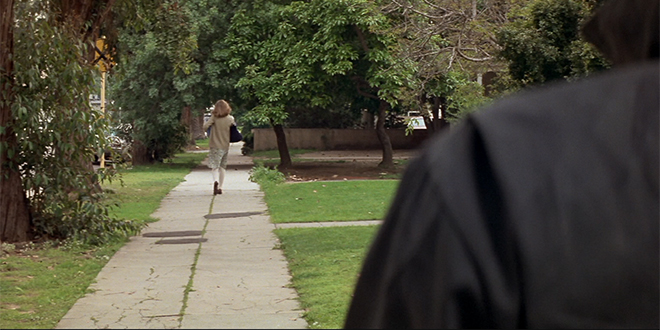 Podcast: Play in new window | Download
Subscribe: Apple Podcasts | Android | Google Play | Stitcher | RSS | More
Compass International Pictures released Halloween to theaters on October 25, 1978. John Carpenter directed the film which starred Donald Pleasence, Jamie Lee Curtis, and Tony Moran.
Halloween Movie Summary
The father of the 80's slasher films, Halloween, is our film this week. The film begins on Halloween 1963 where a 6-year-old Michael Myers kills his older sister with a butcher knife after she has the shortest sexual encounter ever recorded on modern film. The film then jumps to October 30, 1978. Dr. Loomis is in a rush to get to mental hospital to make sure his patient, the now adult Myers known as The Shape in the film, stays committed. Loomis knows that Myers is dangerous. However, Myers orchestrates an escape from the mental hospital and steals Loomis car before driving off. The evil has escaped. Loomis knows that Myers will return home, Haddonfield, Illinois. Which looks remarkably like southern California in October.
The Body, Jamie Lee Curtis plays asexually repressed high school student, Laurie Strode, living in Haddonfield. The film follows studious Laurie as she moves around the town on the day of Halloween. Unfortunately for Laurie, Myers, now wearing a repurposed Captain Kirk mask, begins stalking her. Myers follows Laurie to her school, while she walks around town, and ultimately to her home.
The film then jumps to Halloween night where Laurie babysits two kids so her friends can engage in some premarital sex across the street. However, Myers systematically kills them for not holding traditional family values. Ultimately, the film brings us to the climatic battle between Laurie, Myers, and Loomis. And because all three characters survive into the sequel two years later, we know that we don't come to an ultimate conclusion. Yet. That we had to wait nearly 25 years for.
Disclaimer
This podcast is not endorsed by Starz Home Entertainment, and is intended for entertainment and information purposes only. Halloween, all names and sounds of Halloween characters, and any other Halloween related items are registered trademarks and/or copyrights of Starz Home Entertainment or their respective trademark and/or copyright holders. All original content of this podcast is the intellectual property of Movie House Memories, the MHM Podcast Network, and Fuzzy Bunny Slippers Entertainment LLC. unless otherwise noted.
Affiliate links contained in this post will take you to Amazon.com and/or the iTunes Store. This means when you click a link, and purchase an item, the MHM Podcast Network will receive an affiliate commission. Advertisers and Affiliate Partnerships do not influence our content. See our Terms of Use about the inclusion of affiliate links on this site for more information.