Film and Plot Synopsis
In the latest Halloween, Laurie Strode finds herself in a final confrontation with Michael Myers; the masked murderer who has haunted her since she narrowly escaped his killing spree on Halloween night four decades ago. Thanks to an ignorant doctor who sets Michael free to study a killer in the wild, Haddonfield once again finds itself in terror on the otherwise festive night.
Buy the Film
Halloween (2018) [Blu-ray]
15 new from $18.66
20 used from $6.00
Free shipping
as of May 30, 2023 8:35 pm
*As an Amazon Associate we earn from qualifying purchases.
'Halloween' Movie Summary
The summary below contains spoilers.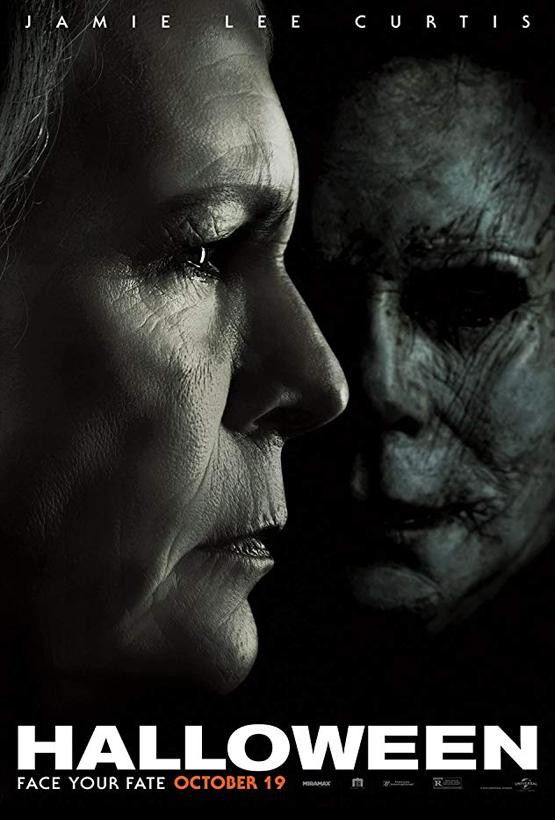 Halloween
begins on October 29, 2018. The infamous serial killer, Michael Myers, has been institutionalized for forty years for his involvement in the "Babysitter Murders" in Haddonfield, Illinois on Halloween night in 1978. True crime podcasters Aaron Korey (
Jefferson Hall
) and Dana Haines (
Rhian Rees
) visit the facility and interview Michael's psychiatrist, Dr. Ranbir Sartain (
Haluk Bilginer
).
They attempt to talk to Michael himself, but the stoic killer does not even acknowledge their presence, even when they show him his infamous mask. The next night, while staff transfers Michael to a different facility, Michael crashes the hospital's bus and makes his escape. After killing a father and son, Michael takes their car and heads to Haddonfield.
In Haddonfield, Aaron and Dana go to interview Laurie Strode (Jamie Lee Curtis), the surviving victim of Michael's rampage from forty years ago. Laurie has become a paranoid recluse, who has built her home in the woods into a well-armed fortress. She reluctantly agrees to talk to the podcasters after they offer to pay her, but she cuts the interview short when they start asking probing questions about her family, including her estrangement from her own daughter whom she lost custody to when she was a child.
Laurie's daughter, Karen (Judy Greer), still does not get along with her mother even though she is now married with her own teenage daughter, Allyson (Andi Matichak). Allyson wishes to have relationship with her grandmother and is frustrated that Laurie doesn't try harder with moving past her fear and pain to get on with her life.
On the day of Halloween, Aaron and Dana visit the gravesite of Michael's sister Judith, whom Michael killed when he was a young boy. Michael watches the podcasters from a distance and then follows them to a gas station. Once there, he kills Aaron, Dana, and the gas station attendants before removing his mask from the trunk of Aaron's car.
Deputy Frank Hawkins (Will Patton), the man who arrested Michael in 1978 before Dr. Loomis (Donald Pleasence) could kill him, is the first one to arrive on the scene of the grisly murders. He tries to convince Sheriff Barker (Omar Dorsey) that it would be best to kill Michael and not try to capture him.
Laurie learns of Michael's escape from the news and attempts to warn Karen and her husband Ray (Toby Huss). However, the couple only see her claims as the paranoid ramblings of a lunatic and dismiss her concerns.
Later that night, Michael goes house to house through Haddonfield and begins killing random people. He acquires a butcher knife at one of the houses and continues looking for new victims. Meanwhile, Allyson leaves a school dance after she gets into a fight with her boyfriend. She leaves with her friend Oscar (Drew Scheid), and walks home along the dark streets of Haddonfield. Michael kills Allyson's best friend Vicky (Virginia Gardner) while she babysits; despite Deputy Hawkins and Laurie showing up at the house before Michael leaves.
Allyson and Oscar encounter Michael while walking home, and Michael kills Oscar. Allyson runs away, eventually the police save her. They place her in Deputy Hawkins' squad car along with Dr. Sartain, who is there to help the police. Hawkins goes to take Allyson to her grandmother's house where Laurie, Karen, and Ray have retreated to for safety.
However, when he sees Michael walking along the road, he runs the killer down with his car. While Hawkins is checking Michael's body for signs of life, Dr. Sartain stabs the deputy, killing him. The doctor reveals that he was the one who orchestrated Michael's escape in order for him to be able to study the killer "in the wild". Dr. Sartain places the unconscious body of Michael into the back of the squad car with Allyson, who is unable to escape since the door's are locked from the outside on police cars.
While driving Michael to Laurie's house so that he may see how Michael interacts with his prior victim, Michael wakes up and kills Sartain. Allyson escapes the car and runs through the woods to her grandmother's house. Once at Laurie's house, Michael kills Ray and the two police officers guarding the house.
Laurie places Karen into a secured basement and then engages in a showdown with Michael. She able to seriously injure Michael by blowing some of his fingers off with a shotgun, but Michael draws blood on Laurie as well by stabbing her in the stomach and throwing her over a balcony. When Michael goes to check on Laurie's body, she has disappeared, much like Michael did in the original film.
Allyson arrives at the house, and calls out for her grandmother. Hearing Allyson, Michael goes after her as she tries to hide in the basement. This gives Karen the opportunity the shoot Michael in the jaw, causing Michael to fall into the basement. Karen and Allyson crawl out of the basement before Michael can get to them.
Laurie shows up again, and activates the safe room aspect of the basement, trapping Michael inside. She then turns on the gas and throws a flare into the basement, setting the room ablaze. With one last look into the basement, she sees Michael simply staring at her while being silhouetted by the flames. The women run out of the house now engulfed in flame. They flag down a passing truck and ask them for help. We see one last shot of the burning basement with Michael nowhere in sight.
Additional Film Information
Rate the Film!
Universal Pictures released Halloween to theaters on October 19, 2018. David Gordon Green directed film starring Jamie Lee Curtis, Judy Greer, and Andi Matichak.