Film and Plot Synopsis
Jim Hardy and Ted Hanover are performance partners together until Ted betrays Jim by stealing his fiancé. Jim runs off to his farm in Connecticut to mend his broken heart and comes up with an idea for a performance venue that will only be open during the holidays. Jim's Holiday Inn is soon open, and Jim's first recruit for the show is the beautiful Linda, a talented singer and dancer who is looking to make it in show business. However, when Ted once again enters Jim's life and wishes to recruit Linda as his new dance partner, Jim begins a tug of war with his old business partner for the affections of Linda.
Buy the Film
Holiday Inn - 4K Ultra HD + Blu-ray + Digital [4K UHD]
9 new from $10.09
4 used from $9.70
Free shipping
as of September 24, 2023 11:45 am
*As an Amazon Associate we earn from qualifying purchases.
'Holiday Inn' Movie Summary
The summary below contains spoilers.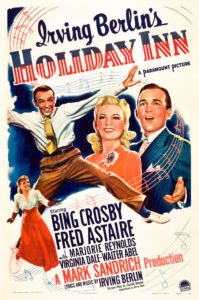 Performers Jim Hardy (
Bing Crosby
), Ted Hanover (
Fred Astaire
), and Lila Dixon (
Virginia Dale
) have a popular musical act in New York City during the 1940's. On Christmas Eve, Jim prepares for his final performance before retiring with Lila to live on a farm in Connecticut. Jim's plans are suddenly pulled out from under him when Lila pronounces her love for Ted and tells him that she is not leaving with him. A heartbroken Jim tells his two former partners goodbye and leaves for Connecticut by himself.
One year later, Jim returns to New York City on Christmas Eve. Jim announces his plans to turn his farm in Connecticut into a "Holiday Inn", an entertainment venue that is only open on the holidays. Ted and his agent Danny Reed (Walter Abel) are amused by the idea, but question whether it will be successful. Danny is approached by an aspiring performer named Linda Mason (Marjorie Reynolds) who is looking to break into show business. Danny refers her to both the Holiday Inn and Ted's club. Once at the club, Linda meets Jim, who pretends to own a rival club. Linda pretends to be a celebrity friend of Ted's but makes a quick exit when Ted and Lila approach.
The next day on Christmas, Linda arrives at the Holiday Inn. She once again encounters Jim and both individuals realize their ruses. Jim invites Linda to be a part of his show and plays her his new song, "White Christmas". A few days later, the Holiday Inn opens on New Year's Eve. The Inn is a success and opens with a packed house. In New York, Ted learns that the fickle Lila is leaving him for a Texas millionaire. Ted drinks heavily and goes to the Holiday Inn at midnight. Once there, he sees Linda. He dances with the young entertainer and receives a round of applause from the crowd for his drunken performance. Danny arrives at the Inn and is ecstatic that Ted has found a new dancing partner. However, in the morning, the hung-over Ted does not remember Linda. Afraid of losing Linda, Jim hides Linda from his former partner.
A few weeks later, on Lincoln's Birthday, Ted and Danny continue their search for Linda. Jim puts on a minstrel show number called "Abraham" and covers Linda in blackface to prevent the two men from finding her. Before the performance, Jim asks Linda to stay with him between holidays, which she interprets as a proposal. Unable to find the mysterious girl, Ted and Danny leave the Holiday Inn with plans to return for the next holiday.
While rehearsing for the Valentine's Day show, Jim performs a new song for Linda called "Be Careful, It's My Heart". Ted arrives during the rehearsal and recognizes Linda from their New Year's Eve dance. He launches into an impromptu dance with Linda. At the conclusion of their dance, Ted demands that Jim prepare them a number to perform.
A couple of weeks later, on Washington's Birthday, Ted and Linda perform in elaborate 18th century costumes. Jim attempts to sabotage their performance by altering the tempo from a minuet to jazz every time they attempt to kiss. Ted asks Linda to become his dance partner, but she rejects his offer, informing him that she and Jim are engaged to be married. Ted asks Jim about the marriage, but Jim plays it off. However, Ted is unconvinced.
At the Easter performance, a full blown romance finally begins to blossom between Jim and Linda. Ted arrives at the Inn. He asks Jim to let him perform in Jim's shows in order to experience the true happiness that Jim and Linda have found. Jim is suspicious of his former partner's motivations, but Linda is glad for Ted's involvement in the shows.
A few months later, Jim debuts his Independence Day show. He overhears Ted and Danny discussing an offer from Hollywood representatives for Ted and Linda. Ted and Danny plan on using the Independence Day show to audition the pair for the movies. Jim pays hired hand Gus (Irving Bacon) to delay Linda's arrival at the show. Gus drives Linda into a creek. Unfortunately, Lila comes along and helps Linda. Having left the millionaire, Lila tells Linda that Lila will be Ted's partner for the studio tryout. Linda assumes that Jim arranged for Lila to replace her, so she directs Lila into the creek. At the Inn, Ted is forced to dance solo. Linda arrives and discovers that Ted has impressed the movie studio heads all by himself. Linda is angry at Jim for not trusting her to make her own choices. She leaves for Hollywood. A once again heartbroken Jim agrees to let the producers make a film about the Holiday Inn.
At Thanksgiving, Jim keeps the Inn closed due to his depression. He prepares to mail a new song to Hollywood although he is not pleased with it. The Inn's housekeeper, Mamie (Louise Beavers), tells Jim that he needs to go to Hollywood and win back the heart of Linda.
Jim leaves the Inn and arrives in California on Christmas Eve. He arrives just as Ted is preparing to marry Linda. Jim confronts his old partner in Ted's dressing room. He locks Ted inside the room and goes in search of Linda. Jim finds Linda on the set of her new movie, a recreation of his Holiday Inn. Jim leaves his pipe on the piano and hides. Linda enters the set and begins performing "White Christmas". Once she notices the pipe, she pauses, but continues singing once Jim begins performing the song with her. Jim reveals himself and Linda rushes to him, causing the director of the film to yell "Cut!"
The film ends on New Year's Eve with Ted reuniting with Lila while Jim and Linda prepare for their life together at the Holiday Inn.
Additional Film Information
Rate the Film!
Paramount Pictures released Holiday Inn on August 4, 1942. Mark Sandrich directed the film starring Bing Crosby, Fred Astaire, and Marjorie Reynolds.