Film and Plot Synopsis
Detective Sherlock Holmes and Dr. John Watson join forces to investigate a mysterious murder at Buckingham Palace. It seems like an open-and-shut case as all signs point to Professor James Moriarty, the criminal mastermind and longtime nemesis of the crime-solving duo. When new twists and clues begin to emerge, the world's greatest sleuth and his trusted assistant must now use their legendary wits and ingenious methods to catch the killer before the Queen becomes the next victim.
Buy the Film
Holmes and Watson [Blu-ray + DVD]
16 new from $2.89
25 used from $1.65
Free shipping
as of September 27, 2023 1:38 pm
*As an Amazon Associate we earn from qualifying purchases.
'Holmes & Watson' Movie Summary
The summary below contains spoilers.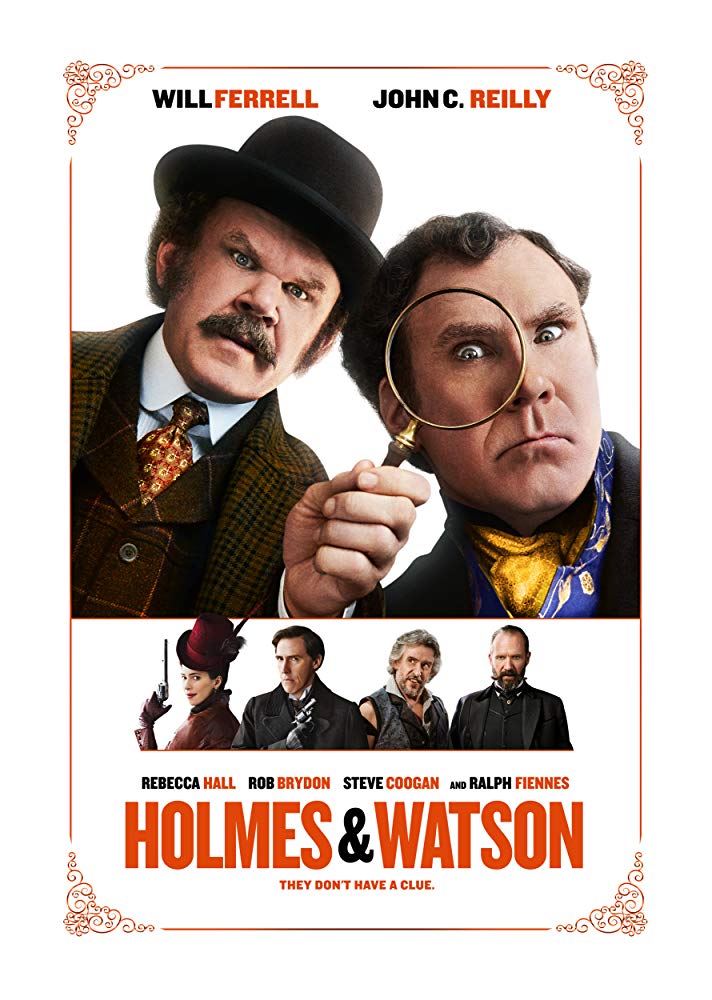 Holmes & Watson
begins with Sherlock Holmes as a young boy. The year is 1867 and his mother is sending him to a boarding school so that he will be less of a peculiar child. However, Holmes is bullied and made fun of by all the other kids in the school. Holmes vows to seal off his emotions and dedicate all his efforts and intellect to enhancing his knowledge to solve crimes. As a result, he is able to have all his classmates expelled for breaking various rules, save one, the caretaker's son John Watson, who he befriends.
Years later, Holmes (Will Ferrell) and the now Dr. Watson (John C. Reilly) are grown men and still friends. Holmes is a renowned detective and Watson is his loyal assistant. The two are to attend the murder trial of Holmes' adversary, Professor James Moriarty (Ralph Fiennes), but are delayed when they receive a package from Moriarty brought to them by their housekeeper, Mrs. Hudson (Kelly Macdonald). The package contains an insect whose bite causes death. Holmes is able to kill the bug before heading to the trial.
At the trial, Holmes reveals that the man on trial is not Moriarty, but is in fact an imposter named Jacob Musgrave. Holmes reveals that Moriarty has fled to the United States beyond the jurisdiction of Scotland Yard. Additionally, he reveals that Musgrave could not have committed the murders due to tremors in his hand caused by constant masturbation. Scotland Yard Inspector Lestrade (Rob Brydon) tries to convince Holmes that he is incorrect but the famous detective dismisses the Inspector's claims. Musgrave is freed.
Shortly thereafter, Holmes and Watson are summoned to Buckingham Palace by Queen Victoria (Pam Ferris). The summons is for an assignment by the Queen, but it is actually a ruse for Holmes' surprise birthday party that the detective figures out. At the party, a dead body is found inside the birthday cake with a message from Moriarty that states that the Queen will die in 4 days. The game is afoot and Holmes and Watson are on the case.
The duo attend an autopsy on the body conducted by Dr. Grace Hart (Rebecca Hall). Dr. Hart is accompanied by her strange feral companion Millie (Lauren Lapkus). Holmes and Watson become enamored with Millie and Dr. Grace Hart, respectively. Dr. Hart and Dr. Watson cannot make a determination as to the cause of death, but Holmes suspects that the victim was poisoned. He tests his theory by poisoning Watson with the suspected poison, although he does provide the antidote to Watson before his friend passes away.
Holmes determines that the poison comes from a one armed tattoo artist named Gustav Klinger (Steve Coogan). Homes and Watson confront Klinger who admits that he committed the murder on Moriarty's orders, but the tattoo artist is killed by Musgrave disguised as Moriarty before he can reveal any additional information.
Temporarily flummoxed, Holmes turns to his equally intelligent brother Mycroft Holmes (Hugh Laurie) for assistance. Using the power of his mind, Mycroft informs Holmes that the murderer is someone close to Holmes. Holmes makes the deduction that the murderer is Watson and has him arrested. However, Holmes soon comes to regret his decision and realizes that he too can make mistakes. Holmes goes to Watson's jail cell to free him, but only finds an empty plate with red velvet cake crumbs. Holmes deduces that the murderer is his housekeeper Mrs. Hudson, who is in fact Moriarty's daughter.
Mrs. Hudson takes Watson to a ceremony on the Titanic to celebrate the ship's completion. Hudson intends to kill the Queen at the ceremony. Holmes arrives and frees Watson, apologizing for his error. The two rush to the ceremony and locate a bomb. Watson throws the bomb out a window which lands on Hudson's boat, killing her and her accomplices.
Holmes and Watson are congratulated by the Queen. However, Holmes tells the Queen that Watson deserves the credit and Holmes makes him a co-detective. Holmes and Watson reunite with Dr. Hart and Millie. Millie reveals to Holmes that her feral personality was an act to manipulate men. Both men share a kiss with their respective lady friend, right before the women board the Titanic for their journey to the United States. Holmes and Watson wave goodbye to the girls as well Billy Zane (Billy Zane).
The film ends with Moriarty in a saloon in the western United States. He receives a telegram warning him that Holmes and Watson have survived and know where he is. Moriarty looks up at the bar where Holmes and Watson are sitting in disguises.
Add the film to your collection today!
Additional Film Information
Rate the Film!
Columbia Pictures released Holmes & Watson on December 25, 2018. Etan Cohen directed the film starring Will Ferrell, John C. Reilly, and Ralph Fiennes.