Summaries
Home Alone 2: Lost in New York (1992)
Film and Plot Synopsis
After spending last Christmas home alone, Kevin McCallister is once again separated from his family right before Christmas. This time Kevin accidentally boards the wrong plane and ends up in New York City while the rest of his family travels to Miami for Christmas. Kevin enjoys the sights and sounds of the holidays in the Big Apple. However, when the Wet Bandits escape from prison and set their sights on robbing a local toy store in New York, Kevin realizes that it is going to be another Christmas in the trenches. Don't get scared!
Buy the Film
Home Alone 2: Lost In New York [Blu-ray]
11 new from $8.99
35 used from $1.89
Free shipping
as of September 26, 2023 9:00 am
*As an Amazon Associate we earn from qualifying purchases.
'Home Alone 2: Lost in New York' Movie Summary
The summary below contains spoilers.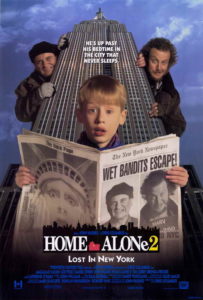 It's Christmas time again and the McCallister family is preparing for another family vacation out of town. This time they are heading to Miami. The extended family once again meets at Peter (
John Heard
) and Kate's (
Catherine O'Hara
) house before leaving. Kevin (Macaulay Culkin) complains that Florida is completely contradictory to Christmas due to its lack of weather and Christmas trees. The night before the trip, the McCallister children perform at a school pageant and Kevin's big brother Buzz (
Devin Ratray
) pulls a prank on Kevin, embarrassing him in front of the entire audience. Kevin reacts by pushing Buzz which results in the entire stage being destroyed. Back at the home, Buzz "fake" apologizes, but Kevin refuses to say sorry. Peter and Kate banish Kevin to the attic again. Kevin tells everyone that he wishes he could go on his own vacation without the family.
The next morning, the entire family once again oversleeps and are forced to rush to make their flight at the O'Hare Airport. In the airport, Kevin loses sight of his family as they all run to the boarding gate. He accidentally follows a different man wearing a similar coat to Peter's and mistakenly boards a plane to New York. Once in New York, Kevin decides to explore the city and visits many of the landmarks around the Big Apple. He encounters a homeless woman (Brenda Fricker) surrounded by pigeons who frightens him. Kevin cons his way into the Plaza Hotel by using his tape recorder and his father's credit card to get his own luxurious suit.
Meanwhile, Harry (Joe Pesci) and Marv (Daniel Stern) escape from prison and make their way to New York. The two inept thieves make plans to build up their fortune and focus their attention on an extremely busy toy store named Duncan's Toy Chest. The two plan to hide in the store until after closing on Christmas Eve and then rob the store of all its money before they can deposit it on the day after Christmas. Coincidentally, Kevin visits the same store on the day of Christmas Eve. Kevin meets Mr. Duncan (Eddie Bracken) himself, who tells Kevin that he donates the store's sales from Christmas Eve to a children's hospital. Kevin makes a donation to the store, and Mr. Duncan gives Kevin a pair of ceramic turtledoves as a gift. Mr. Duncan tells Kevin to give one of the doves to another person as a symbol of eternal friendship.
Harry spots Kevin as he is leaving the store and confronts him on the street. Kevin escapes the thieves' clutches and runs back to the Plaza Hotel. Once there, Kevin is confronted by the concierge (Tim Curry) and the bell hop (Rob Schneider) who inform him that his father's credit card is stolen. Kevin manages to outwit the hotel staff and escapes out the back door of the hotel. Once there, he is captured by a waiting Harry and Marv. The two thieves brag about their plan to kill Kevin and to rob the toy store. Kevin manages to escape again and heads to his uncle's townhouse in New York, not knowing that his uncle is out of town and the building is under renovation.
Meanwhile, Kevin's family learns that Kevin is not with them, once again, when they get to Miami, where it is raining incessantly. They track Peter's credit card to New York before canceling the card. The family immediately flies to New York to find Kevin.
Back in New York, Kevin sets his usual bobby traps throughout his uncle's empty townhouse and then befriends the Pigeon Lady in the park. The Pigeon Lady takes Kevin to Carnegie Hall to listen to Christmas music and she explains how her life collapsed after her lover left her. Kevin encourages her to trust people again, and promises to remain her friend no matter what. Kevin then implements his plan to stop Harry and Marv from robbing the store. He returns to the store front and throws a rock through the front window, setting off the store alarms, just as Harry and Marv break into the cash register.
Harry and Marv begin chasing Kevin through the streets of New York. Kevin leads them back to his uncle's townhouse, where he once again tortures them with his bobby traps. Kevin calls the police and then leads the crooks back to Central Park. However, Kevin slips on some ice and falls, hitting his head. Harry and Marv capture him and prepare to torture him just as the Pigeon Lady shows up and saves Kevin with all of her birds. Kevin sets off some fireworks to signal the police and then heads off to Rockefeller Center to see the Christmas tree.
Back at the toy store, Mr. Duncan finds a note from Kevin explaining the robbery and apologizing for breaking the window. Meanwhile, Kate walks the streets of New York looking for her son when she realizes that Kevin's fondness for Christmas trees and heads to Rockefeller Center. Once there, she and Kevin reunite and forgive each other for their transgressions. Kate takes Kevin back to the Plaza Hotel where the rest of the family is waiting.
The next day, on Christmas, the McCallister family awakes to find the hotel room filled with gifts all courtesy of Mr. Duncan. Kevin reconciles with the rest of his family and then ducks out to see the Pigeon Lady in Central Park. Kevin gives her one half of the turtledoves, solidifying their eternal friendship.
Additional Film Information
Rate the Film!
20th Century Fox released Home Alone 2: Lost in New York on November 20, 1992. Chris Columbus directed the film starring Macaulay Culkin, Joe Pesci, and Daniel Stern.