Film and Plot Synopsis
Claudia Larson is a single mother living in Chicago with her teenage daughter who is suddenly fired from her job two days before Thanksgiving. Unfortunately, she has already planned a trip back to her childhood home in Baltimore to see her family for Thanksgiving, a trip she dreads. At the family homestead, she is forced to deal with her eccentric family including her gay brother Tommy, Tommy's mysterious "friend" Leo, Claudia's conservative and resentful sister Joanne and her family, her demented Aunt Glady, and Claudia's parents Adele and Henry.
Buy the Film
Home for the Holidays (1995) [Blu-ray]
3 new from $12.99
4 used from $13.99
Free shipping
as of September 20, 2023 1:20 am
*As an Amazon Associate we earn from qualifying purchases.
'Home for the Holidays' Movie Summary
The summary below contains spoilers.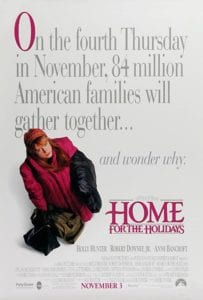 Claudia Larson (
Holly Hunter
) is a single mom living with her teenage daughter Kitt (
Claire Danes
) in Chicago. Right before Thanksgiving, Claudia is informed that she is being laid off from her job as an art restorer due to budget cuts. She responds, bizarrely, by kissing her boss (
Austin Pendleton
) even though she is not attracted to him. Unfortunately, Claudia has already booked a flight to return to her parents' home in Baltimore for the Thanksgiving holiday.
Kitt, who has decided not to go on the trip, informs her mother while dropping her off at the airport that she plans to have sex with her boyfriend for the first time while Claudia away. To make matters worse, Claudia loses her winter coat in the Chicago airport before boarding her plane. Claudia calls her younger brother Tommy (Robert Downey Jr.) from the plane and leaves him a message on his machine that she lost her job, made out with her boss, and Kitt's intentions to become sexually active. She also tells her brother that she misses him.
Once in Baltimore, Claudia is met at the airport by her parents, Henry and Adele (Charles Durning and Anne Bancroft), who drive her back to their home and help her unpack. Claudia tries to hide her termination from her mother, but Adele concludes that Claudia lost her job. That night, Tommy arrives in the middle of the night with a mysterious friend Leo Fish (Dylan McDermott). Claudia believes that Leo is Tommy's new boyfriend, since Tommy is homosexual, but continues to ask Tommy what happen to his husband Jack since Tommy was married previously. Tommy consistently avoids answering the question.
The following day is Thanksgiving and more family members begin to arrive. Tommy and Claudia are sent to pick up Adele's eccentric sister, Aunt Glady (Geraldine Chaplin), who appears to be suffering from dementia. Tommy and Claudia also stop by the store to pick up some last minute items and Claudia runs into a girl she went to school with. Leo arrives and saves Claudia when the old classmate begins to ask embarrassing questions about Claudia's life. Leo proceeds to hit on Claudia, but she continually rejects his advances believing that Leo is with her younger brother.
Back at the Larson house, Claudia's conservative sister Joanne (Cynthia Stevenson) arrives with her husband Walter Wedman (Steve Guttenberg) and their two children. Joanne is resentful that Claudia moved away to start her own life and feels that she was left to take care of her parents in Baltimore. As the family begins to sit down to eat dinner, the tensions in the family begin to reveal themselves. Joanne and Walter insist on eating their own turkey that they brought to dinner. Joanne's daughter Brittany (Emily Ann Lloyd) dances around the room annoying most of the adults.
Aunt Glady professes her love for Henry after having a few glasses of wine. Glady recounts a time where Henry kissed her when he first started dating Adele decades before. Tommy accidentally spills the turkey and its drippings all over Joanne as the siblings argue. Joanne reveals to the family that Tommy got married on a public beach to his husband Jack. Joanne and Walter are embarrassed about Tommy's openly gay relationship, while Adele and Henry are hurt that they weren't told about the marriage. Tommy reveals to the family that Claudia was fired and kissed her boss prior to coming to Baltimore. In the chaos, Adele retreats to a hidden pantry off the kitchen, where Claudia attempts to console her.
After the meal, Kitt calls Claudia to say that she's fine and has decided to not sleep with her boyfriend. After dinner, Henry washes everyone's cars in the driveway. Tommy, Leo, Walter, and Walter Jr. play football on the lawn until Walter becomes frustrated with Tommy and Leo and throws the football at Tommy's GTO. The brothers in law begin to fight, and Leo gets accidentally punched by Tommy while trying to break up the fight. Henry sprays the combatants with the hose to break up the fight, and the Wedmans get into their car and leave suddenly.
The remaining guests return inside and talk for a while. Jack calls on the phone to talk to Tommy, and Henry answers it. Henry tells his new son-in-law that he is happy for them both. Adele asks Claudia and Leo to take Aunt Glady home and then deliver the leftovers to Joanne's family. Once at Joanne's house, Joanne continues the argument with Claudia. Joanne tells Claudia that he she doesn't like her and doesn't really want anything to do with her. Claudia tells her younger sister that they don't need to like each other, that they are family.
On the drive home, Leo tells Claudia that Tommy showed him a picture of her and that is why he came to Thanksgiving dinner, so that he could meet her. Claudia finally understands Leo's true purpose for being at the dinner. Once back at the Larson house, Leo and Claudia talk for a while and they kiss. Tommy, who is sleeping on the floor of the room, makes a groaning noise and breaks the mood. Claudia retreats to her bedroom upstairs and refuses to let Leo in when he knocks on the door.
The next morning, Claudia wakes up and sees Tommy and Leo driving away. She goes downstairs and reminisces with her father. He tells her a story of when she was a girl and she bravely stood on the edge of an airport tarmac as a plane was taking off. A short time later, Adele and Henry take Claudia back to the airport. Before her plane takes off, Leo gets in the seat next to her, and the couple fly back to Chicago together, finally getting the uninterrupted time together to get to know each other.
Additional Film Information
Rate the Film!
Paramount Pictures released Home for the Holidays on November 3, 1995. Jodie Foster directed the film starring Holly Hunter, Anne Bancroft, and Robert Downey Jr.