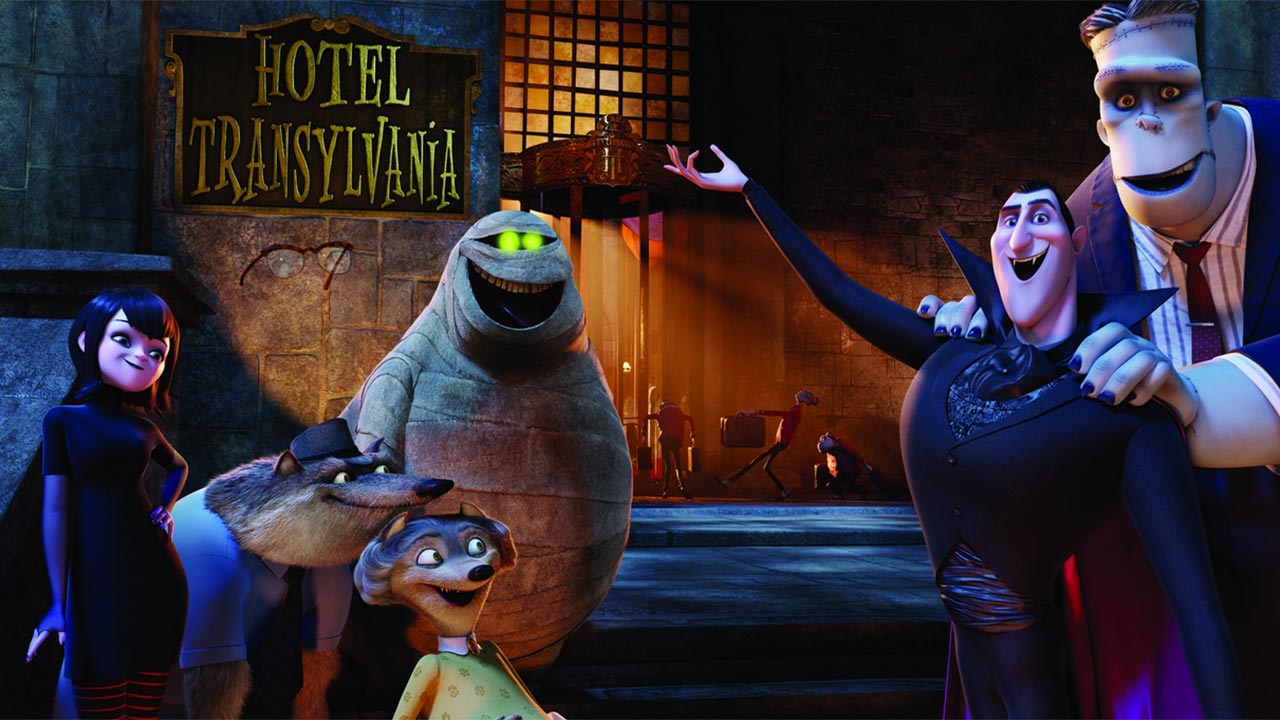 Film and Plot Synopsis
After losing his wife to an angry human mob, Dracula is left to raise his infant daughter Mavis as a single parent. He opens a lavish hotel for monsters only to allow his friends to have a safe place to vacation away from their human tormentors. Years later, Mavis turns 118-years-old and wants to visit the human world for the first-time which Dracula is fearful of. To make matters worse, a young human male Johnny accidentally stumbles into the hotel and falls in love with Mavis. Now, Dracula needs to hide Johnny's identity and possibly break his daughter's heart if he wants to maintain his world.
Buy the Film
Hotel Transylvania (Blu-ray / DVD)
30 new from $5.49
85 used from $1.95
Free shipping
as of October 1, 2022 8:20 am
*As an Amazon Associate we earn from qualifying purchases.
'Hotel Transylvania' Movie Summary
The summary below contains spoilers.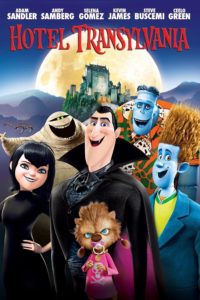 In 1895, Count Dracula (Adam Sandler) is left to raise his baby daughter Mavis (Sadie Sandler) after his wife Martha (Jackie Sandler) is killed by an angry human mob. At the same time, Dracula commissions the construction of a massive 5-star hotel in Transylvania for monsters only. Dracula swears that the hotel will always be a safe haven and a vacation getaway for the world's monsters. At the same time, Dracula works to protect his daughter from the dangers of the human world and encourages Mavis to stay away from any humans.
In the present day, Dracula prepares to throw a party to celebrate Mavis' (Selena Gomez) 118th birthday. Hotel Transylvania is visited by Wayne and Wanda Werewolf (Steve Buscemi and Molly Shannon), Frankenstein (Kevin James) and his wife Eunice (Fran Drescher), Griffin the Invisible Man (David Spade), and Murray the Mummy (CeeLo Green). Mavis reminds Dracula of his promise to let her leave the castle to explore the human world. Dracula shockingly agrees but talks Mavis into visiting a local human town and not Hawaii as she planned. Dracula sets up an elaborate plan to use zombie bellhops disguised as humans to inhabit the fake town to scare Mavis into never visiting the real human world. Dracula's plan works, but the zombies inadvertently lead human Jonathan "Johnny" Loughran (Andy Samberg) back to the hotel.
Dracula immediately realizes that Johnny is a human. To prevent a panic at the hotel, Dracula disguises Jonny as a younger, hipper Frankenstein monster and passes him off as Johnnystein. Johnny bumps into Mavis as he learns that he is in a hotel full of monsters. Johnny and Mavis immediately become attracted to each other. Dracula becomes frustrated by the mutual attraction and is unable to get Johnny out of the hotel without notice. Dracula quickly produces a story that Johnny is a party planner brought in to bring a freshen up the hotel celebrations.
The monster guests all begin to accept and like Johnny which creates a problem for Dracula. Dracula orders Johnny to leave the hotel, but Mavis brings him back. Johnny and Mavis spend some alone time together. Johnny shows Mavis the beauty of a sunrise which inspires her to give humans another chance. Meanwhile, the hotel chef Quasimodo (Jon Lovitz) learns that Johnny is a human being and kidnaps him to cook him. Dracula saves Johnny and magically freezes Quasimodo to keep him from informing everyone of Johnny's true origins.
Look at me, I'm a Frankenhomie! Jonathan "Johnny" Loughran (Andy Samberg)
Dracula hides Johnny in his room and shows the human male a painting of Martha. Johnny realizes Dracula's reasons for building the hotel and becoming overprotective of Mavis. Johnny offers to leave the hotel, but Dracula asks him to stay to avoid ruining Mavis' birthday celebration.
The next night, Mavis' party is an enormous success. Mavis expresses her interest in opening a gift from her mother Martha. During the party, Johnny and Mavis share their first kiss which is seen by Dracula. Dracula overreacts. During his outburst, he reveals that he deceived Mavis with the fake human town. A still-frozen Quasimodo bursts in and Mr. Fly (Chris Parnell) translates his frozen speech which reveals that Johnny is a human disguised by Dracula. All the guests are fearful of Johnny and angered at being deceived by Dracula. Nevertheless, Mavis confesses her desire to stay with Johnny. However, Johnny does not return Mavis' affections out of respect for Dracula and leaves the hotel.
Heartbroken, Mavis flies to the roof of the hotel with her mother's gift. Dracula follows her to make amends to his daughter. Dracula and Mavis learn the present is a book about how Dracula and Martha fell in love. Dracula realizes that he no longer knows humankind's true tolerance of monsters. As everyone prepares to leave the hotel, Dracula apologizes to his guests before heading out to the human world to find and bring back Johnny. He persuades Frank, Wayne, Griffin, and Murray to help him. Wayne's daughter, Winnie (Sadie Sandler), uses her scent-tracking ability to track Johnny to an airport where he is getting on a flight back to the United States.
The monster search party head to the airport, but they are held up in a town celebrating a Monster Festival along the way. The humans in the town celebration admire the monsters and agree to help them. A team of men dressed as vampires provides Dracula with shelter from the sunlight while he rushes to the airport. Dracula arrives at the airport just as Johnny's plane is taking off. He chases the plane in his bat form while burning from his exposure to the sun.
Dracula gets Johnny's attention and then makes his way to the windshield of the plane to use his mind-controlling power on the pilot to help him apologize to Johnny. Dracula conveys that Mavis has grown up and can make her own decisions. Johnny accepts Dracula's apology, and Dracula manipulates the pilot to land the plane at the Transylvanian airport.
Johnny and Dracula return to Hotel Transylvania. He announces to everyone that he approves of Johnny. Johnny apologizes to Mavis and confesses that he is attracted to her as well. The young couple share a kiss and the monsters finish celebrating Mavis' party.
Additional Film Information
Rate the Film!
Sony Pictures Releasing released Hotel Transylvania on September 28, 2012. Genndy Tartakovsky directed the film starring Adam Sandler, Kevin James, and Andy Samberg.