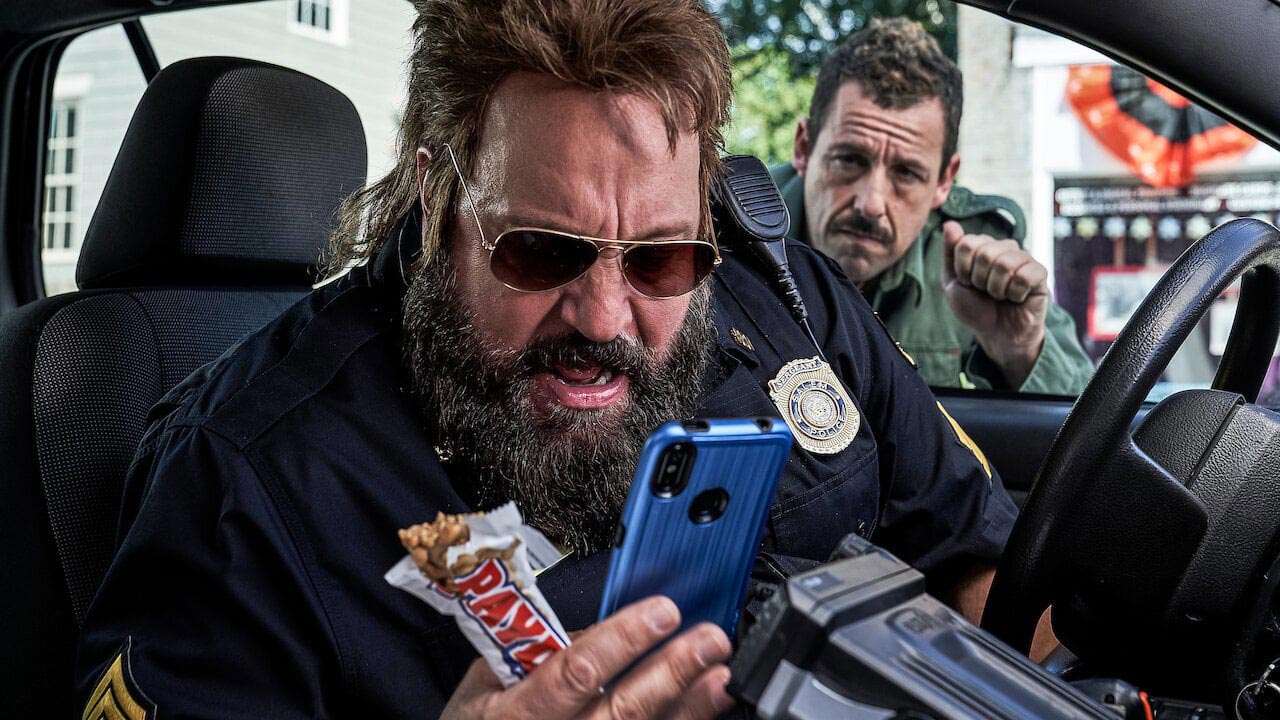 Film and Plot Synopsis
Adam Sandler is back with another bizarre character with a silly voice. In Salem, Massachusetts, Hubie Dubois is the town joke. Hubie is the butt of many practical jokes due to his odd behavior and his obsession with the Halloween holiday. However, when Halloween comes around again and people begin to mysteriously disappear, Hubie takes it upon himself to act as Halloween Monitor and make sure that everyone not only has a good time, but that they come home alive as well.
'Hubie Halloween' Movie Summary
The summary below contains spoilers.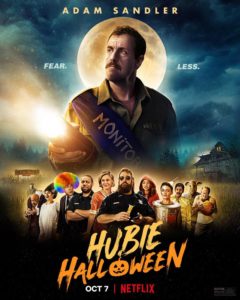 In Salem, Massachusetts, Hubie Dubois (Adam Sandler) is the town joke. Hubie is the butt of many practical jokes due to his odd behavior and his obsession with the Halloween holiday. During Halloween, Hubie monitors the city as the official Halloween Monitor, although no one is ever looking for his help. Hubie also talks funny and carries a multitool thermos with him wherever he goes. Hubie is a constant irritant to police sergeant Steve Downey (Kevin James), his deputy Sergeant Blake (Kenan Thompson), and the local priest Father Dave (Michael Chiklis). One person that Hubie does not annoy is Violet Valentine (Julie Bowen), Downey's ex-wife and Hubie's childhood crush.
A new neighbor moves in next door to Hubie the day before Halloween. The neighbor, Walter Lambert (Steve Buscemi), is friendly, but advises Hubie to ignore any strange noises that he may hear coming from his house. At the same time, news spreads around town that Richie Hartman (Rob Schneider), an infamous convict from Salem and Hubie's childhood best friend, has escaped from a local mental institution while under the supervision of orderly Hal L. (Ben Stiller) and maybe heading towards Salem.
On Halloween, Hubie's yard is decorated to the extreme for Halloween. Hubie's mother (June Squibb) tells Hubie not to allow the other people to pick on him before he sets out on his self-appointed job as Halloween Monitor. Almost immediately, Hubie hears strange noises coming from Walter's house and goes to investigate despite Walter's request not to. He finds Walter acting like an animal and with hair on his arms. Walter immediately runs away, and Hubie begins to suspect that Walter is a werewolf. Hubie attempts to report the incident to Downey and Blake, but they have no interest in Hubie's fantastic story. They do, however, attempt to distract Hubie by asking him to be an AUU (auxiliary undercover unit), a job without any authority. Hubie accepts the position, and Downey believes that it will distract Hubie from annoying him the rest of the night.
Can't believe I don't have a compass on my thermos. Hubie Dubois (Adam Sandler)
Meanwhile, Violet's children are out trick or treating. Her oldest son, Tommy (Noah Schnapp), is a freshman in high school and is trying to be accepted by the cool kids. Tommy has a crush on Megan McNally (Paris Berelc), an upper-class student who works at the local coffee shop. Tommy leaves his foster siblings Sadie and Sunny (Danielle Sandler and Cooky Sandler) at home by themselves so that he can go to a high school party to possibly meet up with Megan. Sadie and Sunny eventually get scared and head out on the streets to find Tommy while their mother is at work at the local diner.
Hubie eventually shows up at the high school Halloween party and tries to break it up due to the danger in the town. The students make fun of him and trick Hubie into going into a corn maze under the guise of looking for a lost child. Hubie's young co-worker at the deli, Mike Mundi (Karan Brar), follows Hubie into the maze in order to scare him. Megan and Tommy follow to help Hubie. While in the maze, Hubie sees Mike pulled into the corn where he mysteriously disappears.
Hubie then goes to the local drive in theater to warn people there about the danger. Two of Hubie's old classmates, Lester Hennessey (Tim Meadows) and Lester's sexually unsatisfied wife Mary (Maya Rudolph), decide to play a prank on Hubie. They trick Hubie into investigating a strange car at the drive in. Lester drives the mysterious car in his headless horseman costume and scares Hubie into running into the woods. A short time later, Lester and Mary are driving home and stop when they see someone in the road. They are both kidnapped by a mysterious individual.
Meanwhile, Hubie encounters Walter in the woods. Walter tells Hubie that he believes he is turning into a werewolf. Walter chases Hubie into a haunted house at a local fun fair. Hubie encounters a dog in the haunted house and believes that Walter has fully transformed. The dog belongs to Chantal Taylor (China Anne McClain), a teenage girl who is being hit on by the much older Pete Landolfa (Ray Liotta), a man who frequently torments Hubie. When Pete learns that Hubie is in the haunted fun house, he goes in to scare the Halloween Monitor. However, Pete is kidnapped in front of Hubie.
As people are disappearing, Downey approaches Mayor Benson (George Wallace) and suggests that they cancel Halloween. The mayor is not pleased with the idea and tells the police sergeant that they will do no such thing. Hubie contacts Downey and tells him that he believes that Walter is the one responsible for the kidnappings. However, Blake informs Hubie that Walter is at the police station with Richie and could not have kidnapped Pete. Walter's true name is Nick Hudson who is Richie's roommate at the mental institution. Richie escaped in order to bring Nick back to the mental hospital. Downey and Father Dave accuse Hubie of being the kidnapper as he is the only one with a motive. Hubie runs away and goes to the local radio station which is broadcasting various Halloween hits.
At the radio station, Hubie encounters DJ Aurora (Shaquille O'Neal) who informs Hubie that someone in town calls into the station more than Hubie requesting a song for Hubie. Hubie suspects that the caller and the kidnapper is Violet. Hubie works with Downey and Blake to set up a sting operation. However, they learn that Violet is not the kidnapper and that she is in love with Hubie. The police track the cell phone to Hubie's house. Concerned for his mother, Hubie rushes home to find all his Halloween decorations destroyed. Hubie learns that his mother is the kidnapper and that she plans to get her revenge on Pete, Mike, and the Hennesseys for tormenting Hubie over the years. Before she can burn them alive, Hubie rescues them using his thermos. Downey, Blake, Nick, and Richie arrive at the Dubois house. Hubie's mother scolds the tied-up bullies for mistreating her son, and they all confess that they are jealous of him in some way. Before Downey can arrest Hubie's mother, she distracts everyone with an old Frankenstein trick and disappears.
One year later, Hubie is married to Violet and is now the new Mayor of Salem. Violet is taking her foster kids and Megan out trick or treating and they are all dressed as people in the film. Hubie once again gets on his bike to do his job as Halloween Monitor and is escorted by Downey in his squad car. This time, however, the town shows respect and gratitude towards Hubie and all the things he has done.
Additional Film Information
Rate the Film!
Netflix released Hubie Halloween on October 7, 2020. Steven Brill directed the film starring Adam Sandler, Kevin James, Julie Bowen