Summaries
Ikiru (1952)
Movie review coming on 2/1/2022
Film and Plot Synopsis
Kanji Watanabe is a civil servant in the Public Works division in a city in Japan. He is a man who has worked tirelessly for thirty years and sometimes at the cost of his relationship with his own family. One day, Kanji discovers that he has stomach cancer and has only six months to live. Initially, Kanji is depressed and tries to drown his pain and sense of emptiness in vices. However, he soon decides to leave something as a meaningful legacy as to what it means to live. Kanji champions a project to build a park in a rundown neighborhood. However, when he encounters the city bureaucracy that he used to be a part of, the question becomes whether he will outlast the bureaucrats in the time he has left.
Buy the Film
Ikiru (the Criterion Collection) [Blu-ray]
8 new from $16.95
5 used from $20.96
Free shipping
as of September 29, 2023 11:43 am
*As an Amazon Associate we earn from qualifying purchases.
'Ikiru' Movie Summary
The summary below contains spoilers.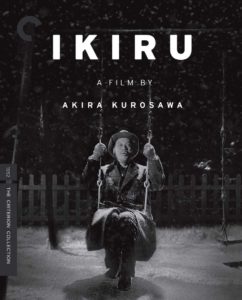 Kanji Watanabe (
Takashi Shimura
) is a lowly public servant who has worked in his bureaucratic position in the Public Works city office for thirty years. Kanji's wife died years before, and he has a strained relationship with his adult son, Mitsuo (
Nobuo Kaneko
). He lives in his home with Mitsuo and his wife, Kazue (
Kyoko Seki
). Mitsuo and Kazue are more concerned about Kanji's retirement bonus and their future inheritance. As he nears his retirement, Kanji begins to have health issues, specifically problems with his stomach. On the day that he is supposed to visit the doctor, a group of women come into his portion of the city office and berate the Public Works section for not helping them with an area of leaking sewage which they wish to have replaced with a park for the neighborhood children. Kanji takes little notice of their plight as the bureaucracy of city government encourages doing nothing.
At the doctor, Kanji encounters another patient in the waiting room that describes the symptoms of stomach cancer. The symptoms match those that Kanji has. The other patient informs Kanji that the doctors don't even tell patients with stomach cancer that they have the disease, they merely misinform them that they have an ulcer. This was the culture in post-World War II Japan. When Kanji sees the doctors (Isao Kimura and Masao Shimizu), they tell him that he has an ulcer, but he can tell that they are lying to him. Kanji estimates that he has no more than six months left to live.
I can't afford to hate people. I don't have that kind of time. Kanji Watanabe
Now facing impending death, Kanji begins to regret some of his decisions in life, specifically with his job and his relationship with his son. Kanji tries to reach out to his son but is unable to tell him about his diagnosis. Kanji begins staying out late at night and stops showing up for work. He takes $50,000 out of his bank account and contemplates suicide. He tries to drink himself to death, but when that fails, he makes a half-hearted attempt to hire a novelist (Yûnosuke Itô) to kill him. He confesses his dilemma to the novelist who refuses to kill him. However, the novelist has sympathy for Kanji and takes him out to experience life. They go to an arcade, another bar, a dance hall, and a strip club. At a nightclub, Kanji requests a song from the piano player, and sings "Gondola no Uta" with a disturbingly sad, otherworldly voice. However, the night out with the novelist does not bring Kanji the enlightenment that he was looking for.
The next morning when Kanji is returning home, he encounters a young female subordinate, Toyo Odagiri (Miki Odagiri) outside his home. Toyo tells him that she has been looking for him so that she can get his signature on her resignation from the Public Works office. Kanji signs her resignation form so that the energetic Toyo can pursue alternative employment. However, he notices her torn and dirty stockings and decides to buy her a new pair. The two spend the rest of the day together, playing in arcades, eating in restaurants, and talking. Kanji takes comfort in watching Toyo's love of life and is drawn to her like a moth to a flame. However, Toyo eventually becomes suspicious of Kanji's intentions, believing that they maybe lecherous. Kanji confesses his medical diagnosis to her and asks her for her secret to her love of life, which the immature Toyo does not have an answer for. Kanji becomes depressed, believing that his life has been meaningless and that there is nothing he can do to redeem it.
Suddenly, Kanji has an epiphany and realizes that it is not late for him to do something significant. He remembers the group of mothers looking to build a park to replace a sewage pond and decides to champion their cause. He returns to work the next day and tasks his subordinates with pushing the project through the city's bureaucracy.
The film then jumps to five months later. Kanji has died from the cancer, and his fellow city workers and his family have gathered for his wake. Reporters appear outside the wake and ask to speak with the Deputy Mayor (Nobuo Nakamura) to confront him about who deserves the credit for the now completed park. The mothers have begun a rumor that Kanji was not given credit for his part in the project and that his death was an act of protest for the oversight. Kanji was found dead in the park, sitting on a swing on a night that it snowed heavily. The Deputy Mayor takes credit for the project and ridicules the allegations, stating that Kanji died from cancer.
The Deputy Mayor returns to the wake and discusses who is most responsible for the park's completion. The Deputy Mayor's subordinates attempt to pat each other on the back for the project while also giving the Deputy Mayor a bulk of the credit. When the mothers ask to join the wake and burn to some incense for the deceased, the bureaucrats are shamed by the mothers' overt expression of love and appreciation and leave, leaving only Kanji's family and his direct subordinates. The group discusses whether Kanji knew about his illness, to which Mitsuo affirmatively denies he did not since his father never told him. Each of the subordinates then recount how determined Kanji was to see the park built. They describe him as being an unmovable object that eventually caused everyone, including the Deputy Mayor, to bend to his will. At the conclusion, they make the determination that Kanji must have known about his illness as it would be the only thing to justify the change of his behavior.
Near the end of the wake, a police officer asks to pay his respects and burn some incense for Kanji. The officer informs everyone that he was the last person to see Kanji alive the night before. The officer asks for forgiveness from the family as he felt he should have done more for Kanji. He describes the public servant as happy, sitting on the swing and singing "Gondola no Uta".
The drunken bureaucrats are shamed by Kanji's unnoticed acts of heroism and vow to live their lives with the same dedication and passion as Kanji did. However, one clerk, Saito (Minosuke Yamada), looks on with skepticism. Soon after, another group of citizens approaches the Public Works desk looking for assistance. The new Section Chief Ōno (Kamatari Fujiwara) tells his subordinate to direct the group to another agency. Saito stands up to protest this action and attempts to remind everyone of their vows to live up to Kanji's legacy. However, when he receives a stern eye from Ōno, even he sits down and silences his own protest. The film ends with Saito visiting the park, the physical manifestation of what Kanji believed meant to live life.
Additional Film Information
Rate the Film!
Toho Pictures released Ikiru on October 9, 1952. Akira Kurosawa directed the film starring Takashi Shimura, Nobuo Kaneko, and Shin'ichi Himor.