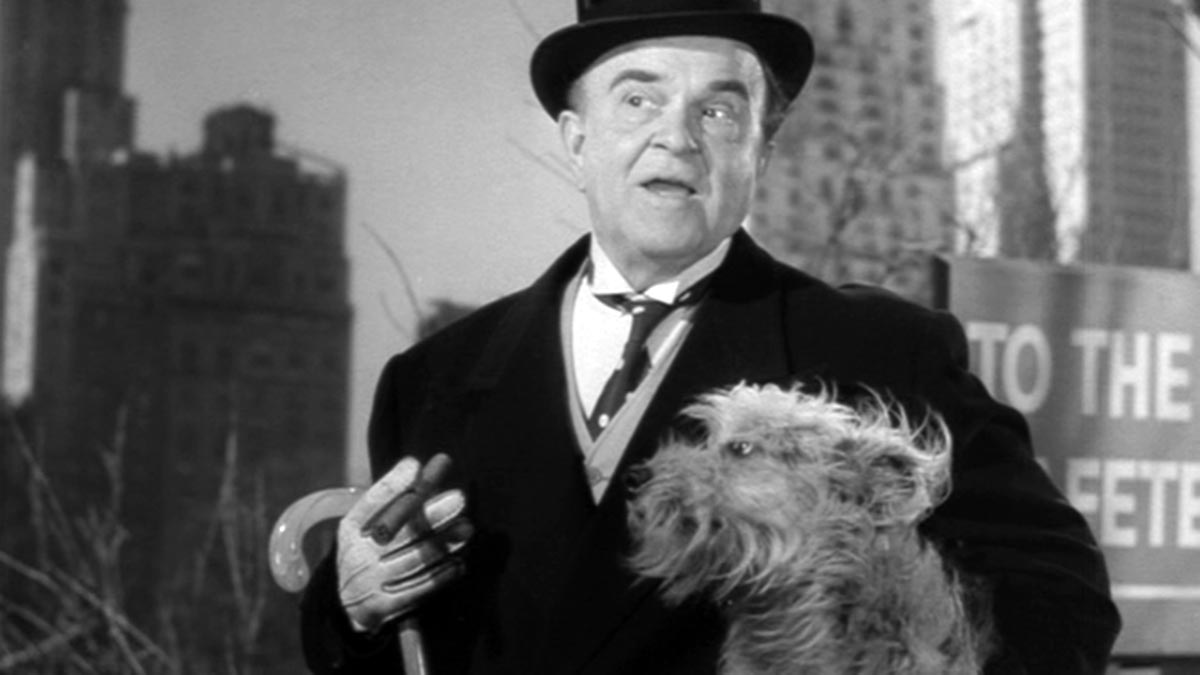 Film and Plot Synopsis
Aloysius T. McKeever, an ultra-friendly homeless man, moves into the mansion of Michael O'Connor as he does every winter when the tycoon vacates the house for the season. However, this year, McKeever begins inviting other homeless people to stay with him in the mansion. Unbeknownst to all, O'Connor's daughter, Trudy, is one of the inhabitants. When her wealthy father comes looking for her, she convinces him to play along with the ruse so that he can meet the man that she loves, ex-G.I. Jim Bullock. However, when O'Connor's business interests come into conflict with the squatters' interests, will O'Connor continue to help the people who call him friend, or will he follow the almighty dollar?
Buy the Film
It Happened on 5th Avenue [Blu-ray]
16 new from $12.53
7 used from $12.79
Free shipping
as of May 22, 2022 10:30 am
*As an Amazon Associate we earn from qualifying purchases.
'It Happened on 5th Avenue' Movie Summary
The summary below contains spoilers.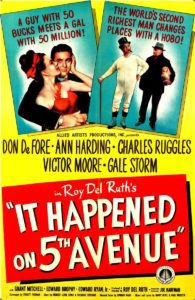 New York City's 5th Avenue is known as one of the richest avenues in the world during the 1940's. The second richest man in the world and industrial wizard Michael O'Connor (
Charles Ruggles
) lives in a lush mansion along the famous avenue, but only for half of the year. From late October to mid-March, O'Connor vacates the mansion and has it boarded up while he lives in his other mansion in Virginia. While O'Connor is away, the homeless Aloysius T. McKeever (
Victor Moore
) moves into the New York mansion with his constant companion dog Sam. McKeever takes special care to make sure that he is not discovered by any security guards and lovingly protects the house from a damage or use by himself or Sam.
Meanwhile, out of work ex-G.I. Jim Bullock (Don DeFore) is evicted from his run-down apartment building by O'Connor's corporation which plans to build new high-rise buildings in its place. Jim is forced to sleep on a park bench in New York until he encounters McKeever and Sam out on a walk in the park. McKeever, dressed in O'Connor's clothes, invites Jim to stay with him at the O'Connor mansion so that he can have some food and remain warm during the cold nights. When the two men return to the mansion, they discover Trudy O'Connor (Gale Storm) in her room packing her things. Trudy is O'Connor's 18-year-old daughter who has runaway from finishing school to pursue a career as a singer. McKeever and Sam believe that Trudy is just a freeloader like them and offer to let her stay if she does not steal anything from the house. Trudy realizes that the men are squatting at her father's house and decides to stay with them, finding herself somewhat attracted to Jim. She goes by the name of Trudy Smith to not reveal her identity.
The next day, Trudy auditions for a job as a singer. She encounters Jim on the street right afterwards and the pair go for a walk and get to know each other better. They encounter some of Jim's old war buddies Whitey (Alan Hale Jr) and Hank (Edward Ryan). Whitey and Hank are looking for a place to live with their families and Trudy and Jim invite them to stay at the O'Connor mansion. Whitey and Hank wholeheartedly agree, but McKeever is reluctant to let them stay, realizing that they are using up much of the O'Connor food with every new mouth in the house. While at the mansion, Jim comes up with an idea to convert unused, post-war Army barracks into much-needed housing. With the assistance of Whitey and Hank, they even design a layout and start to organize some initial capital for the idea. They plan to bid on an abandoned barracks outside of the city.
A few days later, O'Connor returns to New York to look for Trudy. He finds her on the street and confronts her about running away. Trudy tells her father that she does not wish to return to finishing school, and that she is in love with Jim. She confesses to her father that she has not told Jim who she is because she wants him to love her for herself, not her family's wealth. Trudy convinces her father to pretend to be a homeless man named Mike so that he can stay with Trudy and Jim and get to know him. Once again, McKeever reluctantly agrees to take in another resident and due to Mike's somewhat harsh disposition, McKeever treats Mike like a servant. O'Connor reaches his boiling point quickly when he sees how everyone is squatting in his mansion and informs Trudy that she has 24 hours to get everyone out of his house or he will have them arrested. Trudy calls on her mother Mary (Ann Harding) in Florida to help with her father. O'Connor and Mary have been divorced for years due to O'Connor's obsession with money. However, the couple still love each other deeply.
Mary and Trudy formulate a plan for Mary to act as a homeless woman who will cook for everyone in the house. Once Mary is present in the house, she tempers O'Connor's anger and convinces him not to call the police. As the days go by, McKeever senses that Mary and O'Connor have feelings for each other and he tries to nudge them together, unaware of their prior marriage. Eventually, O'Connor confesses his continuing love for Mary and proposes, which she accepts. However, O'Connor still tries to interfere with his daughter's relationship and tries to get Jim out of the picture. When O'Connor discovers that Jim is going to propose his barracks plan to a construction company subsidiary of his business, he has his minions torpedo the proposal. However, he does have them offer a lucrative job to Jim in Bolivia with the condition that Jim remains a single man. To O'Connor's surprise, Jim does not jump at the job.
Eventually, Jim and his partners raise money from hundreds of other ex-G.I.'s in similar predicaments as them. They bid on the barracks, not realizing that they are bidding against O'Connor who wishes to build more high-rise buildings on the land. O'Connor is also unaware of who his competitors are and continues to increase his bids. Eventually, O'Connor's offer is accepted.
On Christmas Eve, the residents all celebrate the holiday together. They are caught by two security guards, Cecil and Brady (Edward Brophy and Arthur Hohl), in the house. The guards are overwhelmed by the group's generosity of spirit towards each other and allow the squatters to stay…if they do not break anything, and they are out of the house by the New Year. McKeever's group agrees to their terms. Shortly afterwards, Jim reveals that the camp has been sold to O'Connor. Even worse, he reveals that he is taking the job in Bolivia. The revelation causes Trudy to break up with Jim since she does not want to live apart from him for a year. Mary suspects that O'Connor of trying to sabotage Trudy's relationship and that he is still obsessed with money. Mary tells him that she and Trudy will leave for Florida the next morning without him.
Ashamed, O'Connor arranges a meeting between Jim and his partners with the evil "O'Connor" at the tycoon's office. Jim is skeptical of the meeting but goes anyways. At the meeting, O'Connor reveals his identity to Jim and his partners. He also transfers ownership of the camp to them with the one provision that they do not reveal his identity to McKeever.
A few nights later, everyone shares one last meal together on New Year's Eve. McKeever tells everyone that they must restore the mansion to its original condition the next day and honor their promise to the security guards to vacate right after the new year. The next afternoon, Mike, Mary, Trudy, and Jim say farewell to McKeever who heads off to O'Connor's estate in Virginia, still unaware of O'Connor's identity. As they watch the homeless man walk away, O'Connor tells Mary to remind him to nail up the board in the back fence through which McKeever entered the property, intending to have McKeever come through the front door the next winter.
Additional Film Information
Rate the Film!
Allied Artists released It Happened on 5th Avenue on April 19, 1947. Roy Del Ruth directed the film starring Don DeFore, Ann Harding, and Charles Ruggles.