Film and Plot Synopsis
In the Jay and Silent Bob Reboot, Jay and Silent Bob return to Hollywood to stop a reboot of the Bluntman and Chronic movie from getting made. Lots of celebrity cameos abound.
Buy the Film
Jay And Silent Bob Reboot [Blu-ray]
14 new from $7.35
19 used from $3.36
Free shipping
as of May 1, 2023 1:17 pm
*As an Amazon Associate we earn from qualifying purchases.
'Jay and Silent Bob Reboot' Movie Summary
The summary below contains spoilers.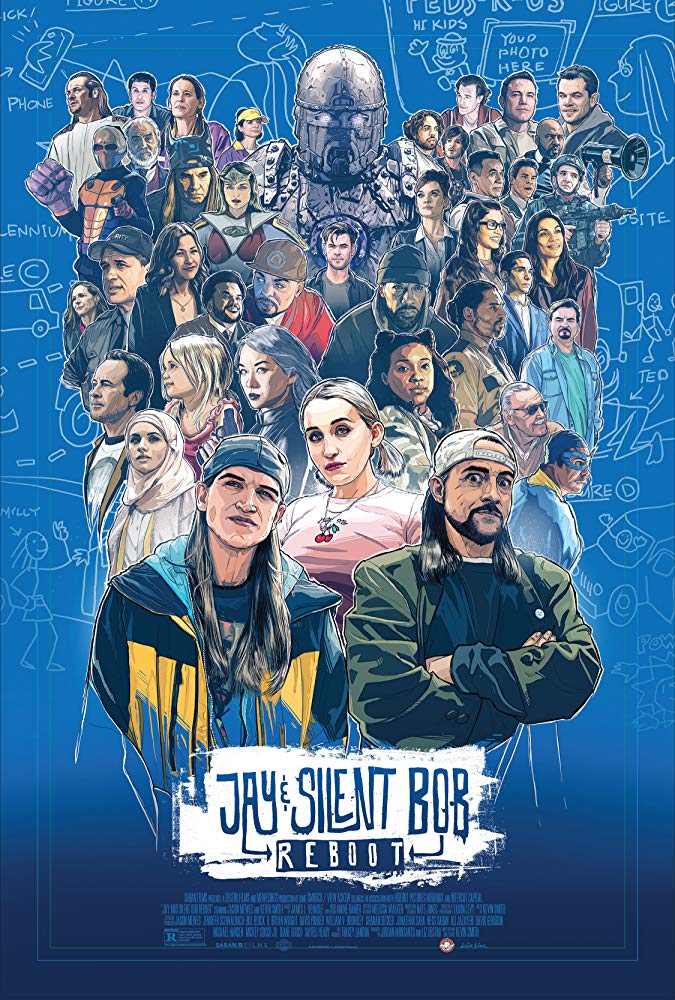 Jay and Silent Bob Reboot
begins when the Leonardo Police Department conduct a raid on the new business in the old RST Video Store location in Leonardo. The chicken sandwich restaurant, Cock Smokers, is a front for Jay and Silent Bob's (
Jason Mewes
and
Kevin Smith
) marijuana sales business. The cops arrest the two dimwitted drug dealers, and the boys find themselves in court for the charges.
A slick Hollywood attorney (Justin Long) agrees to represent them after they sign a contract with him, and he gets the judge (Craig Robinson) to dismiss the criminal charges. The Hollywood attorney then jumps across the aisle in opposition to Jay and Silent Bob. He then asks the Court to place an injunction against the duo for using the now trademarked monikers of Jay and Silent Bob.
It appears Saban Films has bought the rights to the Bluntman and Chronic characters and want Jay and Silent Bob to stop using their trademarks as they are the aliases to the comic book characters. Unbeknownst to them, Jay and Bob had just agreed to the terms in the contract they had just signed.
Angered, Jay and Silent Bob go to visit Brodie Bruce (Jason Lee) at his comic shop in the mall. Brodie informs them that Saban Films is making a reboot to crappy Bluntman and Chronic film that the drug dealing duo tried to prevent from being made in 2001's Jay and Silent Bob Strike Back. The new film, entitled Bluntman v Chronic, will now feature a woman (Melissa Benoist) playing Chronic.
Even worse, the infamous podcasting hack, Kevin Smith, will direct the film. Brodie informs them that the film is nearly done, but there is still one large action scene to be filmed in Hollywood in three days at this year's annual fan convention, Chronic-Con. Jay and Silent Bob vow to stop the film's production and regain the rights to their names. They head off to the airport, but quickly discover that they are on the "no-fly" list due to their previous involvement in the terrorist organization, the Clit. They steal a credit card number and hire a car from Ride Me Now to drive them to California.
The pair stop in Chicago for lunch at a Mooby's, and Jay notices that his former girlfriend, Justice (Shannon Elizabeth), is the local weather girl on television. With their Ride Me Now driver (Fred Armisen) arrested for drug possession, Jay decides that they need to stop and see Justice.
At Justice's house, Jay learns that not only is his old girlfriend now married to a woman named Reggie (Rosario Dawson), but that she has an eighteen-year-old daughter named Millennium Faulken (Harley Quinn Smith) who is in fact Jay's daughter.
Justice begs Jay not to reveal to Milly that he is her father, but then proceeds to leave on a trip with Reggie. Milly overhears that Jay and Silent Bob are heading to Chronic-Con and proceeds to threaten them in to taking her and her best friend Soapy (Treshelle Edmond), a deaf girl who communicates in sign language.
The foursome take another ride share, and Milly proceeds to drug Jay and Silent Bob unconscious with some very strong edibles. Jay and Silent Bob wake up on a highway near New Orleans, where they meet Milly's two other friends, Jihad (Aparna Brielle) and Shan Yu (Alice Wen). Milly tells them that they want to visit Chronic-Con because Shan Yu, an immigrant from China, is a huge fan of the original Bluntman and Chronic film. It's her dream to attend the convention before she must return to China.
The six travelers steal a van from a pedophile dressed as Captain Chaos from Cannonball Run and begin heading to Hollywood. Along the way, Milly reveals that she and her friends all suffer from not knowing their fathers as children.
When the group stops at another Mooby's for food, the teenage girls abandon Jay and Silent Bob. The boys steal a car and track the girls to a rock quarry where the Ku Klux Klan are holding the girls. The group plans to kill the girls until Silent Bob infiltrates them, and starts dropping lines from Glengarry Glen Ross to confuse them while Jay frees the girls. Once they make their escape from the Klan, the group heads to Hollywood again. Upon arrival, they all try to sneak in with ulterior motives; Jay and Silent Bob to stop the film and the girls to be in it.
Jay and Silent Bob encounter a militaristic security guard who begins chasing them around the convention, from panel to panel. The duo hide in an empty panel room where they run into their old friend Holden McNeil (Ben Affleck), one of the creators of Bluntman and Chronic.
Holden informs him that he has just finished recording a podcast with Alyssa Jones (Joey Lauren Adams). She's adapting his Chasing Amy comic into a Netflix original series, and the two have maintained a  close, platonic relationship over the years. He even donated his sperm so that he, Alyssa and Alyssa's wife (Virginia Smith) could have a child together, whom he co-parents.
Holden and Alyssa introduce Jay and Silent Bob to their daughter Amy (Logan Lee Mewes). He now spends his life literally chasing Amy, but that's okay. Being a parent has changed him for the better. Where he once saw himself as the star of his life, he is now willing to merely be the stage for his daughter. He muses that children are the simply the reboot of their parents, and as in all reboots, everyone just hopes that it is better than the original.
Holden's speech inspires Jay to be a better father. He goes to find the girls with the final gift from Holden, VIP badges that gets them into to see Kevin Smith. Once inside the convention hall, Milly notices that Silent Bob resembles Kevin Smith, and she and Bob sneak back stage to take Kevin's place. They sneak on stage as "Kevin Smith" and his assistant to ensure that Shan Yu makes it into the film.
However, Shan Yu reveals herself to be a Russian spy, bent on destroying American pop culture conventions. She throws Silent Bob out of the convention hall and threatens to kill Jay. Thinking he is near death, Jay reveals that he is Milly's father. Silent Bob reenters the convention hall in a suit of armor from a nearby scrap yard and with the assistance of all the Chronic-Con fans present, begins fighting Shan Yu and her henchmen. Ultimately, they are victorious.
Once back in Leonardo, Jay shows Milly the Quick Stop that he has spent most of his life hanging outside in front of. Silent Bob brings them all coffee and Jay begins telling Milly of all the duo's adventures. As the camera pans out, Dante Hicks (Brian O'Halloran) shows up to open the Quick Stop and complains that someone once again has put gum into the locks of the steal shutters.
In the post-credits scene, Jay tells Milly that they have been the one putting gum into the locks of the shutters for the last twenty-five years.
The film also features cameos from Matt Damon, Chris Jericho, Val Kilmer, Tommy Chong, Molly Shannon, Ralph Garman, Adam Brody, Dan Fogler, Method Man, Redman, Chris Hemsworth, Joe Manganiello, and the Comic Book Men.
Add the film to your collection today!
Additional Film Information
Rate the Film!
Saban Films released Jay and Silent Bob Reboot on November 29, 2019. Kevin Smith directed the film starring Jason Mewes, Kevin Smith, and Harley Quinn Smith.