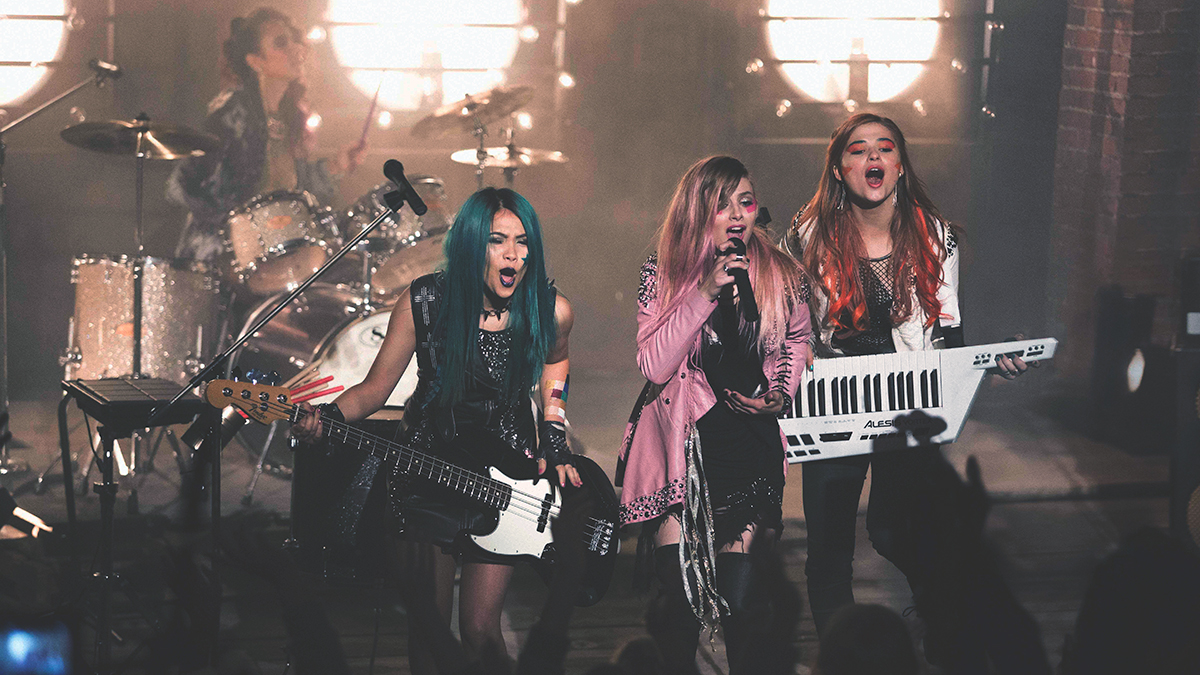 Film and Plot Synopsis
Out in small-town America, a small-town girl named Jerrica lives a boring small-town life…that is until her music inspires her to take on a super secret identity. She transforms herself into Jem; a bold, stunning, and absolutely fearless global superstar! However, when it looks like she's losing touch with what really matters in life, Jerrica and her band of sisters begin a one-in-a-million journey to superstardom. Along the way, they discover that some talents are too special to keep in a small town.
Buy the Film
Jem and the Holograms [Blu-ray]
9 new from $5.99
17 used from $2.47
Free shipping
as of December 1, 2022 4:52 am
*As an Amazon Associate we earn from qualifying purchases.
'Jem and the Holograms' Movie Summary
The summary below contains spoilers.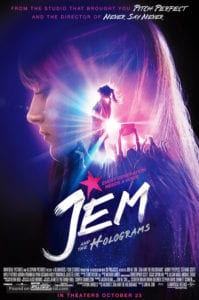 In 2015's much maligned
Jem and the Holograms
, we find our shero, orphaned eighteen year old Jessica Benton, living with her aunt Bailey, her sister Kimber and her two foster sisters. Bailey is struggling financially, and their house is about to get repo'd.
The ever so shy, ultra-talented Jerrica dons a disguise and, using the nickname her late father gave her, pours her heart out in a song recorded on Kimber's video camera. Kimber, being the social media savvy one of the group, finds the video and uploads it to YouTube where it goes viral.
The newly minted "Jem" is suddenly and quite reluctantly in the limelight. Enter our villain—Erica Raymond, head of Starlight Productions, a record label attempting to sign Jem to a solo contract. Jem refuses to leave her sisters behind and they travel to Hollywood to debut as a band with Jem in the lead.
Jem decides to bring a robot her dad left her along for the trip back to LA. 51N3RG (pronounced Synergy) was her dad's "greatest creation," but, it turns out, is also the key to a treasure hunt that will help Jem figure out her true destiny.
While the girls are being made over by imaging consultants, they are placed in the care of Erica's son Rio. Part chaperone, part heartthrob and part band member, Rio quickly becomes one of the group. Soon the band is working hard and playing sold out crowds while running around LA solving Synergy's clues.
Meanwhile, Erica decides to use the pending foreclosure to force Jem to sign a solo contract and leave her sisters behind. Jem decides it's her only choice, but can't bear to tell her sisters. They find out, though, and are predictably angry. A split ensues.
Happily, love conquers all, and the band gets back together and hatches a plot to stop Erica and get back the last clue—a pair of earrings Jem's dad gave her as a gift, but that Erica had arrested for crimes against fashion.
The girls and Rio break into Starlight and steal back the earrings along with a copy of Rio's dad's will. It turns out he should be in charge of the company and Erica is out. The band gets to stay together and, ta da, the hero and shero are a match made in heaven. Phew.
It's a good thing Erica isn't plotting revenge.
Additional Film Information
Rate the Film!
Universal Pictures released Jem and the Holograms on October 23, 2015. Jon M. Chu directed the film starring Aubrey Peeples, Stefanie Scott, and Aurora Perrineau.