Summaries
Johnny Be Good (1988)
Movie review coming on 2/19/2024
Film and Plot Synopsis
Johnny Walker is one of the top high school quarterbacks in the country. College recruiters and under the table sports agents are constantly pursuing him, begging the teenager to sign a letter of intent with their program. However, Johnny is unsure where he wants to go, or even to an extent, who he wants to be. With pressure from all sides, including from his friends, girlfriend, and family, Johnny has to figure where is the best place for him to play ball without selling out and giving in to the nefarious recruiting practices of college sports.
Buy the Film
Johnny Be Good [Blu-ray]
7 new from $19.84
4 used from $16.48
Free shipping
as of September 24, 2023 11:20 pm
*As an Amazon Associate we earn from qualifying purchases.
'Johnny Be Good' Movie Summary
The summary below contains spoilers.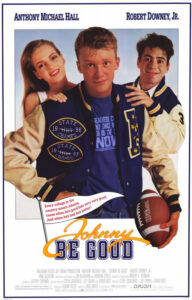 In the late 1980's, Johnny Walker (Anthony Michael Hall) is the star quarterback for Ashcroft High School. Recruits from across the nation are desperate to have Johnny sign a letter of intent at each of their colleges. Johnny's best friend, Leo Wiggins (Robert Downey Jr.), is the exact opposite of Johnny, a talentless back up quarterback who will probably go nowhere unless he rides the coattails of Johnny. Leo wants Johnny to hold out for the best offer, and by offer he means the college that offers the most bribery money to Leo. Georgia Elkans (Uma Thurman) is Johnny's girlfriend who consistently encourages Johnny to sign with State University so that he can receive a good education and attend college with her at the same time.
Unfortunately, the college recruiters are ruthless and obsessive in their quest to sign Johnny. They will employ whatever means necessary to get him. Tex Wade (Michael Greene), a dean from Ol' Tex University, places an order with Johnny's grandpa (George Hall) for thousands of useless fishing lures in the hopes of getting Johnny's family to convince Johnny to sign with Ol' Tex. Another recruiter buys Leo a car in the hopes that Leo will convince Johnny to go to UCC in California. Johnny's high school football coach, Wayne Hisler (Paul Gleason), even arranges a deal with another college, Piermont, that if he can get Johnny to sign with the college, they will make him the new head football coach of the program. Hisler boasts that Johnny thinks of him as a father, but in reality, Johnny hates Hisler.
However, Johnny is unsure of where he wants to go. The overwhelming temptations of girls, money, drugs, and fame cloud Johnny's judgment. Johnny wants to go to State with Georgia, but the head of the football program, Coach Ned Sanders (Steve James), refuses to offer Johnny anything but the opportunity to receive a good education and the privilege of playing for a legitimate college football program. Coach Sanders warns Johnny about the other programs and the temptations that they will thrust upon them. Sanders tells Johnny that they only take players of the highest character at State and that is why he will not bribe Johnny to come play football for them.
Not long after, Johnny makes a couple of recruiting trips to Texas and California. In Texas, Johnny visits the campus of Ol' Tex and meets some of the other top recruits from around the nation. He is also very nearly seduced by the dean's wife (Lucianne Buchanan) in the middle of the stadium before coming to his senses. While in California, Johnny visits the UCC campus and meets football great Jim McMahon who encourages Johnny to sign with his alma matter, which in reality was Brigham Young University. At each stop, Johnny is provided small, somewhat inconsequential gifts, which are still violations of NCAA recruiting rules. Unbeknownst to Johnny, he is being followed by a NCAA recruitment investigator Floyd Gondole (Robert Downey Sr.) who documents everything that he sees.
When Johnny returns home, he is met with displeasure by his friends and family. Johnny returns to his home dressed in a gaudy outfit, and his mother (Deborah May) tries to remind him not to forget who he really is. Georgia initially breaks up with him after she suspects that he is has been unfaithful, which pleases her police chief father, Chief Elkans (Marshall Bell). However, Johnny repairs their relationship in short order by sneaking into her bedroom at night and apologizing. At the same time, Coach Hisler begins threatening Johnny to sign with Piermont. Hisler's threats result in Johnny and Leo playing a series of practical jokes on their former coach.
A short time later, Johnny and Leo inconveniently find themselves in a motel room with three random girls. When Chief Elkans shows up to the hotel to conduct a raid on the room, the three girls rip off their tops and begin screaming rape despite the fact that Johnny had never even touched any of the girls. Once Johnny and Leo are in a jail cell, Johnny learns that Leo was involved in the set up with the girls, but he quickly forgives his best friend for his transgressions. Coach Hisler shows up at the jail and informs Johnny that the only way he and Leo can avoid prison is for Johnny to sign a letter of intent with Piermont. Left with almost no other choice, Johnny agrees to Coach Hisler's deal to avoid an unjust prison sentence for a sex offense.
A couple of days later, a massive press conference is scheduled at Johnny's high school for the purpose of Signing Day. At the event, Coach Hisler announces that the other top four prospects that Johnny met at Ol' Tex are joining Johnny and Coach Hisler in Piermont. When Johnny finally gets a chance to speak, he apologizes to the crowd for the embarrassment and shame that he has put on his family, friends, and himself during the recruitment process. He concludes his speech by stating that he would rather not play football at all than to be treated special and informs the crowd that he is signing with no college. Johnny's speech is met with the approval of his family and Georgia. With Johnny rescinding his agreement to play at Piermont, all hell breaks loose in the auditorium. The other four top recruits withdraw their agreements to attend Piermont, and Coach Hisler threatens Johnny again.
Suddenly, Floyd takes the stage and grabs the microphone. He announces that he has been conducting an investigation into the recruitment of Johnny. He declares that Ol' Tex, UCC, Piermont, and Coach Hisler are all under investigation for recruitment violations. He even reveals that Hisler framed Johnny and Leo for the bogus rape charges. The other school recruiters and sports agents begin a mad scramble to sign Johnny and ultimately get into a melee with steel chairs being thrown about. Johnny pays no attention and walks off with Leo and Georgia.
Not long after, Johnny revisits Coach Sanders at State University. Coach Sanders compliments Johnny on his speech and comments that it is reflective of the character that they like to see in their players at State. Johnny asks Coach Sanders if he can play for him, and Sanders accepts Johnny and offers him a scholarship. Johnny tells his future coach that he just wants a good education and a chance to play football for a little while longer. After signing with State, Johnny drives off with Georgia and Leo.
During the closing credits, Johnny is seen playing his drum kit while he watches footage of all the people who were caught in the recruiting scandal, the highlight of which is Coach Hisler who ends up in a prison that he threatened to send Johnny to.
Rate the Film!
Orion Pictures released Johnny Be Good on March 25, 1988. Bud S. Smith directed the film starring Anthony Michael Hall, Robert Downey Jr., and Paul Gleason.