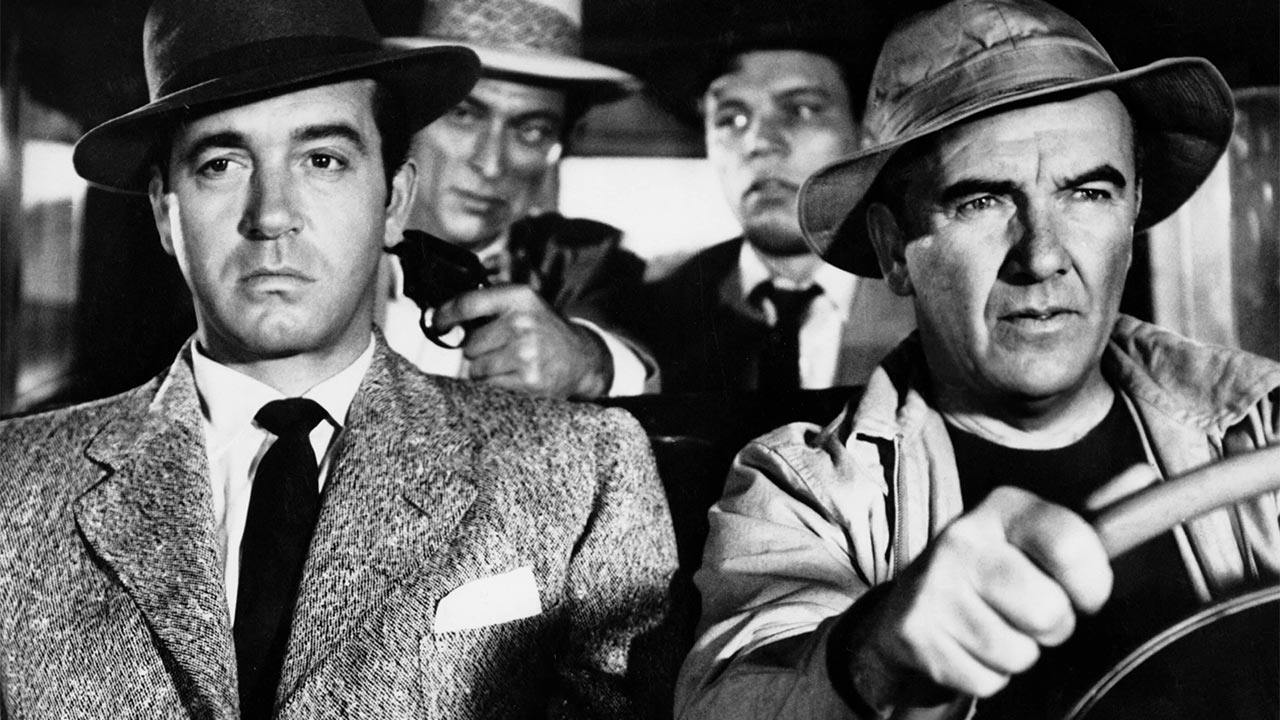 Summaries
Kansas City Confidential (1952)
Movie review coming soon!
Film and Plot Synopsis
A mysterious man named Mr. Big hires some small-time crooks named Peter Harris, Boyd Kane, and Tony Romano for a planned bank heist. This plan includes using an innocent delivery truck driver named Joe Rolfe as a police distraction. The robbery goes off without a hitch and the police nab poor Joe as a participant in the crime. While they suspect he's part of the gang due to his previous, unrelated time behind bars, the cops find they have nothing to hold Joe on and they release him.
However, the damage to his reputation is done. Now, Joe wants answers, revenge, and his fair share of the bank money. Acting on a tip from a buddy, Joe tracks Peter down in Tijuana which leads him to Barados. Posing as Peter, Joe confronts Kane and Romano. However, Mr Big is onto Joe's deception, all-the-while planning his own double cross on the trio. Since he knows the bank money is marked and therefore unusable, Mr. Big plans on setting up the three men in a police sting so that he can collect 25% of the $300,000 in reward money the insurance company is offering in return for the stolen bank money.
Buy the Film
Kansas City Confidential Blu-Ray + DVD Combo Pack
8 new from $7.99
6 used from $7.49
Free shipping
as of July 17, 2022 10:27 pm
*As an Amazon Associate we earn from qualifying purchases.
'Kansas City Confidential' Movie Summary
The summary below contains spoilers.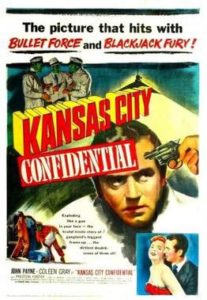 In Kansas City, a ruthless man named Mr. Big stakes out a bank; he's done so for many months. He's times the arrival of an armored car for its daily pickup and also notes the arrival of a delivery truck for its daily flower delivery. Mr Big plans to rob the armored car with three men he's chosen, and the delivery truck will be his distraction for the police.
Through a bunch of interviews leading up to the big day—interviews where Mr. Big wears a mask—he selects a gambler named Pete Harris (Jack Elam) whom the police want for murder, another murderer named Boyd Kane (Neville Brand), and petty crook Tony Romano (Lee Van Cleef).
The day of the robbery, the delivery truck arrives with its driver (and coincidentally ex-con), Joe Rolfe (John Payne). He is completely unaware of what is about to take place. The crooks then show up in a look-alike floral truck, and are wearing masks so no one can identify them (and so none of the crooks can identify each other). The crooks quickly subdue the armored car's guards, grab the money, and then flee.
To shake the police pursuit, the men ditch the fake floral truck and load the money into another unassuming truck. Down the road when the coast is clear, Mr. Big grabs four kings out of a deck of playing cards, tears them in half, and gives a piece to each crook. He tells them to hang on to them in case something goes wrong and he can not make it to the rendezvous point. He'll then send someone else and the cards will be the only way to identify the participants to collect their share. Each man then jumps off the truck at various locations along the road and flees to a different country.
Meanwhile, back in Kansas City, the police have arrested Rolfe. Even though he rightfully maintains his innocence, his ex-con history leads the cops to believe he's part of the gang. They resort to every means of interrogation (legal or not) to get a confession out of him, but he doesn't crack. They only release him when they find the fake delivery truck.
The floral company doesn't like the media attention and they fire Rolfe. With nothing else to do, Rolfe sets out to find the gang and clear his name. He gets a lead from a war buddy's gangster brother and finds out Harris recently fled the city. He feels Harris is a good candidate for being one of the robbers as any, and he follows Harris to Tijuana.
Find Harris he does, and Rolfe beats him into revealing the gang's meeting place; a tropical paradise called Barados. At the airport the policía recognize Harris and kill him. In Harris' luggage, Rolfe has found his mask and playing card, so he decides to impersonate Harris.
Once in Barados, Rolfe meets Kane and Romano. Also in Barados is a man named Tim Foster (Preston Foster). Neither Rolfe, Kane, or Romano knows Foster is Mr. Big. We learn Foster never really intended for the three men to split the money and get away. You see, Foster was once a part of the Kansas City police, and he intends to get his job back by solving the bank robbery to both get his job back and collect the reward from the insurance company. They are offering a 25% reward of $300,000 total the men stole.
What Foster never planned on was a visit from his daughter, Helen (Coleen Gray), who is on break from law school. This throws a kink in his plan. She has a message from Kansas City's mayor who has agreed to rehire Foster. However, Foster tells Helen he doesn't want to return. We also see Helen meet Rolf and the two hit it off quite well.
Later that night when Rolfe reveals his card to the group, he gets a reaction out of Kane and Romano react, but not Foster. That's because he's the only one at this point who seems to know he's not Harris.
Afterwards, Rolfe catches Romano searching his room and Rolfe beats him until Romano agrees to cooperate with him to split the money. However, this partnership doesn't last long when Romano and Kane later beat Rolfe up in his room the next day. Kane once worked a job with Harris and he knows Rolfe is an impostor. The men want to know just who Rolfe is. Helen unknowingly/knowingly saves Rolfe when she arrives to return Rolfe's gun to him which he dropped at the pool a few minutes prior.
It's now or never for Foster to complete his plan. He has individual notes sent to Rolfe, Kane, and Romano to meet Mr. Big on his boat where the money is hidden. The next day, before any of the men can go to the rendezvous point, Kane and Romano ambush Rolfe. However, he's able to get the better of the two. Once he does, he admits he's not Harris and is only after Harris' share of the money for taking the fall back in Kansas City.
Foster shows up. He says he's headed their way and offers to drive the three to the dock. They accept his offer—still not knowing he's Mr. Big. Once on board the boat, Rolfe escapes to find the money. Romano tracks him down and pulls a gun on him. So, Rolfe shows him the money. Kane shows up and a scuffle ensues between the three men. Romano kills Kane.
At this point, Foster makes a fatal error when he accidentally reveals he's Mr. Big. Another gun battle ensues which results in Romano shooting Foster as Foster kills him. Rolfe remains unscathed, and goes to a dying Foster. His final wish is for Rolfe to ensure Helen doesn't find out about his criminal activity.
Just then, the police and insurance investigator have arrived. They have been working with Foster to get the money. He tells them Rolfe deserves the 25% reward before dying.
Rolfe upholds Foster's last wish. He gets the reward, his name cleared, and Helen for a happily ever after.
Additional Film Information
Rate the Film!
United Artists released Kansas City Confidential on November 11, 1952. Phil Karlson directed the film starring John Payne, Coleen Gray, and Preston Foster.