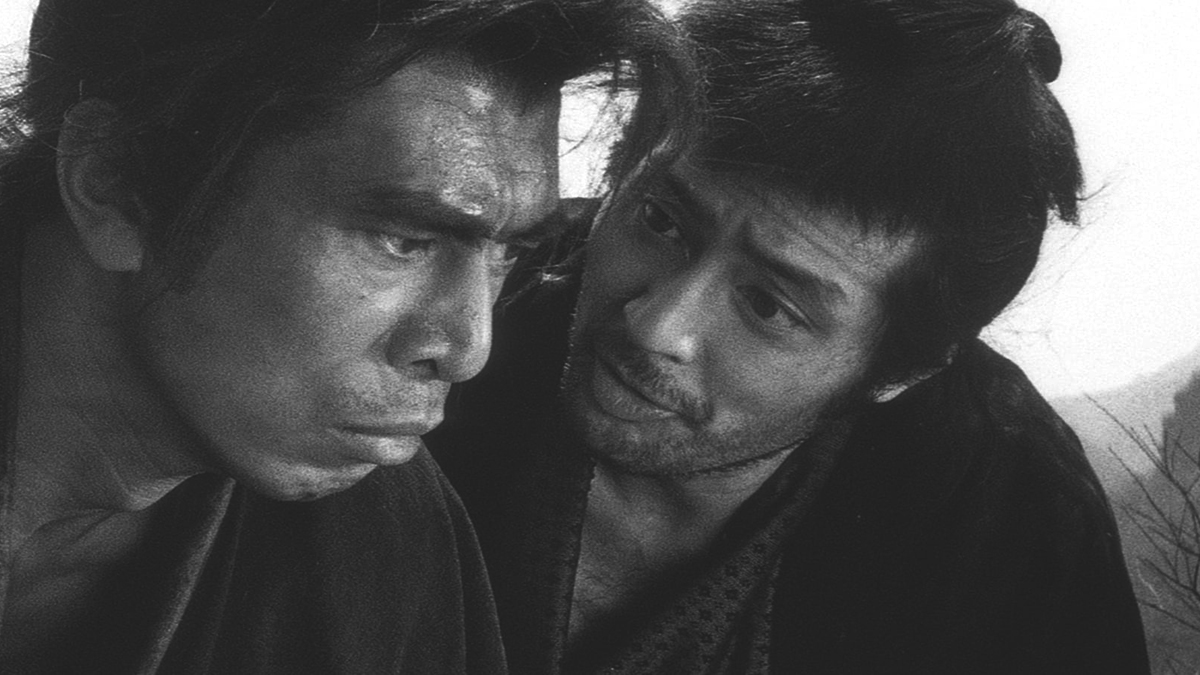 Film and Plot Synopsis
Genta is a former samurai who became disillusioned with the samurai lifestyle and left it behind to become a wandering yakuza gang member. He meets Hanjirō Tabata, a farmer who wants to become a samurai to escape his powerless existence. Genta and Tabata wind up on opposite sides of clan intrigue when seven members of a local clan assassinate their chancellor. Although the seven, led by Tetsutarō Oikawa, rebelled with the support of their superior, Ayuzawa, he turns on them and sends members of the clan to kill them as outlaws. Now Genta and Tabata are caught up in the political games of the clan that may cause them to kill.
Buy the Film
Kill! (The Criterion Collection)
3 new from $29.95
5 used from $25.93
Free shipping
as of May 14, 2022 3:18 pm
*As an Amazon Associate we earn from qualifying purchases.
'Kill!' Movie Summary
The summary below contains spoilers.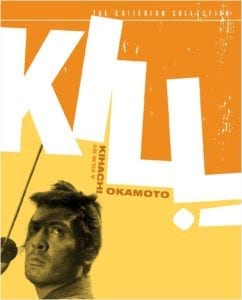 Kill!
begins in Joshu in March of 1833. A young farmer named Hanjirō Tabata (
Etsushi Takahashi
) enters the dilapidated town during a dust storm. Tabata wishes to become a samurai and has left home to achieve that task. He is harassed by some of the local peasants who ask him why he is in town. Tabata tells them he is looking for food since he has not had any in days. The soldiers do not feed him, which forces him to consider killing a small chicken that he sees walking through the town.
However, his prey is scared away by a former samurai named Genta (Tatsuya Nakadai) who is also looking for food in the town. Genta tells Tabata that the peasants rioted in the town two months prior with the assistance of the Yakuza. Since then, the town has fallen into disarray and the Yakuza have disappeared.
Another samurai named Tetsutarō Oikawa (Naoko Kubo) enters the town and is attacked by a peasant looking for revenge for his boss. The peasant, named Busuke (Ben Hiura), mistakes him for Ayuzawa (Shingeru Kōyama), the person who helped start the riots. Oikawa tries to convince the peasant that he is not Ayuzawa, Genta is forced to knock the peasant unconscious.
Oikawa leads a group of seven samurai to kill a local clan leader named Mizoguchi (Ryôsuke Kagawa). Oikawa does this with the support of his clan's leader, who is Ayuzawa. Oikawa sends Genta to inform Ayuzawa that the task has been completed, believing Genta to be a mere vagrant. Meanwhile, Tabata goes to join a group of ronin in the employ of Ayuzawa. Genta delivers his message and leaves, while Tabata is given the task of killing Genta by Ayuzawa. Ayuzawa wants all evidence of his involvement in the assassination to be covered up in fear of government retaliation.
On his way back to Oikawa, Genta encounters Busuke. The peasant is a former employee of Masagoro, who was killed in the riots. Busuke seeks to pledge his loyalty to Genta, who he sees as a man of honor. Tabata arrives and tries to kill Genta, but the former samurai is not surprised by the farmer's attack. Genta reveals to Tabata that he used to be a samurai but quit when he became disgusted with their ways. Tabata explains that he wishes to become a samurai to escape his powerless existence as a farmer. Genta tells Tabata to merely report to Ayuzawa that he killed Genta.
Meanwhile, Oikawa is informed that his uncle, Hyogo Moriuchi (Eljirô Tôno) has been imprisoned by Ayuzawa. Even worse, Ayuzawa has condemned Oikawa's group's crimes and ordered that they be killed. Oikawa and his men are forced to flee Joshu and they head to a boundary fort on Mount Toride. They hope that their lord Edo will listen to them and believe their pleas that they were acting on Ayuzawa's orders. At the same time, Ayuzawa sends out thirty men to kill Oikawa and his men.
Genta learns that the thirty men are heading towards Mount Toride and realizes that Oikawa has been betrayed a second time. Genta heads towards the fort to assist Oikawa and reclaim some of his lost honor. Along the way, he learns that Shinroku Matsuo (Yoshio Tsuchiya) is the one who has betrayed Oikawa. Shinroku promised Oikawa that he would plead the group's case to Edo and suggested that they hide out at the boundary fort.
Meanwhile, Ayuzawa sends out additional forces to kill Oikawa's men, including Tabata. He promises to make all the ronin samurai if they succeed in their tasks. However, Ayuzawa plans to have the ronin killed by his own men after they kill the seven hiding out in the fort. However, Tabata decides to stay behind rather than proceeding towards the mountain. He encounters Genta who decides to free Oikawa's uncle instead of warning Oikawa. The two men realize that they are opposite sides, yet they don't kill each other.
Oikawa and his men are alerted to the approaching forces by Chino Kajii (Yuriko Hoshi), a young woman who is in love with Oikawa. She arrives right before Ayuzawa's forces begin shooting at the fort. The men secure the fort and wait for the siege. Meanwhile, Tabata goes to the Hisago, a local whorehouse, and meets with Yô (Nami Tamura), the wife of one Ayuzawa's men, Jurato Arao (Shin Kishida). Yô is a prostitute who has been forced into service until Jurato can pay for her freedom. Tabata passes her a message from her husband that she needs to wait four or five more days until he can buy her freedom.
Meanwhile, Genta and Busuke capture Shinroku and attempt to take him to Mount Toride. However, Genta finds the fort surrounded by Ayuzawa's men, both samurai and ronin. Genta decides to infiltrate the ronin by posing as a samurai who wishes to join the battle. Tabata is with the ronin, and when he sees Genta, he tries to kill him. Instead, he kills Shinroku. Genta leads a faux attack on the fort to tell Oikawa of Shinroku's betrayal and to see if he wishes to still to inform lord Edo of Ayuzawa's unlawful acts. Genta and Oikawa develop a plan during their fake battle to get one of Oikawa's men, Yaheiji Yoshido (Takeo Chii), out of the fort dressed as a woman, allowing the soldier to make an attempt at contacting Edo.
Ayuzawa anticipates that someone may try to get to Edo and orders his men to guard the roads. Yaheiji rides through town but is shot in the back by an arrow. Genta's deception is discovered by Jurato. Instead of fighting, the two men converse and find that they have much in common. Genta tells the ronin leader a story of a samurai named Yagenta Hyodo who killed his best friend after believing he needed to in order to protect his clan. Jurato tells Genta that he only fights to earn enough money to free his wife from servitude.
Jurato does not kill Genta and instead allows the lone samurai to go off on a mission to kill Ayuzawa. Jurato tells Tabata about Genta's suicide mission, and the former farmer sneaks off in the night to help his friend. Genta is captured by Ayuzawa's men and severally beaten. Ayuzawa is informed of Yaheiji breaking through the lines on the way to Edo and is distracted for a few minutes, allowing Tabata to free Genta and Hyogo.
Meanwhile, Oikawa's men begin to turn on each other in the fort and debate what they should do. One of the men, Denzô Nishimura (Akira Hamada) charges outside after being overcome with madness and is gunned down. Genta and Hyogo are taken back to the Hisago by Tabata and nursed back to health. Hyogo, who is a chamberlain, tells Genta and Tabata that he will provide the funds to free Jurato's wife from her servitude. Genta sends Tabata to tell Junto and to have him bring his men back down the mountain. Genta also tells Tabata that he will kill Ayuzawa.
On the mountain, Ayuzawa's soldiers and Ayuzawa's ronin begin to fight each other after it is discovered that five of the soldiers were killed the previous night by Genta. Jurato leads an attack against the soldiers just as Tabata arrives. Jurato is gunned down in the battle. Back in the town, Genta sneaks back into Ayuzawa's temple with the assistance of Busuke. Genta and Ayuzawa fight as Tabata leads the ronin and Oikawa's forces against Ayuzawa's men at the temple. Genta impales Ayuzawa with a candlestick. During the battle, Yaheiji returns from Edo's headquarters to inform everyone that Superintendent Omori is about to arrive to investigate Ayuzawa. Everyone stops fighting and waits to see the superintendent.
The villagers throw a festival to celebrate the arrival of the superintendent and restoration of order. Tabata and Busuke look to find Genta and discover the bodies of Ayuzawa and two of his men. Genta tries to sneak out of town unnoticed. Tabata tracks him down after he is made a samurai by Hyogo. Tabata then quits being a samurai and is given a task to return all the women pressed into servitude as prostitutes to their homes by Hyogo who has paid for their freedom. Yô and Genta lock eyes with each other and imply that their may be a chance of romance between them.
Additional Film Information
Rate the Film!
On June 1, 2010, the Criterion Collection released Kill! on DVD. Kihachi Okamoto directed the film starring Tatsuya Nakadai, Etsushi Takahashi, and Yuriko Hoshi.