Film and Plot Synopsis
When renowned crime novelist Harlan Thrombey is found dead at his estate just after his 85th birthday, the inquisitive and debonair Detective Benoit Blanc is mysteriously enlisted to investigate. From Harlan's dysfunctional family to his devoted staff, Blanc sifts through a web of red herrings and self-serving lies to uncover the truth behind Harlan's untimely death.
Buy the Film
Knives Out [Blu-ray] [4K UHD]
8 new from $12.00
14 used from $3.96
Free shipping
as of May 26, 2023 11:41 am
*As an Amazon Associate we earn from qualifying purchases.
'Knives Out' Movie Summary
The summary below contains spoilers.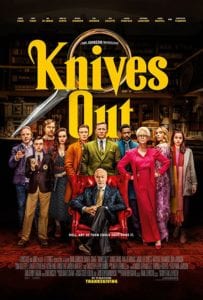 The body of wealthy crime novelist Harlan Thrombey (
Christopher Plummer
) is found with his throat slit. Initial indications indicate a suicide that the novelist committed the night after his 85th birthday party with his family. A few days after his death, and almost immediately after the funeral, private detective Benoit Blanc (
Daniel Craig
) is retained by an anonymous party to investigate Harlan's death.
Blanc learns that Harlan's relationship with his family members was extremely strained. Just prior to his death, Harlan had confronted his son-in-law Richard (Don Johnson) about an extra-marital affair he was having. Harlan threatens to tell his daughter, Linda (Jamie Lee Curtis), about the affair. Harlan also cuts off his daughter-in-law, Joni (Toni Collette), from her allowance after he discovers she has been double dipping into his fortune to pay for Meg's (Katherine Langford), Harland's granddaughter, college tuition. Harlan also fires his son, Walt (Michael Shannon), as the publisher for all his books. Finally, Harlan has an argument in his study with his grandson Ransom (Chris Evans). During the argument, Harlan tells Ransom that he is cutting him out of his will.
One person that Harlan does get along well with is his personal nurse, Marta Cabrera (Ana de Armas). The two have a close relationship, and Harlan wishes for her to be taken care of. Unbeknownst to Blanc, Marta accidentally administered an overdose of morphine to Harlan instead of his usual medication after the party. The antidote for the morphine is missing from her bag, and Marta realizes that Harlan will be dead in ten minutes without it. Harlan realizes that medical services will never reach them in time, so he concocts a plan to protect Marta. Harlan creates a scenario to create a false alibi for Marta to avoid suspicion for his death, and then, slits his own throat to make it appear that it was a suicide. Marta follows Harlan's instructions with only one hiccup, Harlan's elderly mother Wanetta (K Callan) sees her when she is leaving and mistakes her for Ransom.
Blanc questions Marta as part of the investigation. Blanc is made aware, likely from his anonymous employer, that Marta cannot lie without vomiting. Marta avoids lying by giving incomplete answers to Blanc's questions. Nevertheless, Marta feels overwhelming guilt and struggles to conceal evidence of her involvement.
The next day, Harlan's will is read to the family and Marta by Harlan's lawyer, Alan Stevens (Frank Oz). Blanc is present for the reading. Stevens reveals that Harlan modified his sealed will shortly before his death. The family is shocked to learn that Harlan left everything to Marta. The family turns on Marta, who is unaware of Harlan's intent to give her his estate. However, Ransom helps her escape from the confrontation and takes her to a diner for dinner. He confronts Marta to what she knows, realizing that she will vomit if she lies. Overcome by her guilt, Marta confesses to the self-obsessed Ransom. Ransom agrees to keep her secret, in exchange for a portion of the estate.
Meanwhile, the other Thrombey family members attempt to convince Marta to renounce the inheritance, reverting it back to the family. Meg plays on her emotions and reveals to the rest of the family that Marta's mother (Marlene Forte) is in the United States illegally. Walt takes advantage of the information and threatens to have Marta's mother deported.
Meanwhile, Marta receives an anonymous blackmail note with a partial photocopy of Harlan's toxicology report. Marta believes that someone else besides Ransom knows that she gave a lethal dose of morphine to Harlan before his death. She tells Ransom about the note and they drive to the medical examiner's office to get the original copy of the report. However, they discover the building on fire when they arrive. Blanc is at the medical examiner's office and sees Marta and Ransom sitting in Marta's car. Marta flees the scene and is pursued by law enforcement, including Blanc. The police catch them and place Ransom under arrest after Blanc reveals that Wanetta identified him at the mansion the night of Harlan's death. Blanc rides with Marta as they proceed to the police station.
Marta asks to make a stop on the way to the station, and Blanc reluctantly agrees. Marta proceeds to the location of the meeting with the blackmailer. Once there, she finds her medical bag and the unconscious body of Fran (Edi Patterson), Harlan's housekeeper, in an abandoned store. Marta realizes that Fran has been given an overdose of drugs and will die without assistance. Marta calls 911 for help, realizing that she will be arrested. Marta confesses to Blanc at the hospital. Blanc informs Marta that Ransom had already informed them of her involvement in Harlan's death. Marta realizes that Fran had a relative who worked at the medical examiner's office and likely was using the original report to blackmail her. She and Blanc return to the mansion and find the original toxicology report in Fran's hiding place with her marijuana.
Marta wishes to confess her crime to the family, realizing that it will nullify the will. However, Blanc interrupts the confession and tells the family that Marta did nothing wrong. Blanc reveals that the toxicology report indicates that there was not an overdose of morphine. He also reveals that he has deduced that Harlan revealed to Ransom that he was leaving everything to Marta. He further speculates that Ransom returned to the mansion after he left in anger and switched the vials of medicine and removed the antidote so that Marta would overdose his grandfather. However, Marta being an excellent nurse, subconsciously recognized the right drug and administered the correct medication to Harlan. Unfortunately, she and Harlan believed that she overdosed him, causing him to commit suicide.
After Harlan's death, Ransom snuck back into the house and took Marta's medical bag. Ransom then anonymously hired Blanc to reveal Marta's involvement. Fran observed Ransom hiding evidence and sent him the blackmail note. Ransom met with Fran and overdosed her, attempting to frame Marta for that crime as well. He then sent the blackmail note to her. Ransom burned down the medical examiner's office so that no one would know that she was innocent, and then tried to create a scenario where she confessed to the crime and nullified the will.
Blanc confronts Ransom, who denies the speculation and says they have no evidence. Marta tricks Ransom into confessing by lying that Fran had survived the overdose, allowing him to believe that she could implicate him. Ransom confesses and vows revenge against Marta, who proceeds to vomit on him. Ransom realizes that he has been duped and attacks Marta with a knife. However, the knife is a prop knife and does no harm to Marta. The police reveal that they have recorded his confession and arrest him.
In the aftermath, Blanc reveals to Marta that he knew she was involved when he first met her due to the spot of Harlan's blood on her shoe. Linda finds a note from her father, written in invisible ink, that reveals her husband's infidelity. Richard fights with police as they take his son, Ransom, into custody. Meanwhile, Marta watches the entire Thrombey family squabble from the balcony of what is now her mansion.
Additional Film Information
Rate the Film!
Lionsgate released Knives Out on November 27, 2019. Rian Johnson directed the film starring Daniel Craig, Chris Evans, and Ana de Armas.