Film and Plot Synopsis
Young husband and father Ted Kramer loves his family – and his job, which is where he spends most of his time. When he returns home late one evening from work, his wife Joanna confronts him and then leaves him, forcing Ted to become the sole caregiver to their six-year-old son. Now, Ted must learn to be a father while balancing the demands of his high-pressure career. But just as Ted adapts to his new role and begins to feel like a fulfilled parent, Joanna returns. And now she wants her son back.
Buy the Film
Kramer vs. Kramer [Blu-ray]
10 new from $12.49
4 used from $16.42
Free shipping
as of May 24, 2023 8:37 pm
*As an Amazon Associate we earn from qualifying purchases.
'Kramer vs. Kramer' Movie Summary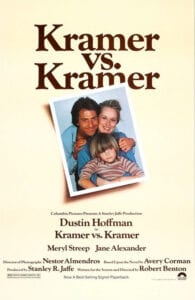 In Kramer vs. Kramer, Ted Kramer is an advertising executive assigned to a new, important account. When he arrives home to share his good news with his wife, Joanna, she's less than pleased with him. In fact, she's leaving her workaholic husband to go find herself. That leaves Ted to raise their son Billy alone.
Not only do Ted and Billy not get along, but they pretty much hate one another — Ted because he no longer has the time to succeed at his work, and Billy because he misses his mother. Eventually, the two suck it up, and learn to live with one another to the point they bond like a real father and son would.
Ted gets advise from his neighbor Margaret, which is ironic because she originally recommended to Joanna that she leave Ted if she was that unhappy. Margaret too is a single parent, so the two of them bond over that life challenge.
One day in the park, Ted and Margaret sit watching their kids play. Billy falls off the jungle gym, and gets a bad cut on his face. Ted is frantic. He scoops Billy up, and runs several blocks through traffic to get Billy to the hospital.
Fifteen months after Joanna abandoned the family, she returns to the Big Apple to lay claim to Billy, and a nasty custody battle for him begins. At their first custody hearing, their attorneys catch both parents are off guard with their the brutal character assassinations on the other.
Margaret testifies that she advised Joanna to leave Ted, and also attempts to tell her on the stand that Ted's a changed man. Eventually, we learn that Ted's firm fired him because his parental responsibilities conflicted with their business needs. His new job is a lower-paying one which doesn't look good for him at trial, and neither does Billy's little accident.
Ted's original salary was $33,000 dollars a year, but his new salary is only $28,200 which is still pretty good in today's money. However, Joanna is now a sportswear designer, and currently makes $31,000 a year.
So, with that in mind, and the assumption that the child is always better off when raised with their mother, the court awards custody to Joanna. Ted wants to appeal the case, but his lawyer warns that would mean that Billy himself would have to take the stand for that one. Ted doesn't want to put his son through that, so he does not contest the court's decision.
The day Billy is required to move back with his mother finally arrives. That morning, Ted and Billy make their last breakfast together. Billy hugs his dad as Joanna calls on the intercom, but she wants to talk to Ted alone in the lobby.
Ted goes downstairs where Joanna tells him that she loves Billy and wants him as much as Ted does. However, she knows that Billy's true home is where he's at with Ted. So, she's not going to take custody of him.
She asks Ted if she can go upstairs to talk to Billy, which of course Ted agrees to. Before the two enter the elevator together, Ted says he will wait downstairs so she can talk to Billy in private.
With tears in her eyes, she asks Ted how she looks. As the elevator doors close, he says, "You look terrific."
Rate the Film!
Columbia Pictures released Kramer vs. Kramer on December 19, 1979. Robert Benton directed the film starring Dustin Hoffman, Meryl Streep, and Jane Alexander.