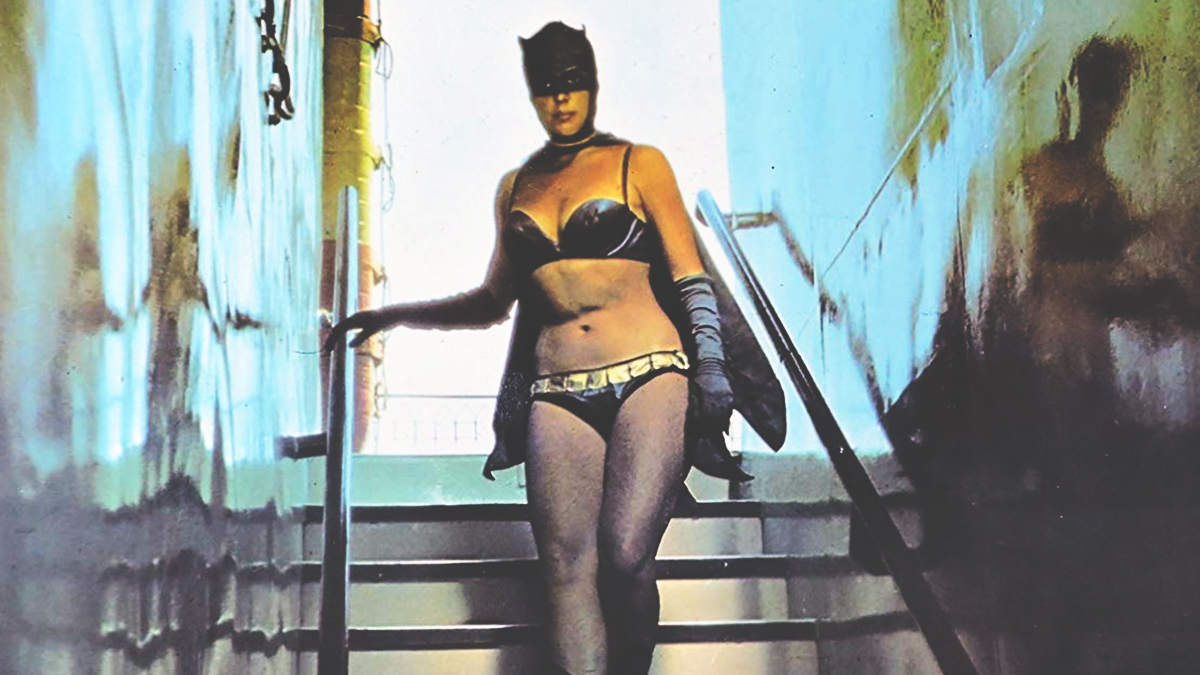 Summaries
La mujer murcielago (The Batwoman) (1968)
Film and Plot Synopsis
Authorities call in Batwoman to find out why five wrestlers have turned up dead. Her investigation leads to a mad scientist who is using their Pineal Gland juice in an attempt to create some superhuman fish-man thing.
Buy the Film
Las Mujer Murcielago
4 new from $8.45
5 used from $4.70

as of December 4, 2022 7:58 pm
*As an Amazon Associate we earn from qualifying purchases.
'La mujer murcielago (The Batwoman)' Movie Summary
The summary below contains spoilers.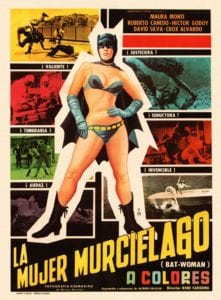 René Cardona
's The Batwoman begins with the murder of five wrestlers in Acapulco, Mexico. They resemble a string of killings in Macau and Hong Kong, the Mexican authorities team up with the United States to solve the crimes. The FBI's Mario Robles sends in a special agent named Batwoman to help crack their case.
Batwoman is a mysterious rich woman who lives in "the Capitol City," and she uses her wealth to fight evil. She has great fighting abilities and athletic talent which helps her along the way (as long as it's not against a mouse of which she is deathly afraid). Batwoman is to go undercover in the local Lucha Libre scene to find out what she can about all the deaths.
Upon arrival, Batwoman, Robles, and the Mexican inspector head to the morgue where the doctor there confirms that the latest death occurred in the same manner as the other four wrestlers. Someone has removed the victim's Pineal Gland juice in a medical procedure that only a skilled surgeon could perform.
Meanwhile, in a boat called Reptilicus, there lives the retired surgeon and fish lover, Dr. Eric Williams, with his faithful man servant, Igor. The two men are busy conducting an experiment on a goldfish where they try to infuse human Pineal Gland juice into it in an attempt to create some fish-man thing. When their latest experiment fails, Williams orders Igor to have another wrestler killed for his P.G. juice.
Over at the Licha Libre training center, a Swedish wrestler rents a boat from a blind man named José. José secretly works for Williams, and really isn't blind. In fact, he is Williams' No. 1 villian. Batwoman overhears José talking to someone on a phone, and learns of the plot to kill another wrestler, but she doesn't know where or when. The Swedish wrestler is kidnapped and killed. Dr. Williams and Igor use the new P.G. juice to perform another experiment on the goldfish which is a success. It forms some sort of baby fish-man thing.
Robles reveals to Batwoman the existence of Dr. Williams, and tells her about his boat. She goes to investigate, but when she is turned away from boarding it for an innocent visit, she sneaks aboard later in full bat-disguise.
After wandering around a bit, she spots the good doctor and Igor in front of the tank with the baby fish-man thing. While spying, she is captured, but immediately escapes from the boat. However, during her escape, she throws acid in the face of Dr. Williams, scarring him like Harvey Dent.
Williams orders José to find Batwoman, and bring her to him, so he can create a fish-woman thing. They follow her to a beach where she's having a meeting with Robles and Tony Roca. Roca soon leaves to attend to some business, and then Robles leaves as well. Alone, José's group chases Batwoman in her car, and captures her. She fights them off as the policía arrive to save the day.
Dr. Williams takes his successful experiment to the ocean where he irradiates it at the proper depth; transforming it into the Creature from the Black Lagoon. The creature kills the accompanying divers, but the doctor is able to get the creature under control with some weird 1960's sonar. He brings the creature aboard the Reptilicus where it sleeps on a wet mattress.
Batwoman again tries to sneak aboard Dr. Williams' boat, but he sends the creature, now names Pisces, to capture her so he can turn her into a fish-woman thing. In an wunderwater battle, she scares Pisces into a cave by lighting a flare. It turns out he's afraid of fire.
Batwoman swims off, and returns to her boat, but before she makes it, the flare burns out. Pisces continues his chase after her, but Batwoman makes it onboard her boat first where Robles is waiting for her. Pisces attacks the little boat, but Robles pours gasoline on it, and sets it on fire in the ocean. Pisces swims away and escapes.
Dr. Williams is undeterred. He orders José to put a tracking device on Batwoman's cape. The device will attract Pisces to whomever wears it. José is able to do this after a Lucha Libre match, but Batwoman finds the device before going to sleep. She puts it on her nightgown in hopes it will bring her enemies to her.
Sure enough, while Batwoman sleeps, Pisces swims out of the ocean, and saunters into her room where he takes her away. Robles, who is sleeping on her couch, chases after the two. He shoots at Pisces, and it attacks him. Robles is nearly drowned, but Williams, thinking that all is well because the tracking device isn't sending a signal anymore, calls Pisces back home prematurely, and it returns to the boat without Batwoman.
Undeterred at another failure, Williams kidnaps Robles and the Mexican inspector the next day to use them as ransom. They leave Batwoman a note to tell no one, and to come to the Reptilicus alone if she ever wants to see Robles alive again.
Batwoman does so, and is immediately captured. She manages to put the tracking device on Dr. Williams, and right before he removes her P.G. Gland juice, Pisces crashes through the door, and enters the room. Attracted by the device's signal, Pisces kills Williams and all of his men. In the melee, a fire starts onboard the boat, and Batwoman, Robles, and the Inspector escape as the Reptilicus explodes.
The End.
Additional Film Information
Rate the Film!
Cinematográfica Calderón S.A. released The Batwoman, aka La mujer murcielago on March 28, 1968. René Cardona directed the film starring Maura Monti, Roberto Cañedo, and Héctor Godoy.