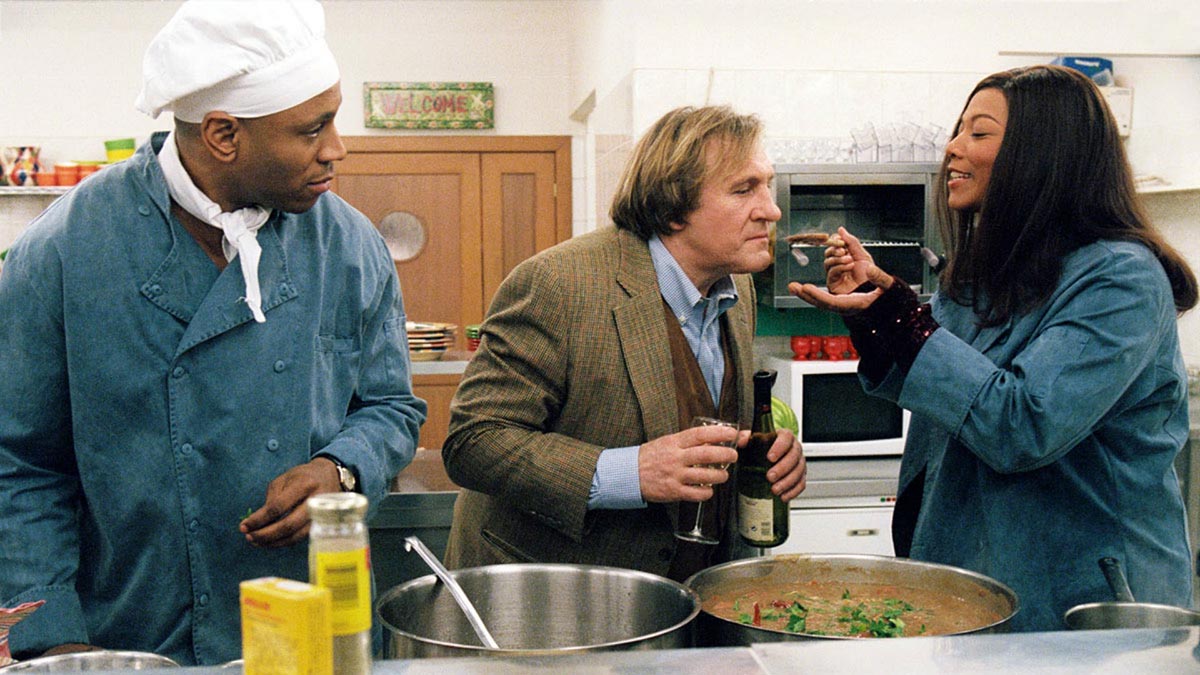 Film and Plot Synopsis
Georgia Byrd is a clerk in the cookware department at a New Orleans department store. She lives a humble life although she has big dreams. All that changes when a CT Scan discloses she has three weeks to live. She cashes in her savings and decides to live her life to the fullest during the time she has left. Georgia heads to the Grandhotel Pupp in the Czech Republic. She checks into the Presidential Suite, orders everything on the menu, snowboards, and comes to the attention of the chef and the hotel's powerful American guests: a Congressman, a Senator, a retail magnate, and his mistress. She has nothing to lose, so she tells them what she thinks. Will the truth set them free?
Buy the Film
Last Holiday [Blu-ray]
11 new from $6.99
2 used from $10.48
Free shipping
as of July 2, 2022 10:28 pm
*As an Amazon Associate we earn from qualifying purchases.
'Last Holiday' Movie Summary
The summary below contains spoilers.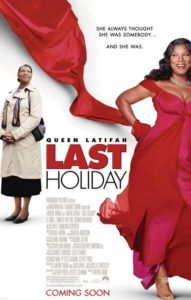 Shortly before the Christmas holiday in New Orleans, Georgia Byrd (
Queen Latifah
) is working for the Kragen's Department Store in the cookware department. Georgia is a shy woman who dreams of opening her own restaurant someday. She maintains a scrapbook that documents all her dreams of a better life that she refers to as her "possibilities" book. One of those possibilities is Georgia's co-worker Sean Williams (
LL Cool J
), a man who Georgia has long had a crush on.
One day, Georgia is flirting with Sean when she accidentally bumps her head on a kitchen cabinet door and knocks herself unconscious. Sean takes Georgia to the store's health center where the store's physician, Dr. Gupta (Ranjit Chowdhry), uses the newly acquired, but slightly used equipment to conduct a CAT scan on Georgia. Upon examination of the scans, Dr. Gupta informs Georgia that she has several brain tumors as a result of a rare neurological disorder called Lampington's Disease. She is told that she only has three or four weeks left to live.
Georgia's HMO plan will not cover the exorbitant cost of the operation due to its lack of success. She resigns herself that she is going to die and decides to enjoy the time she has remaining. She quits her job, liquidates all her assets, and sets off on a dream vacation at the deluxe Grandhotel Pupp in the spa city of Karlovy Vary in the Czech Republic. While there, Georgia loses all her inhibitions and vows to live life to the fullest. She checks into the Presidential Suite, buys expensive clothes, pampers herself at the resort's spa, goes snowboarding, and even BASE jumps off a dam. At the same time, Georgia satisfies one of her life's obsessions, good food. She enjoys several succulent meals at the resort prepared by world-renowned Chef Didier (Gérard Depardieu), who takes an instant liking to Georgia.
The start is not nearly as important as the finish. Chef Didier
Georgia's presence at the resort catches everyone's eye, including other guests such as United States Senator Dillings (Giancarlo Esposito), Congressman Stewart (Michael Nouri), and Matthew Kragen (Timothy Hutton), the man who owns the stores that Georgia used to work for. Kragen is at the resort with his assistant and mistress Allison Burns (Alicia Witt). He is trying to sway political favors from Dillings and Stewart, but the two politicians are constantly enamored with Georgia's activities and her free spirit. Kragen becomes skeptical of Georgia's origins and suspects her of trying to sabotage his business.
Georgia also impresses the hotel's staff who take an instant liking to her due to her courtesy and good nature. The only exception is the guest services manager Miss Gunther (Susan Kellermann), who Kragen bribes to investigate Georgia's background. Gunther goes through Georgia's suite while she is away and discovers a letter that details her impending death. Gunther is moved by the letter and chooses not to reveal what she knows to Kragen, other than Georgia once worked for him. Gunther confesses her transgression against Georgia and offers to help her in any way she can.
Meanwhile, Sean learns of Georgia's diagnosis from Dr. Gupta. He sets out to find her and to tell her how he feels about her. He talks to Georgia's neighbor Darius (Jascha Washington) who informs Sean about Georgia's "possibilities" book, as well as her trip to Karlovy Vary. Sean quits his job and sets out after Georgia, even though he does not like to fly.
Back in Karlovy Vary, Georgia continues to impress everyone at the resort. She councils Allison about dating a married man and encourages her to move on and build her own life away from Kragen. Senator Dillings takes a romantic interest in Georgia, but she shuts him down after she perceives that his influence is for sale to people like Kragen. On New Year's Eve, Gunther encourages Georgia to spend her last days with the ones she loves. Georgia takes her advice and tries to leave to return to New Orleans. However, an avalanche has blocked the road off the mountain, and Georgia is forced to return to the resort. Unbeknownst to Georgia, Sean is on the other side of the avalanche waiting to get up the mountain to see Georgia. Sean eventually gets tired of waiting and proceeds to walk up the mountain.
Back at the resort, Georgia attends a New Year's Eve party with Senator Dillings, Congressman Stewart and his wife, Allison, and Kragen. Kragen has discovered that Georgia is not a rich industrialist, but rather a former salesclerk. He shares the information with everyone at the table. Georgia confesses that Kragen is right and reveals that she is going to die. She thanks them for their time and leaves the table. Everyone at the table is disgusted by Kragen's insensitivity and abandons him at the table by himself just as the New Year roles in. Allison lets Georgia know that she is leaving Kragen and returning to business school to get her degree.
Meanwhile, Dr. Gupta determines that the CAT scan is faulty, and that Georgia is not in fact dying of Lampington's Disease. He sends a fax to the resort in Karlovy Vary to notify her. However, the fax falls on the floor and is not immediately noticed. At the same time, Kragen gets drunk and depressed. He climbs out onto the ledge of the upper floor of the hotel and contemplates ending his life. Georgia hears of what he has done and climbs out on the ledge with him to persuade him to come down. She suggests to him that if he were nicer to people, he might be happier. Sean arrives at the hotel and comes to the window near the ledge to tell Georgia his true feelings towards her. Gunther finds the fax from Dr. Gupta and comes to window to tell Georgia that she is not going to die. Everyone returns safely to the inside of the hotel.
Sometime later, Georgia and Sean are opening a restaurant together in New Orleans. They are visited by Chef Didier who takes vacation to spend it with his friends. The grand opening of the restaurant is attended by the mayor of New Orleans and Georgia's hero and inspiration Emeril Lagasse (Emeril Lagasse). The epilogue to the film shows that Georgia changed her "possibilities" book into a "realities" book. She and Sean got married while skydiving. Allison went to business school and opened a spa. Gunther opened a detective agency. Dr. Gupta quit his job and opened a spiritual retreat. Kragen's wife divorced him and took almost all his money, and Kragen joined Dr. Gupta's spiritual retreat.
Additional Film Information
Rate the Film!
Paramount Pictures released Last Holiday on January 13, 2006. Wayne Wang directed the film starring Queen Latifah, LL Cool J, and Timothy Hutton.