Film and Plot Synopsis
Drug lord Franz Sanchez exacts his brutal vengeance on Bond's friend Felix Leiter. 007 resigns from the British Secret Service to wage a fierce vendetta against the man. Bond won't be satisfied until he takes Sanchez out. To accomplish this, he joins forces with a beautiful pilot who happens to be Sanchez's sexy girlfriend. However, now that Bond has gone rogue, he must battle agents on both sides of the law. In order to bring Sanchez down, Bond races against the clock in a ferocious boat chase; then finds himself in a midair brawl over the controls of an out-of-control airplane before one last action-packed confrontation in the Mexican desert.
Buy the Film
Licence to Kill (BD) [Blu-ray]
2 new from $8.99
6 used from $4.54
Free shipping
as of October 2, 2023 8:19 am
*As an Amazon Associate we earn from qualifying purchases.
'Licence to Kill' Movie Summary
The summary below contains spoilers.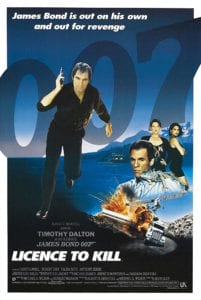 Instead of attending his wedding on time, Bond and CIA agent Felix Leiter track down a drug dealer, Franz Sanchez, and help arrest him. Sanchez repays Leiter by murdering his wife and feeding his leg to a great white shark.
This makes Bond angry, and he vows revenge. He and Leiter's friend Sharky find a marine laboratory from which Sanchez ships cocaine into the US. But when the MI6 puts the kibosh on Bond's efforts, he turns in his license to kill and sets off on his own. Bond then ruins yet another shipment of Sanchez' and flies away with about $5 million in Sanchez' money.
Bond teams up with a DEA informant that was working with Leiter. Played by Lowell. The two of them find Sanchez in Isthmus City. Bond poses as an assassin who is there totally not to kill Sanchez and gains Sanchez' trust. Sanchez is meeting with big shots from Asia to create cocaine and gasoline franchises for $10 mill a pop. Bond is invited to the laboratory where the cocaine and gasoline are readied for smuggling.
However, Sanchez' henchman recognizes Bond, and Bond makes his move, which is quickly foiled. Sanchez sentences Bond to die painfully down a chute in a plume of cocaine smoke, but is saved by Lowell. Sanchez escapes in a convoy of cocaine gasoline. But Bond pursues him and finally gets his revenge for Leiter when he sets fire to Sanchez.
Additional Film Information
Rate the Film!
United Artists released Licence To Kill to theaters on July 14, 1989. John Glen directed the film starring Timothy Dalton, Robert Davi, and Carey Lowell.