Film and Plot Synopsis
A teen-ager flunks his driving test but goes out anyway in his grandfather's 1972 blue Cadillac.
Buy the Film
License to Drive [Blu-ray]
4 used from $59.99

as of September 24, 2023 8:20 am
*As an Amazon Associate we earn from qualifying purchases.
'License to Drive' Movie Summary
The summary below contains spoilers.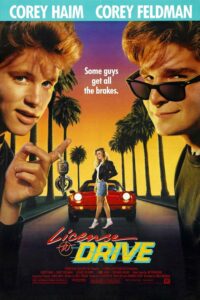 Les Anderson (Corey Haim) eagerly anticipates obtaining his driver's license, a symbol of teenage freedom that would liberate him from relying on the bus for school transportation and perhaps even help him impress girls.
One particular girl who has caught Les's eye is Mercedes Lane (Heather Graham). However, she appears to already be involved with a boyfriend who flaunts his Ferrari.
A few days later, Les's friends Dean (Corey Feldman) and Charles (Michael Manasseri) pick him up for a party. At the gathering, they witness Mercedes engaged in a heated argument with her boyfriend. Trying to extricate herself from the confrontation, she claims that she will be going out with Les the following Saturday.
The next day, Les's father (Richard Masur) arrives at school to pick him up, driving their Grandpa's Cadillac since Grandpa has borrowed Dad's BMW, not wanting to use his Cadillac for long trips. Initially feeling embarrassed by the conspicuous car, Les's excitement grows when his Dad explains that he thought Les could drive the Cadillac for a little while, with Dad supervising, of course.
Approaching a nearby corner, Les catches sight of Mercedes walking down the street and implores his Dad to let him drive the car alone, hoping to impress her. His Dad reluctantly agrees, but Les's initial plan to simply take Mercedes home takes an unexpected turn when she reveals that she's heading across town to visit a friend. Eager to make a lasting impression, Les decides to drive her there.
On his way back home, Les runs into his Dad, who is extremely upset that Les broke his promise.
The following day, both Les and his twin sister, Natalie (Nina Siemaszko), take the driver's test using a computer. While Natalie completes the test quickly and successfully, Les becomes flustered and eventually fails. Frustrated, he reacts by striking the monitor, causing all the computers to shut down.
As the DMV works to recover the data, they allow Les to retake the driving test, reasoning that since his twin sister performed well, he should too once the data is restored.
Natalie also retakes the driving test with a calm and understanding instructor. For Les, however, the instructor sets a single stipulation: if he can keep a cup of coffee from spilling during the test, he will pass.
Les successfully navigates the driving test and obtains his license. However, moments later, the instructor in the computer room delivers the disheartening news that, upon reviewing the results, Les has actually failed the test and proceeds to tear up his newly acquired license in front of him!
Returning home, Les is greeted by his enthusiastic family, and feeling the need to save face, he lies, claiming he's now "a free man." Yet, his deceit is short-lived as his Mom (Carol Kane) discovers the "Failed Test" paper in his pants pocket while doing laundry. The truth is soon revealed to the entire family, resulting in Les's father grounding him for two weeks due to his dishonesty.
Les's friends attempt to lure him out to celebrate his supposed license, but he lies, insisting that he has other obligations. Later that evening, Mercedes calls him, checking if he's still taking her out. Again, Les lies, asserting that he's on his way, making sure to wait until his parents are sound asleep.
Determined to impress Mercedes, Les manages to sneak Grandpa's Cadillac out of the garage and picks her up. Initially planning to head to a club, they face disappointment when the bouncer denies Les entry. Mercedes enters alone, only to find her boyfriend with another woman, leading her to grab a nearby bottle of champagne and storm back outside. As if Les's troubles weren't enough, a tow-truck begins towing the Cadillac. He successfully intervenes and prevents the car from being towed, but he's forced to part with all the money he has.
Mercedes then suggests they go to a scenic lookout point high above the city. However, her time there takes a wild turn as she finishes off the bottle of champagne and starts dancing on the car's hood, causing it to cave in when both she and Les fall onto it! Despite the mishap, Les manages to get her back into the car, but she ends up unconscious from her drinking escapade.
Les then visits Dean's place, where Dean skillfully fixes the dented hood by banging it back into shape. Both Dean and Charles are eager to see Les's license and propose heading to a place called Atomic Avenue. Despite Les's attempts to dissuade them, he eventually succumbs to their insistence.
After a nerve-wracking incident on the freeway, they end up at Shakey's, where they try to sober up Mercedes. At Dean's urging, they place her in the car trunk and decide to proceed to Atomic Avenue, convinced they'll find more girls there.
Upon arrival, the place seems exciting, but an accident occurs when Charles unintentionally dents a guy's Pontiac GTO. The irate man then attempts to smash their windshield with a crowbar, forcing Les to make a swift escape.
As they pass by a protest area (where Les's sister and her boyfriend happen to be), they almost get discovered, but their luck takes a turn when a police checkpoint halts their progress. Les hands over his school bus pass, but the situation becomes tense when the officer discovers a sleeping Mercedes in the car trunk.
Thankfully, the police checkpoint is disbanded due to news of the protest turning into a riot. Deciding to head home, the boys encounter another obstacle when a drunken driver takes off with their Cadillac. Fortunately, they manage to get Mercedes out of the trunk in time and all squeeze into the drunk's VW Bug.
Les's night goes from bad to worse as the intoxicated driver swerves all over the road, causing extensive damage to the car. Just before it almost plunges into a pit, Les manages to get into the driver's seat and bring the car to a halt.
Les successfully gets his friends home and safely returns Mercedes to her place, where she expresses that she had a wonderful time and rewards him with a kiss!
Upon arriving home, Les manages to park the car in the garage just as his parents come downstairs, only to discover that his pregnant mother is going into labor. Initially, his Dad is ready to deliver a stern lecture to Les, but the cries of his wife quickly change his focus. Realizing the urgency of the situation and needing someone to drive, Dad relents and allows Les to get back behind the wheel.
As the family reaches a cross street, their plans are thrown into chaos when the car's forward drive breaks, leaving them with no choice but to drive in reverse. Despite hesitation, Les listens to his family's insistence and maneuvers the car in reverse, skillfully navigating them to the hospital.
Les's driving abilities impress his Dad, but their celebratory moment is shattered when a massive I-beam from a nearby construction site crashes onto the Cadillac.
Some time later, Grandpa returns for his car, and to the family's surprise, he bursts into laughter. Grandpa reveals that he encountered some difficulties driving Dad's BMW, and as if on cue, a tow truck arrives with the BMW in a battered state.
Dad attempts to put the blame on Les for the car's damage, but just then, Mercedes arrives in her car. Defying his Dad, Les quips, "I already have a Mercedes," and confidently jumps into her car. Together, they drive off down the road, leaving their worries behind.
Rate the Film!
20th Century Fox released License to Drive on July 6, 1988. Greg Beeman directed the film starring Corey Haim, Corey Feldman, and Carol Kane.