Film and Plot Synopsis
When four generations of the Cooper clan come together for their annual Christmas Eve celebration, a series of unexpected visitors and unlikely events turn the night upside down, leading them all toward a surprising rediscovery of family bonds and the spirit of the holiday. (Courtesy of CBS Films)
Buy the Film
Love The Coopers [Blu-ray + DVD + Digital HD]
8 new from $4.29
10 used from $3.94
Free shipping
as of February 7, 2023 12:02 pm
*As an Amazon Associate we earn from qualifying purchases.
'Love The Coopers' Movie Summary
The summary below contains spoilers.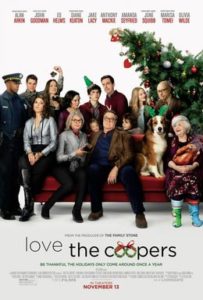 A mysterious narrator (Steve Martin) tells the audience the story of the Cooper family. Sam and Charlotte Cooper (John Goodman and Diane Keaton) have decided to get divorced after being married for forty years. Charlotte convinces Sam to not tell their family until after Christmas so that they can enjoy one last perfect Christmas together. Sam and Charlotte's son Hank (Ed Helms) is struggling with his recent divorce from his ex-wife Angie (Alex Borstein). Hank's issues are multiplied when Hank is suddenly fired from his job as a department store photographer as his bosses decide to use a machine instead of him. Hank has his parents watch his kids, Charlie (Timothée Chalamet), Bo (Maxwell Simpkins), and Madison (Blake Baumgartner) for the day of Christmas Eve so that he can search for a new job.
At the same time, Sam and Charlotte's daughter Eleanor (Olivia Wilde) has reluctantly flown into town for the holidays. She hides at the airport bar to delay visiting her family. She meets Joe (Jake Lacy), a soldier snowed in for at least another day at the airport. Although diametrically opposed as to their politics, the pair talk about their different points of views and stances on relationships. Eleanor informs Joe that she is secretly dating a commitment-free married man (Jon Tenney) due to her own fears of commitment. Fearing the judgment of her mother for not being in a relationship, Eleanor convinces Joe to pretend to be her boyfriend at her family's Christmas dinner.
Meanwhile, Charlotte's sister Emma (Marisa Tomei) is arrested for shoplifting a piece of jewelry for Charlotte's Christmas gift. She is taken to the police station by Officer Percy Williams (Anthony Mackie). Emma attempts to talk her way out of trouble, but initially the stoic Williams is unresponsible. Eventually, Emma breaks through to Officer Williams who reveals that he is gay. Eventually, the police officer gives her a second chance and lets her go. Officer Williams advises Emma that she should buy Charlotte the most expensive gift that she can afford.
Such a fuss, when everything we want is right in front of us the whole time… Bucky (Alan Arkin)
Charlotte's father Bucky (Alan Arkin) is a regular at the town's local diner. He is friends with one of the servers, Ruby (Amanda Seyfried). Ruby dreams of something better but is unclear as to what that is. She decides to leave town to a random spot on a map without any specific plans. Ruby tells Bucky that she is leaving that day, which angers Bucky since she waited to tell him. He accuses her of being cowardly but eventually apologizes and asks her to join the family dinner that night.
Charlie has a crush on fellow high school student Lauren Hesselberg (Molly Gordon). While at the mall with his grandparents, Charlie attempts to talk to Lauren while she is working but he is awkward and uncool. Bo watches on, wishing that he could help his big brother. Eventually, Charlie makes his move and shares a kiss with her.
Throughout the day, Sam and Charlotte argue about the divorce and the reasons for it. While preparing dinner for the family, Sam accuses Charlotte of lacking courage and giving up on their marriage to play it safe. The family begins to arrive for dinner, along with Sam's Aunt Fishy (June Squibb), Joe, Ruby, and Angie. Joe mistakenly states that he and Eleanor are engaged instead of dating, which angers Eleanor. During the dinner, Hank and Angie begin arguing about their divorce, which leads to Bo screaming at them to stop fighting. Suddenly, the power goes out. When the lights come back on, Eleanor is kissing Joe, Emma is drinking everyone's wine, and Bucky has collapsed on the floor.
At the hospital, Hank and Ruby escort Bucky in his gurney for some tests. Ruby kisses Bucky on the lips, which confuses but touches Hank. In the waiting room, Charlotte argues with Eleanor when she discovers that the married man that her daughter is sleeping with is Bucky's physician, Dr. Morrisey. An angry Eleanor gets back at her mother by admitting that Joe is not really her fiancé, but only a guy she met at the airport. When Joe learns who the doctor is, he leaves. Eleanor chases after him and pleads with him to stay, sharing a second kiss with him.
Later, Charlotte and Emma argue in their father's hospital room about their differences as sisters. Charlie is surprised when Lauren shows up in the waiting room. Lauren tells him that she came because of Charlie's text, which was really sent by Bo who was trying to help his brother. Hank and Ruby share a moment with each other, and the film hints at a potential relationship between them. Sam and Charlotte reconcile and decide not to get divorced. To make amends with her sister, Emma follows Officer Percy's advice and buys Charlotte the most expensive gift she can from the hospital gift shop, a shower stool. Bucky regains consciousness in his hospital room and goes looking for his family. He finds them in the cafeteria sharing an impromptu Christmas dinner. He watches from a distance as the family begins to dance around the cafeteria together to hospital muzak.
The film ends with hope for the future of the Coopers and reveals the narrator for the film has been the family's St. Bernard Rags.
Additional Film Information
Rate the Film!
Lionsgate released Love The Coopers on November 13, 2015. Jessie Nelson directed the film starring Steve Martin, Diane Keaton, and John Goodman.