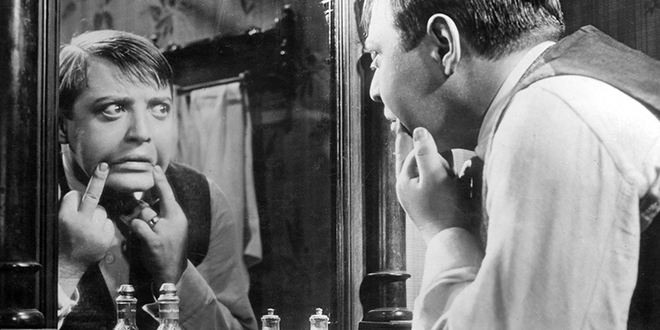 Podcast: Play in new window | Download
Subscribe: Apple Podcasts | Android | Google Play | Stitcher | RSS | More
Vereinigte Star-Film GmbH released M to theaters on August 31, 1931. Fritz Lang directed film, and both he and Thea von Harbou wrote the screenplay. The film starred Peter Lorre, Ellen Widmann, and Inge Landgut.
M Movie Summary
After a number of unsolved child murders, fear overtakes the city of Berlin. Citizens instantly mob anyone seen talking to a child, and label them a murderer. As the pressure mounts on the police to catch the murderer, they increase raids on illegal activities in the city; hoping to find any clue that will lead to the capture of the killer. Soon, criminal organizations join the manhunt; not because it's the right thing to do, but because the increased police presence and shakedowns in the city are hurting their profits. Now, it's not only a rush to capture a child killer, but a rush to see who will capture him first; the legal authorities, or a bunch of thugs no better than the man they are chasing.
Read the full summary
Disclaimer
This podcast is not endorsed by The Criterion Collection, and is intended for entertainment and information purposes only. M, all names and sounds of M characters, and any other M related items are registered trademarks and/or copyrights of The Criterion Collection or their respective trademark and/or copyright holders. All original content of this podcast is the intellectual property of MHM Podcast Network, Movie House Memories and Fuzzy Bunny Slippers Entertainment LLC. unless otherwise noted.
Affiliate links contained in this post will take you to Amazon.com and/or the iTunes Store. This means when you click a link, and purchase an item, the MHM Podcast Network will receive an affiliate commission. Advertisers and Affiliate Partnerships do not influence our content. See our Terms of Use about the inclusion of affiliate links on this site for more information.
---
---