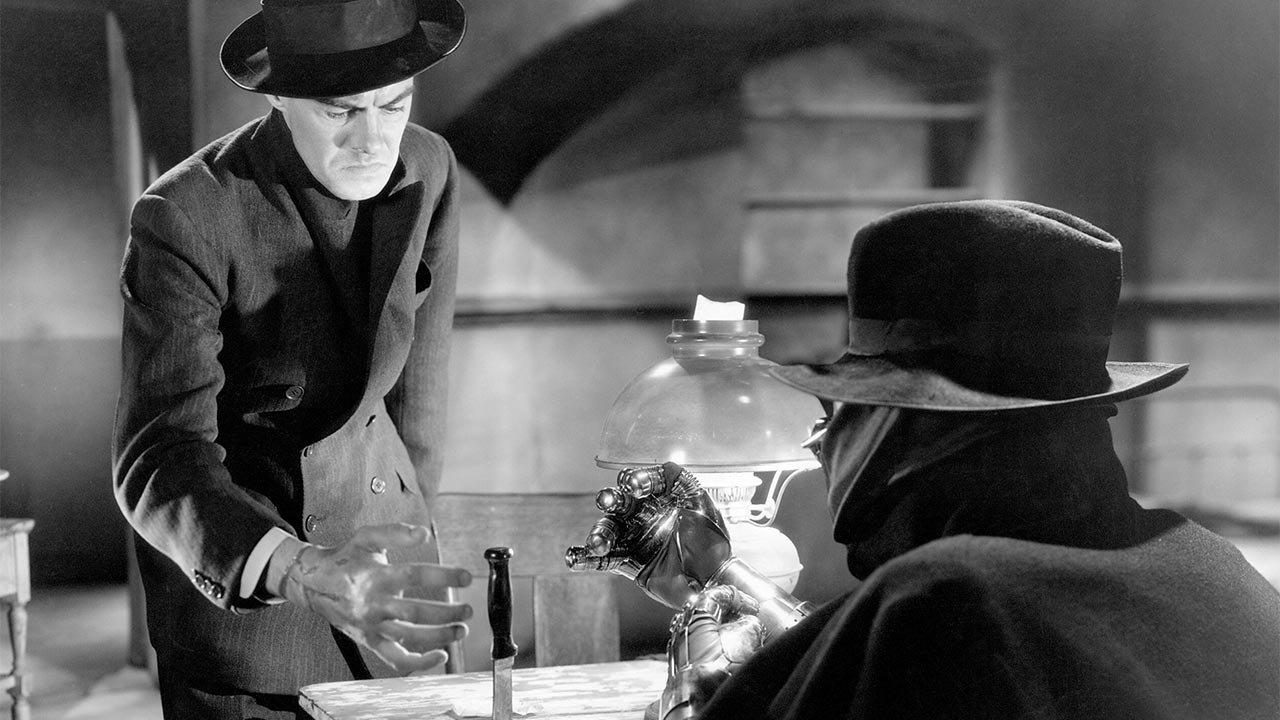 Film and Plot Synopsis
Dr. Gogol is in love with an actress whose appearance in a Grand Guignol-like horror theater has mesmerized him. She quits the theater to travel with her concert-pianist husband, Stephen. While this angers Gogol, when Stephen's hands are crushed in a train accident, Yvonne turns to him as a last resort. Gogol secretly replaces Stephen's hands with those of a guillotined murderer, hoping that the operation will send Yvonne rushing into his arms as the murderer's hands take on a life of their own.
Buy the Film
Mad Love (blu-ray)
10 new from $14.84
4 used from $12.00
Free shipping
as of December 6, 2022 4:25 am
*As an Amazon Associate we earn from qualifying purchases.
'Mad Love' Movie Summary
The summary below contains spoilers.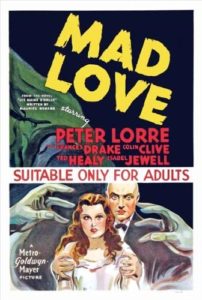 Yvonne Orlac (Frances Drake) is an actor in a horror play at the Théâtre des Horreurs in Paris, France on a break before her final performance. On the radio, her husband, Stephen Orlac (Colin Clive) plays the piano on a live telecast, but Yvonne can not hear his performance as it begins at the same time must leave the room to finish her show.
Afterwards, one of her wealthy fans, Dr. Gogol (Peter Lorre), pays her a visit to tell her how much he loves her and her show. However, he becomes visibly upset when she tells him that it was her last performance so that she may move to England with her husband where they plan to start a new life. As a heartbroken Gogol leaves, he bribes a mover outside the theater as he's about to take the wax figure of Yvonne's character to have it destroyed. He purchases it and begins calling it Galatea from the Greek mythology.
We next meet Stephen Orlac who is on a train from Fontainebleau to Paris. Also on board is the convicted murderer, Rollo the Knife Thrower (Edward Brophy). Two police officers are taking him to his Parisian execution by guillotine. Orlac's train crashes twenty minutes outside Paris and Yvonne finds him still inside with mutilated hands. Doctors tell her they need to amputate his hands but she's not willing to accept their diagnosis. She goes to Gogol's home/office to ask for help even though she knows he's an obsessed fan.
Gogol isn't there as the police commissioner has asked him to witness Rollo's execution. Rollo and the officers survived the crash themselves and they immediately took him to the guillotine. Gogol witnesses the execution, along with the weak-stomached American reporter Reagan (Ted Healy). When Gogol returns home, he finds the wax statue of Yvonne upstairs and the real Yvonne downstairs.
Gogol agrees to help Stephen, but it will be very costly. When he sees Stephen's hands, he realizes amputation is the best bet. However, Gogol quickly forms an idea in his messed up mind. He asks the police for Rollo's body to perform an experiment. He then transplants Rollo's killer hands onto Stephen's arms. The operation appears to be a complete success.
Soon afterwards, Gogol's bill comes due and the Orlacs must sell many of their possessions to pay for the surgery because Stephen is unable to play the piano and therefore earn an income. Soon, a creditor comes to claim Stephen's piano, which angers him greatly. He throws a fountain pen at the man that barely misses its mark.
Stephen then goes to his stepfather, Henry Orlac (Ian Wolfe) to ask for money. Henry shuts him down quick… still angry that Stephen didn't follow him in his line of business as a jeweler. An angry Stephen then throws a knife at him. It misses its mark but breaks the store's front window.
Stephen goes to Gogol's home and demands to know why his hands can throw knives but not play the piano. He thinks he has Rollo's hands, but Gogol suggests otherwise. He says Stephen's problem comes from childhood trauma why Stephen doesn't really buy. However, Gogol sends Stephen off to think about what he said.
Once he leaves, Gogol calls Yvonne to talk about Stephen. He says she should forget him for now as he's sent him off to the country side alone. He then professes his love for her, but she scorns him and he snaps for good. Henry Orlac soon turns up dead and Henry's clerk, Pierre (Edward Lippy), says Stephen did it.
That night, Stephen receives a mysterious note that promises to reveal the truth about his hands if he goes to a specific address at a specific time. Once there, Stephen meets a man who claims to be Rollo. However, the man has metallic hands and his face covered except for dark glasses. Rollo says Dr. Gogol brought him back to life after transplanting his hands on Stephen's body, and it was his hands which killed Henry. Once Gogol finished Stephen's transplant, he stitched Rollo's head back on his body, and then showed him the metal and leather neck brace he has to wear.
By the time Stephen returns home, Yvonne has learned Stephen is the prime suspect for Henry's murder. He tells her what Rollo said to him and that Rollo's hands killed Henry. The police soon arrive and arrest him.
Yvonne frantically goes to Gogol's home to talk to him, but his drunk housekeeper (May Beatty) thinks she's the wax statue come to life. She then locks Yvonne in his upstairs study and runs out of the home where the police arrest her for public drunkenness.
Gogol returns home laughing because he was the man who killed Henry and by impersonating Rollo, Stephen not only thinks he killed the man but the police do too. Before Gogol enters his study, Yvonne tosses the wax figure of her out the window and poses as it, hoping to bide some time to escape.
As Gogol plays the piano, Yvonne realizes he's now completely out of his mind. As she tries to sneak out, the housekeeper's parrot flies by her, cutting her face. Yvonne screams in horror and Gogol stops playing the piano. He turns to find his Galatea has come to life, and embraces her. When he only sees the fear in her eyes, his inner voice tells him to kill that which he loves and Gogol begins to strangle her.
By now, the reporter Reagan, the police, and Stephen have put two and two together after finding that Stephen's finger prints, the prints on the knife that killed Henry, and Rollo's prints are all one and the same. They arrive to question Gogol right as Yvonne lets out a scream.
They rush upstairs to find him strangling Yvonne when they open the door's observation window, but they can't save her because the large door is bolted from the inside. Stephen pulls out a knife he stole at the police station and throws it through the window and into Gogol's back. He then manages to reach in and unbolt the door. Gogol dies as Stephen and Yvonne embrace for a happy ending.
Rate the Film!
Metro-Goldwyn-Mayer released Mad Love on July 12, 1935. Karl Freund directed the film starring Peter Lorre, Frances Drake, and Colin Clive.