Film and Plot Synopsis
It's 1903, and a very well off family named Smith lives in St. Louis. The elder Smith has four beautiful daughters, including a 17-year old Esther and sweet little Tootie. When a beautiful boy named John moves in next door, Esther falls in love. Unfortunately for her, he doesn't give her the time of day… at first. Out of the blue, Mr. Smith shocks the family when he lets them know his work is transferring him to a cushy job in New York. That means the whole family must leave St. Louis, their friends, their lives, and most importantly, the upcoming St. Louis Fair.
Buy the Film
Meet Me in St. Louis (1944) [Blu-ray]
9 new from $15.99
4 used from $14.05
Free shipping
as of September 20, 2023 4:51 pm
*As an Amazon Associate we earn from qualifying purchases.
'Meet Me in St. Louis' Movie Summary
The summary below contains spoilers.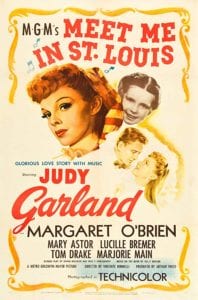 Meet Me in St. Louis
kicks off in the summer of 1903 with Alonzo and Anna Smith living the upper-middle class life. They have four daughters:
Rose
,
Esther
, Agnes, and Tootie, and one son too, Lon Jr.
Esther has a crush on the boy next door, John Truett, but he doesn't notice. Meanwhile, Rose is waiting for a phone call from her beau Warren Sheffield where she expects him to propose marriage. He calls her during dinner, and in front of her whole family, he doesn't propose at all.
At one of the Smith's house parties, Esther and John are formally introduced. However, things do not go as well as she hopes. Once the party is over, he helps Esther turn off the gas lamps in the house. John comments that Esther uses the same perfume as his grandmother, and she has a strong grip for a girl…not a glowing first impression.
Esther wants to meet John again the following Friday where there will be a get-together for a trolley ride from the city to the construction site of the upcoming World's Fair. On the day of the ride, Esther is there, but she's sad when the trolley starts out with no signs of John. However, he catches up midway through.
Fast forward to Autumn, and it's Halloween. Tootie comes home hurt; claiming John attacked her. Esther confronts John, and attacks him without confirming Tootie's story first. Esther returns home where Tootie confesses that John was actually protecting her and Agnes after a prank they did went very wrong. Embarrassed, Esther goes next door to apologize to John. The two share their first kiss together.
Suddenly, Alonzo announces he needs to go to New York City for business, and the family will move there too after Christmas. This devastates everyone. Rose and Esther's burgeoning love lives will be disrupted, and they will all be uprooted from their friends. Esther also is sad she's going to miss the World's Fair.
Time passes, and it's now winter; Christmas Eve to be exact. John is unable to take Esther to the ball because he left his tuxedo at his tailor. It's now closed, so he can't get it back in time. However, Esther's grandfather takes her to the ball instead.
Once there, Esther and Rose look to spoil Warren and his date, Lucille Ballard's evening. The girls switch up Lucille's dance card with undesirable men. When the girls learn that Lucille is actually interested in Lon and not Warren, Esther switches a card so Lucille and Lon can dance together while Rose and Warren flirt away. Esther gets stuck with Lucille's undesirable man instead. By now, John has found a tuxedo, and shows up to the ball. He and Esther dance the night away, but with their New York move ever looming, the couple's romance remains uncertain.
Esther returns home to find Tootie upset about the move too. She sings Tootie a song to soother her, but that upsets her more. She runs out to the yard to destroy all the snowmen the family has made. Alonzo watches this from an upstairs window. Realizing the great damage he's doing to the family, he decides not to take the job in New York City after all. Warren then professes his love for Rose, and wants to marry her the first chance they get.
Spring comes to St. Louis. It's now April 30, 1904, and the Smith family takes two horse-drawn buggies to the World's Fair. The film concludes there at night with the entire family looking out from the Grand Lagoon with wonder. Thousands of lights illuminate the grand pavilions in beautiful splendor; giving new hope to all that witness its spectacle.
Additional Film Information
Rate the Film!
Metro-Goldwyn-Mayer (MGM) released Meet Me in St. Louis on November 28, 1944. Vincente Minnelli directed the film starring Judy Garland, Margaret O'Brien, and Mary Astor.