Film and Plot Synopsis
Jacob and Monica Yi are immigrants from South Korea who have come to the United States to build a better life for themselves and their future children. After working for years in California sexing chicks and having two children, the couple decides to relocate to rural Arkansas to start a farm. Monica is concerned for her son's health due to the farm's remoteness, but Jacob is obsessed with making the farm work. The couple bring Monica's mother Soon-ja from South Korea to help them take care of the children. However, when the family begins to face adversity, the bonds of family will be tested to their breaking point.
Buy the Film
Minari
12 new from $5.42
9 used from $4.25
Free shipping
as of June 3, 2023 3:19 am
*As an Amazon Associate we earn from qualifying purchases.
'Minari' Movie Summary
The summary below contains spoilers.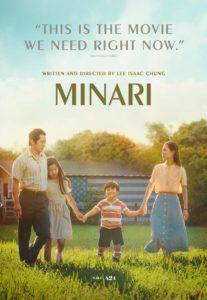 In 1983 Arkansas, the Yi family relocates from California to a rural portion of the state with the intent to grow produce on their farm for the growing Korean population in the South. The patriarch, Jacob Yi (
Steven Yeun
), is obsessed with making the farm work, having grown tired of working determining the sex of baby chickens on the West Coast. His wife Monica (
Han Ye-ri
) is unsure of the move and is concerned that they live too far away from a hospital due to their son David's (
Alan Kim
) heart condition. David's condition is so severe that he is directed not to run in fear that the exertion will kill him. Nevertheless, Jacob persists with his plans.
One of Jacob's first decisions is to decline the services of a water diviner, believing that they are con artists. He and David dig a well in a spot he finds on his own. Jacob also enlists the help of Paul (Will Patton), a Korean War veteran and a deeply religious, although unorthodox, man. Jacob and Monica spend most of their days sexing chicks at the nearby hatchery, while Jacob and Paul spend the rest of Jacob's free time working the farm. The long hours wear on Jacob who frequently fights with Monica about their situation. David and his older sister Anne (Noel Kate Cho) often overhear the fights.
Minari is truly the best. It grows anywhere, like weeds. So anyone can pick and eat it. Rich or poor, anyone can enjoy it and be healthy. Minari can be put in kimchi, put in stew, put in soup. It can be medicine if you are sick. Minari is wonderful, wonderful! Soon-ja
To help with the kids, Jacob and Monica arrange for Monica's mother Soon-ja (Youn Yuh-jong) to travel from South Korea to stay with them. Monica is pleased to see her mother, who reminds her of home and family. David is apprehensive to see his grandmother, due to her unusual behavior and that the fact that he must share a room with her. Nevertheless, Soon-ja makes attempts to bond with her grandchildren and adjust to life in Arkansas. Eventually, David and Soon-ja grow closer, as the elder woman plays cards with her grandson and encourages him to become more physically active. One day, David and Soon-ja go for a walk together and discover a place by the river where Soon-ja believes would be a perfect place to plant minari, a Korean vegetable similar to celery. The two plant some minari seeds together. Soon-ja tells David how resilient and useful the plant is and predicts that they will have a good harvest.
One day, Jacob discovers that his well has run dry. His crops begin to wilt, and Jacob is forced to pay for county water, something the financially strapped Yi family cannot afford. The county water saves the crops, but Jacob runs into additional problems when his intended vendor in Dallas cancels their order from Jacob. Monica pushes Jacob to give up on the farm and return to California where they were paid better. However, Jacob presses on with his obsession to make the farm work which further drives a wedge between the husband and wife.
One morning, David discovers that Soon-ja has wet her bed and is having difficulty getting up. Monica takes her to the hospital and is informed that she had a stroke overnight. Soon-ja survives the stroke, but she has impaired movement and speech and becomes an additional burden on the Yi family.
Not long after, Jacob, Monica, and the kids drive to Oklahoma for David's annual heart checkup. Jacob also uses the trip to attempt to find a new vendor for his produce. Monica notices that Jacob appears to be more concerned about the farm than their son. Once at the appointment, the doctor informs Jacob and Monica that the hole in David's heart has not grown and appears to be closing. The doctor tells the parents to continue doing whatever they are doing because it is good for their son. After the appointment, Jacob finds a Korean grocer to buy his vegetables. Monica confronts her husband about his priorities, and Jacob admits that the success of his crops is more important to him than the stability of their family. At the end of the argument, the couple decide to separate, with Monica returning to California with the children and Jacob staying with the farm in Arkansas.
Meanwhile, the impaired Soon-ja is attempting to burn trash on the farm. The fire grows out of control and begins to burn the barn where Jacob stores his vegetables. Jacob and Monica arrive just as the barn begins to burn. The two run inside and try to stop the fire and save the vegetables. However, the fire grows out of control and Jacob realizes what really matters and decides to save his wife rather than the fruit of his hard labor and lets the barn burn. At the same time, a distraught and confused Soon-ja begins to wander away down the road. David and Anne chase after her, begging for her to return. However, their grandmother continues on. David breaks into a sprint to catch his grandmother, something he has never been able to do before. He stops her and Soon-ja recognizes him and takes his hand. He and Anne lead her back to the family. That night, the family sleeps on the floor together, exhausted from the previous day's events.
Some time later, Jacob and Monica hire a water diviner to locate a spot for a new well. The couple is now reunited, and both are determined to make the farm work. David takes his father to the river to show him the minari crop planted by him and Soon-ja. The minari has grown wild and is very plentiful. Jacob notes Soon-ja picked a good spot to plant the minari as he and David begin to harvest the vegetable.
Additional Film Information
Rate the Film!
A24 released Minari in the United States on February 12, 2021. Lee Isaac Chung directed the film starring Steven Yeun, Yeri Han, and Alan S. Kim.