Film and Plot Synopsis
When Macy's Department store hires Kris Kringle to play Santa at their flagship store on 34th Street for the Christmas season, it leads to good will for it and its consumers. However, an inept psychologist tries to commit Kringle to Bellevue Hospital, and it leads to a trial to prove whether Santa Claus is real, and whether Kringle is really Santa Claus.
Buy the Film
Miracle On 34th St (bw) [Blu-ray]
14 new from $8.98
11 used from $3.79
Free shipping
as of May 30, 2023 10:30 pm
*As an Amazon Associate we earn from qualifying purchases.
'Miracle on 34th Street' Movie Summary
The summary below contains spoilers.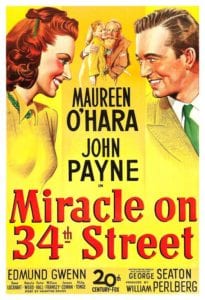 Miracle on 34th Street
begins with Kris Kringle strolling through New York City. As the Macy's Thanksgiving Day Parade begins, Kringle finds a drunk Santa Claus. He complains to Doris Walker who is in charge of the parade. Since Kringle looks so much like Santa Claus, she asks him to substitute for the drunk. Kringle, not wanting to disappoint the kids, reluctantly accepts. As expected, he does well playing Santa during the parade, and Macy's hires him to play Santa at their flagship store on 34th Street for the rest of the season.
The head of the toy department, Julian Shellhammer, wants Kringle to suggestive sell the toys Macy's has overstocked. Instead, Kringle directs shoppers to other stores when children ask for items Macy's doesn't have. This approach delights the customers, but Julian worries that Mr. Macy won't like Kringle's style.
Meanwhile, Doris' neighbor, attorney Fred Gailey takes Doris' young daughter, Susan to see Santa. Because Doris raised her daughter not to believe in fairy tales, Susan doesn't believe Kringle is really Santa, or that Santa even exists. However, when she sees Kringle speak Dutch to a girl who can't speak English, she starts to believe he might really be Santa.
Doris doesn't like Kringle corrupting her daughter, and she asks Kringle to tell Susan the truth. When Kringle insists that he's really Santa, Doris tires to fire him. However, Kringle's appearance at the store has generated so much good will towards Macy's that Mr. Macy decides to go with it, and instructs all his staff to recommend other stores to customers when Macy's doesn't have the item they want. When he gives Doris and Julian bonuses for their good work, Doris realizes she must keep Kringle.
Because Doris is concerned about Kringle's mental health, Julian sends Kringle to store psychologist Granville Sawyer for psychological evaluation. Kringle passes the exam, but Sawyer fails one that Kringle gives him.
Doris also invites Dr. Pierce, the physician at the Brooks Memorial Home for the Aged—Kringle's nursing home—to Macy's. He assures her Kringle is harmless. He, Julian, and Doris decide Kringle needs a room near the store so he doesn't have to commute to it every day.
Later that night at dinner at Doris' apartment, Fred invites Kringle to stay with him for the Christmas season. The two form a pact. Kringle will work on Susan's imagination while Fred will work on Doris over her cynical view of men and fairy tale endings. However, Kringle has a tough task ahead of him as Susan wants a house for Christmas for her an her mother or she won't believe in Santa.
Kringle soon learns that Sawyer convinced 17-year old employee Alfred that his kind-heartedness means he has a guilt complex. Kringle confronts Sawyer as a phony, and when Sawyer doesn't back down, Kringle bops him on the head with an umbrella. Wanting to commit Kringle to Bellevue Hospital, Sawyer fakes the severity of his injury.
Sawyer and Julian get Kringle out of the store under false pretenses for another mental examination. Thinking Doris is in on the plot, Kringle fails the exam on purpose, and the hospital recommends committing Kringle permanently. Fred shows up to the hospital, and tells Kringle the truth that Doris didn't know about Sawyer's plot. He convinces Kringle not to give up.
At Kringle's hearing before the Honorable Henry X. Harper, District Attorney Thomas Mara gets Kringle to state that he's Santa Claus, and he then rests his case. Fred argues on Kringle's behalf that he's not insane because he really is Santa Claus. Judge Harper's political adviser, Charlie Halloran warns him in private that the hearing will be trouble for his upcoming reelection bid. When the good judge finds his own grandchildren are angry at him for trying to commit Santa, they drive the point home.
When Fred quits his law firm to defend Kringle, Doris becomes alarmed. She thinks Fred is stupid for doing it because there's no room in life to believe in fantasies like Santa Claus.
Back at the trial, Fred calls Mr. Macy as a witness, and under questioning, asks him if he believes Kringle is Santa Claus. Macy replies, "I do," and then gets off the stand and fires Sawyer.
Next, Fred calls the DA's own son, Thomas Mara Jr who testifies that his dad, the DA, told him Santa was real. When Thomas Junior gets off the stand, the DA concedes that Santa Claus exists, but continues on with the accusation that Kringle is not mentally stable.
Mara requests that Fred produce authoritative proof that Kringle is the "one and only" Santa Claus on the basis of competent authority. Fred asks for an adjournment until the next day, which the judge grants.
That night, Susan writes Kringle a letter to cheer him up, and Doris adds a little note to that, telling him she believes him as well. A mail sorter later sees Susan's envelope addressed to Kringle, and suggests they deliver it (and the thousands of other letters addressed to Santa) to Kringle at the courthouse.
The next day at the hearing, Fred presents Judge Harper three of those letters from the US Post Office. He argues that the Post Office's acknowledgment of Kringle as Santa Claus is the positive proof he needs to satisfy the court.
The DA argues that three letters isn't enough evidence that the US Post Office considers Kringle Santa Claus, and Judge Harper agrees. He requests Fred produce all the letters, and place them on his desk. The bailiffs walk into the courtroom with many mailbags of those letters.
Judge Harper declares that since the Post Office is a competent authority, and since they recognize Kringle to be Santa Claus, then his court will not dispute that conclusion. He dismisses the case, and sets Kringle free in time for Christmas Eve.
Christmas morning arrives with disappointment for Susan. Kringle doesn't deliver on his promise to her. As she, Doris, and Fred prepare to leave the morning's party, Kringle sends them on an alternate route home to avoid traffic. Along the route, Susan sees the house she asked Kringle for, and yells for Uncle Fred to stop. She runs past a for sale sign and into the house. It's everything she wanted.
Fred suggests he and Doris marry, and buy the house. They then spot Kringle's cane next to the fireplace as the film closes for a Merry Christmas.
Additional Film Information
Rate the Film!
Twentieth Century Fox released Miracle on 34th Street on October 2, 1947. George Seaton directed film starring Edmund Gwenn, Maureen O'Hara, and John Payne.