Film and Plot Synopsis
In 1956 love doesn't come easy for shy Jonathan Bellah. Not without a little help anyway. That's where his new friend Gene comes in the picture. Gene is rebellious and adored by all the girls. And with a few lessons Gene with teach Jonathan the tricks of the trade. But there are a few things they have to learn on their own, if they are to survive adolescence.
Buy the Film
Mischief
6 new from $30.98
6 used from $19.96

as of September 25, 2023 10:28 am
*As an Amazon Associate we earn from qualifying purchases.
'Mischief' Movie Summary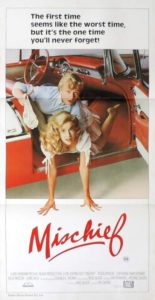 A long time ago, in a pissant Ohio town, an average horny high school student, Jonathon Bellah, lives his insignificant life by crashing cars, watching D cups walk down the street, and getting his rocks off by reading nudist magazines. Jonathan is brought to the screen by that pain in the ass kid from On Golden Pond. No, is not Jane Fonda. Jonathan is portrayed by the master thespian, Doug McKeon.
Jonathan's only friend (and I'm using that term loosely) is the new kid in town, Eugene "Gene" Harbrough. Gene, portrayed by The Wraith's Chris Nash, is your typical 1950s greaser, who idolizes my hometown hero, James Dean, but he comes off as a cross between Michael Pare in Eddie and the Cruisers and Lewis Smith in The Heavenly Kid. Gene is "experienced" with the ladies and instantly makes it his mission to help Jonathan lose his virginity, because there is nothing better to do in their pissant Ohio town.
Gene takes an immediate liking to Bunny Miller. When Bunny isn't lusting after Starfighters or fighting off comet-created zombies, she is dating the biggest douchebag in Nelsonville, Ohio, Kenny Brubaker. (We all hate Kenny because he is the Ridgemont based audio consultant who took Jennifer Lason Leigh's virginity in a Little League dugout. But I digress.) Bunny breaks things off with Kenny, when he beats on Jonathan at a drive-in movie, then challenges Gene to a chicken race. Bunny decides to start up a relationship with the bad boy in town, Gene, and these adorable kids eventually fall in love while riding horses and motorcycles.
We gradually learn Gene has issues that go far beyond the local "Richie Rich" hating on him. Gene shares with Jonathan that his mother has recently passed away and his abusive violinist father had to quit his job with the symphony to move them to Nelsonville. Gene's father, played by Terry O'Quin, learned his abusive behavior from his days as a notorious stepfather. Mr. Harbrough beats on Gene out of pain for his loss and to discipline his troubled son.
Meanwhile, Jonathan and the object of his most lustful fantasies, Marilyn McCauley, start dating. At every turn, this horny couple can be found mastering the art of "heavy petting." One afternoon, while Gene and Bunny are bareback riding in a local pasture, Jonathan strenuously tries to get Marilyn out her panties and bareback ride her in the front seat of his dad's car. When they get caught by their friends, the car door accidentally opens, Jonathan rips Marilyn's pantaloons off her body, and the couple creates a very memorable 1980's movie poster.
Jonathan and Marilyn quickly get past their embarrassing petting session and decide to take their relationship to the next level when Marilyn's parents leave town for the weekend. Marilyn invites Jonathan to her house one beautiful Saturday afternoon and proceeds to lead him to her bedroom. Marilyn puts on some mood music then turns her innocent teddy bear, so it can't watch the upcoming exploits. The teens begin undressing each other and we learn Mother Nature has blessed Marilyn (and her portrayer, Kelly Preston) with a pair of Golden Globes, worthy of their award winning ceremony. A naked Marilyn crawls into her bed and convinces Jonathan he needs to remove his bloomers before the action can truly begin.
Just as the teens begin to explore their bodies, the backwards Jonathan confesses to Marilyn he didn't bring any protection with him. Marilyn tells Jonathan they can "play," but they can't go all of the way. Jonathan, in turn, convinces his girlfriend to play "just the tip." The joyous game proceeds and Marilyn's dog Lassie enters the room to see if Jonathan has fallen down the well. Marilyn gets distracted by the dog, but Jonathan stays focused, doesn't pull out of his mission, and completes his conquest. Things turn comical when Marilyn's parents unexpectedly return home. Jonathan has to get dressed and flee the scene before he gets caught. He flies out of the bedroom window, but is eventually caught by Marilyn's mother who also has the fortune of watching Jonathan's pants fall to the ground.
Bunny's parents want her and Kenny to get back together, so they set up a dinner with Kenny at their house. Gene finds out about the "date" and gets angry with Bunny. Kenny uses this dinner date to bait Gene into a brawl at the local Arnold's Drive-In. Kenny and his friend's battle with Gene and Jonathan until Jonathan gets a broken arm and the owner breaks up the fight with a shotgun. Gene's father is enraged by Gene's behavior and kicks his son out of their house forever. Gene decides to leave Nelsonville, an injured Jonathan, and a broken hearted Bunny, who reluctantly begins dating Kenny again.
After agreeing to attend the prom with Jonathan, Marilyn reneges and decides to attend with Jerry Yeager, her former boyfriend who is now in college. Jonathan decides to break things off with Marilyn altogether, telling her she is shallow and cold hearted.
Gene returns to town to ask Bunny to run off with him. Gene has found work on a Kentucky horse ranch and peace in his life. Jonathan and Gene go to the prom to find Bunny, but are instantly asked to leave, since Gene is no longer a Nelsonville student. Bunny, who is dancing with Kenny, sees Gene and chases after him. With Jonathan's help, the couple reconciles and decides to leave town together.
Jonathan informs Bunny's family she has left town, then runs into that prick Kenny. Jonathan, who has had enough of Kenny's bullying, goes demolition derby on Kenny's precious car in the middle of Nelsonville. Ultimately, Jonathan runs Kenny's car into a fire hydrant where the water kills Kenny's car. A triumphant Jonathan sees his friend Rosalie, who has a crush on him, asks her out on a date, then drives off in his beat up car.
The end.
Additional Film Information
Rate the Film!
20th Century Fox released Mischief on February 8, 1985. Mel Damski directed the film starring Doug McKeon, Catherine Mary Stewart, and Kelly Preston.