Summaries
Mission: Impossible II (2000)
(M:i-2)
Film and Plot Synopsis
In Mission: Impossible II, Ethan Hunt partners up with Nyah Hall to stop a renegade agent named Sean Ambrose from releasing a new kind of terror on an unsuspecting world. However, before they complete the mission, they'll traverse the globe, and have to choose between everything they love and everything they believe in.
Buy the Film
Mission: Impossible 2 (4K UHD + Blu-ray + Digital)
10 new from $16.99
7 used from $15.90
Free shipping
as of May 25, 2023 10:12 pm
*As an Amazon Associate we earn from qualifying purchases.
'Mission: Impossible II' Movie Summary
The summary below contains spoilers.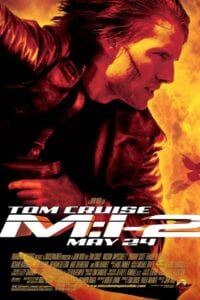 Mission: Impossible II
begins when bio-chemical expert Dr. Vladimir Nekhorvich (
Radé Sherbedgia
) sends a desperate message to Ethan Hunt (
Tom Cruise
). The two are old friends, and the doctor wants to warn the IMF Agent that his employer, Biocyte Pharmaceuticals, forced him to develop a biological weapon and its antidote so that they can make a profit on the remedy. He makes arrangements to meet with Ethan to deliver the Chimera virus, and its cure, Bellerophon, to IMF. Since Ethan is on vacation and unable to be reached, the IMF sends another agent, Sean Ambrose (
Dougray Scott
), disguised as Ethan to meet the scientist. They meet on a passenger plane, but Ambrose double crosses Nekhorvich and the IMF and steals the antidote before his men destroy the plane and Nekhorvich.
After the mission goes bad, the IMF locate Ethan climbing mountains without ropes in Monument Valley, Arizona and bring him in. IMF Commander Swanbeck (Anthony Hopkins) orders Ethan to recover the virus and the cure, and directs him to recruit Nyah Nordoff-Hall (Thandiwe Newton), Ambrose's ex-girlfriend, to assist him with his task. Nyah is also a professional thief, and Ethan uses her criminal history to convince her to help him locate and stop Ambrose.
Once again, Ethan assembles a team to help him. He recruits computer expert Luther Stickell (Ving Rhames) and pilot Billy Baird (John Polson) and directs them to meet him in Sydney, Australia where Biocyte's laboratories are located. Fortunately, Ambrose is located there as well and is receptive to rekindling his relationship with Nyah when he helps her out of a staged arrest. Ambrose meets with Biocyte's CEO, John C. McCloy (Brendan Gleeson), and blackmails the business man into helping him. During the meeting, Nyah is able to steal a camera's memory card and delivers it to Ethan so that he can figure out what Ambrose is up to. Based on the memory card, they determine that Chimera has a 20-hour dormant period before it causes death. The antidote is only effective if it is delivered during the 20-hour window. Nyah returns the memory card to Ambrose, but he notices her putting it into his wrong jacket pocket.
Meanwhile, Ethan kidnaps McCloy to force him to give up the antidote to his team. However, they learn that all the Bellerophon samples were stolen by Nekhorvich before his death and are in Ambrose's hands now. Ethan makes the determination that although Ambrose has all of the antidote, he doesn't have any of the virus itself. Ethan breaks into Biocyte to destroy all the remaining samples of the virus before Ambrose can get his hands on them. Ambrose anticipates Ethan and breaks in himself to acquire the virus. Ethan destroys all but one sample, but Ambrose shows up with Nyah and prevents the last sample's destruction. Ambrose uses Nyah to get the virus, but she betrays Ambrose and injects herself with Chimera. Ethan is forced to leave Nyah behind, but promises her he will find her within the 20-hours with the antidote. Ambrose can't simply kill her without destroying the last sample of the virus. He takes her away and places her into safe keeping.
Shortly thereafter, Ambrose releases Nyah onto the streets of Sydney with the intent to have her start a pandemic once the 20-hours ends. He offers to sell the antidote back to McCloy in exchange for stock options which would make him Biocyte's majority shareholder and set him up for a huge financial windfall when the virus spreads. Ethan is able to disguise himself as one of Ambrose's men and sneaks into the meeting. He is able to steal the remaining samples of Bellerophon before Ambrose can make the deal.
With the Bellerophon in hand, Ethan leads a high speed chase across Australia in a race to get the antidote to Nyah. Luther and Billy fly ahead in an attempt to locate Nyah before she kills herself so that she doesn't spread the virus. Ethan is able to kill all of Ambrose's pursuing men before Ambrose himself catches up to the IMF Agent. They engage in a brutal fistfight before Ethan shoots Ambrose dead. Luther and Billy find Nyah just as she is about to throw herself off a sea cliff, and they fly her back to Ethan who injects her with the antidote, nullifying the virus.
In the closing scene, IMF clears Nyah's criminal record and Ethan begins a new vacation with her in Sydney as the two disappear into the crowd.
Add the film to your collection today!
Additional Film Information
Rate the Film!
Paramount Pictures released Mission: Impossible II on May 24, 2000. John Woo directed the film starring Tom Cruise, Dougray Scott, and Thandie Newton.