Film and Plot Synopsis
Moonrise Kingdom takes place on the small island of New Penzance in 1965. We meet Suzy and Sam in the middle of a secret year-long correspondence. Although the two twelve-year-olds are outcasts—Suzy is the most beautiful raven in Noah's arc, and Sam the most unpopular member at the Khaki Scout camp—the two have found comfort in one another. The two run away to start a new life with each other as an impending thunderstorm approaches. The two set out to discover love, independence, and happiness as a formidable posse of anxious parents and local officials follow close behind to bring the missing kids home.
Buy the Film
Moonrise Kingdom [Blu-ray]
10 new from $20.98
8 used from $19.99
Free shipping
as of September 22, 2023 9:13 pm
*As an Amazon Associate we earn from qualifying purchases.
'Moonrise Kingdom' Movie Summary
The summary below contains spoilers.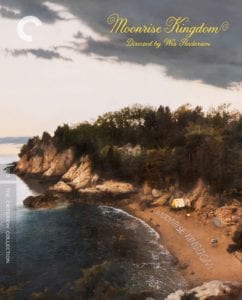 On the tiny island of New Penzance, 12-year-old orphan Sam Shakusky runs away from Camp Ivanhoe to meet with Suzy Bishop. The two made a secret pact to run away with each other after becoming pen pals a year earlier, and falling in love.
They meet at a prearranged location in an open meadow, and then hike across the island to a secluded cove. Suzy's parents along with Scoutmaster Ward, the Khaki Scouts from Camp Ivanhoe; and Island Police Captain, Duffy Sharp are in hot pursuit. The Khaki Scouts of Sam's troop catch up to the lovebirds first. Suzy stabs Redford with a pair of scissors when the troop tries to capture the two. When a stray arrow kills their dog, Snoopy, the boys flee. That leaves Sam and Suzy to continue on to the cove. Eventually, they arrive at their destination, and name it The Moonrise Kingdom.
After a bit of underage kissing and underwear dancing, the search party catches the pair redhanded in their tent. Sam stays with Captain Sharp until Social Services can arrive to claim him because his foster parents refused to let him return to their home. So the authorities will send him to a juvenile refuge for electroshock therapy treatment. Suzy's parents take her home. There, she tells her mother she hates her, and that she knows the she's having an affair with Captain Sharp.
The Khaki Scouts, minus the ginger-prick Redford, decide to help Sam and Suzy with an emergency rescue. They take the two to their canoes, and paddle to the island of St. Jack Wood to find Ben, a cousin of one of the scouts. Ben works at another Khaki Scout summer camp named Camp Lebanon. Commander Pierce, who runs the camp like a military establishment thinks that Scoutmaster Ward is an incompetent idiot. Ben hatches a plot to send Sam and Suzy away on a shrimper where he can work as a crewman; avoiding Social Services and electroshock therapy.
Ben marries Sam and Suzy, in a non-legally binding ceremony, before heading off to the shrimper, but the two never make it to the boat. Suzy accidentally leaves her binoculars behind at Camp Lebanon, so Sam runs back into Camp Lebanon to retrieve them. As he runs through the wilderness, lightening strikes him down.
Suzy and the Camp Ivanhoe scouts manage to save him, but the scouts of Camp Lebanon, Suzy's parents, Captain Sharp, and Social Services take chase. By this time, a huge storm hits the island which takes out Commander Pierce. Scoutmaster Ward assumes control of the situation, and saves the scouts of Camp Lebanon from the oncoming floods.
That night, as the rain pours down, Social Services argues with Suzy's parents, Captain Sharp, and Scoutmaster Ward inside a church where everyone has taken refuge. They soon discover Sam and Suzy watching them all from the second floor. The two flee to the top of the steeple where they prepare to jump to their deaths. Captain Sharp gets Social Services to agree to let him be Sam's legal guardian. He then climbs to the top of the steeple to rescue Sam and Suzy just before lightening hits it.
The film ends on a warm afternoon as Suzy and her brothers relax in their house. Sam looks on, and paints a landscape of The Moonrise Kingdom. As Mom calls Suzy and her brothers to dinner, Sam tells Suzy that he will see her the following day. He slips out the window where Captain Sharp waits by his car. They drive away into the summer sun.
Additional Film Information
Rate the Film!
Focus Features released Moonrise Kingdom to theaters on June 29, 2012. Wes Anderson directed the film starring Jared Gilman, Kara Hayward, and Bruce Willis.