Film and Plot Synopsis
One of the most compelling and conflicted characters in Sony Pictures Universe of Marvel Characters comes to the big screen as Oscar® winner Jared Leto (2013, Best Supporting Actor, Dallas Buyers Club) transforms into the enigmatic antihero Michael Morbius. Dangerously ill with a rare blood disorder and determined to save others suffering his same fate, Dr. Morbius attempts a desperate gamble. While at first it seems to be a radical success, a darkness inside him is unleashed. Will good override evil – or will Morbius succumb to his mysterious new urges? (Courtesy of Sony Pictures Entertainment)
Buy the Film
Morbius [4K UHD]
12 new from $14.42
9 used from $6.35
Free shipping
as of December 2, 2023 7:04 pm
*As an Amazon Associate we earn from qualifying purchases.
'Morbius' Movie Summary
The summary below contains spoilers.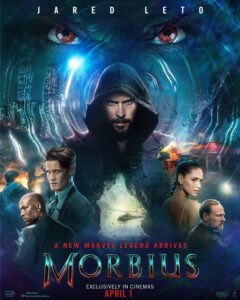 A 10-year-old Michael Morbius (Charlie Shotwell) is a patient in a hospital in Greece that helps treat a rare, but fatal blood illness. Michael introduces himself to the newest patient at the hospital, Lucian (Joseph Esson), whom Michael constantly refers to as Milo. Both boys fear death and have an overwhelming desire to be normal. The boys bond and become friends. The boys' doctor and hospital director, Dr. Emil Nicholas (Jared Harris), recognizes great intellect in Michael and arranges for the boy to attend medical school in New York. Dr. Nicholas promises Michael that he will look after Milo in the boy's absence.
Twenty-five years later, Michael is now a brilliant scientist who has developed an artificial blood that advances medicine. Michael is nominated for a Nobel Prize for his work but rejects the award and continues his secret work to develop a cure for both his and Milo's conditions. Once back at his lab in New York, Michael's secret research is discovered by his colleague and friend Dr. Martine Bancroft (Adria Arjona). Michael explains that his research is focused on splicing the genes of vampire bats with his own to cure his condition. However, the research is illegal and expensive, and Michael goes to an adult Milo (Matt Smith) to secure funds to conduct the last phases of his experiments in a ship in international waters. The wealthy Milo agrees to supply the money in the hopes that it will provide a cure for him as well.
Once out at sea, Michael and Martine work together to successfully create a cure for Michael's condition. Michael tests the cure on himself. The cure works, but it has the unintended result of transforming Michael into a living vampire with a thirst for blood. Michael kills and drains the blood of the entire crew of the ship, leaving only an unconscious Martine alive. Eventually, Michael regains his senses and realizes that the cure worked. However, when he reviews the security camera footage for the ship, he is repulsed at what the cure has done to him. Michael erases the footage, notifies the Coast Guard, and then jumps overboard.
The FBI is charged with learning what happened on the ship and dispatches Alberto "Al" Rodriguez (Al Madrigal) and Simon Stroud (Tyrese Gibson) to investigate. They attempt to question Martine in the hospital, but she feigns a lack of memory of what happened. Simon seems to suspect that Michael maybe involved. Meanwhile, Michael returns to his New York lab and begins to research his abilities and his need for blood. He discovers that he has superhuman strength, speed, and echolocation. He also discovers that vampire bats treat him as one of their own rather than attacking him for food. Unfortunately, he also learns that he has a continuing need for blood which he satisfies on a temporary basis by consuming his own artificial blood. However, Michael determines that the effectiveness of the artificial blood is only temporary and eventually he will be consumed by a need to drink human blood again if he doesn't find a cure.
I went from dying… to feeling more alive than ever. Increased strength and speed… the ability to use echolocation… and an overpowering urge to consume blood. Dr. Michael Morbius (Jared Leto)
Milo learns of Michael's success and confronts his friend for a cure for him as well. Michael refuses to provide the cure to a furious Milo for fear of cursing his friend with the same condition. Unfortunately, Michael doesn't realize that Milo has stolen a vial of the cure from him. A short time later, Michael goes to visit Martine in the hospital and discovers a nurse drained of her blood. Believing that he is responsible, Michael attempts to flee the hospital and is confronted by Al and Simon. Michael attempts to escape when the nurse's body is discovered by security, but he is taken into custody by the FBI agents.
While in prison, Michael is visited by Milo. Michael soon realizes that Milo has taken the cure and is the one responsible for killing the nurse. Michael orchestrates his escape to confront and stop his old friend. However, Milo is not disgusted by what he has become like Michael and relishes in his newfound abilities and extension on life. Milo encourages Michael to embrace his powers and to use them to their full potential. Milo attempts to attack Michael, but rather than hurt his friend, Michael flees.
Michael seeks out the assistance of a recovered Martine to help him develop an antibody to the cure. Michael acquires a secret laboratory from drug manufacturers and sets out to create new cures for himself and Milo. Meanwhile, Milo continues with his murderous ways and has one of his attacks captured on security footage. Al and Simon believe that whatever Michael's condition is, that it is spreading and release the video to the media. Dr. Nicholas sees the video and confronts Milo, begging for his patient to stop. Milo attacks Dr. Nicholas and severely wounds him. Michael arrives a short time later but is too late to save the doctor.
Milo then seeks out and kidnaps Martine. Milo mortally wounds Martine as well. Michael arrives to late to save her, but Martine offers her blood to Michael with her dying breath, knowing that it will make Michael extremely powerful. Michael drinks from his dead colleague. Michael then uses his powers to summon an army of bats which he uses against Milo in their final battle. Michael injects Milo with the antibody, which kills Milo. Michael flies off with the bats after the battle. He finally embraces his life as fugitive vampire. Unbeknownst to Michael , Martine awakens from death with red eyes, having been resurrected by a single drop of Michael's blood that she ingested while he was feeding on her.
In the first mid-credits scene, the multiversal effect seen in Spider-Man: No Way Home appears in the skies above New York City. Adrian Toomes (Michael Keaton) mysteriously finds himself transported from that Spider-Man universe to a jail cell in Michael's universe. Since Adrian Toomes has committed no crimes in the Morbius universe, he is released from incarceration.
In a second mid-credits scene, Michael is seen driving a car to a specific location, presumedly summoned there by unknown parties. Once he arrives at his destination, Toomes flies in with his Vulture gear. Toomes pontificates that his appearance on that world is likely the responsibility of Spider-Man and suggests that he and Michael team-up. Michael smiles at the offer.
Rate the Film!
Sony Pictures Releasing released Morbius on April 1, 2022. Daniel Espinosa directed the film starring Jared Leto, Matt Smith, and Adria Arjona.