Summaries
Mr. Smith Goes To Washington (1939)
Film and Plot Synopsis
When Jefferson Smith is appointed a US Senator, the idealistic Washington outsider plans to make changes for the better. However, the people pulling the strings in his party and State plan for him to be compliant and stay out of the way of their plans; whether legal, ethical, or not. Unfortunately for Smith, a well-intentioned deed sets off a dramatic chain of events that sets him at odds with not only his colleagues, but with bullying power brokers, and the entire Senate.
Buy the Film
Mr. Smith Goes to Washington (4K-Mastered ) [Blu-ray] [4K UHD]
11 new from $29.99
12 used from $6.89

as of September 18, 2023 9:33 am
*As an Amazon Associate we earn from qualifying purchases.
'Mr. Smith Goes To Washington' Movie Summary
The summary below contains spoilers.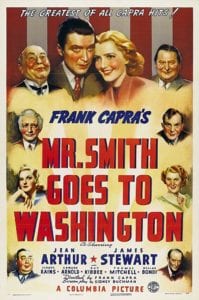 In
Mr. Smith Goes To Washington
after a Senator from an unnamed State passes away, it's up to the State's Governor to appoint a replacement for him. Or is it? We quickly learn that a ruthless political machine runs the unnamed State. Jim Taylor is the man pulling the strings, and as a result, he tells the Governor whom to appoint.
The man Taylor picks is a political stooge which the Governor can't name with a straight face. On the unsolicited advice of his children, and a coin toss, the Governor chooses someone else. He picks a Boy Ranger Leader (Boy Scouts refuse to let the film use their name) named Jefferson Smith. The Governor assures his "Boss" that Smith is a bumpkin, and therefore won't ask any questions or cause any problems.
Yet in all actually, Mr. Smith is a true lover of American History. Upon arriving in Washington D.C., he loses himself among the monuments. Most of all, The Lincoln Memorial holds a special place in his heart. Once settled in, Mr. Smith asks questions, and takes his oath of office seriously. He meets his new colleague, Senator Paine; a friend of his late father. As a result, Smith idolizes the Senator, but unfortunately, Taylor's machine also controls Paine.
Mr. Smith inherits his assistant named Clarissa Saunders. She is weary of politics, and consequently, is quite untrusting of Mr. Smith. In fact, he annoys her so much, she tries to quit, but Mr. Smith refuses her resignation.
Senator Paine takes Jeff Smith under his wing. He even suggests that Smith propose a bill, chiefly to keep Mr. Smith out of the way for a bit. Saunders helps draw up a bill which authorizes a boy's camp in Smith's home state. The bill gives the camp a federal loan which boys across America are to repay with donations. She learns the location of the proposed camp which is to be built along a Creek.
However, that land covers part of a major project of the Taylor machine. Consequently, Taylor and his cronies put so much time and money into their project, they refuse to let it go. All of the sudden, Jefferson Smith is in over his head.
In spite of the odds, Mr. Smith refuses to abandon his plan, and the personal attacks fly. Moreover, Taylor forges documents that claim Mr. Smith owns the land in question. Of course, Jeff Smith is disillusioned and hurt by Senator Paine, and unsurprisingly, he is unable to defend himself in a closed hearing.
In time, Smith's assistant believe in him, and she coaches him on creating a filibuster. Therefore, Smith bides time until he receives news from his home state about what is really going on. Furthermore, Saunders professes her love for Smith, but Taylor owns most of the newspapers, and he stifles any truth. His papers print falsehoods about Smith's character, consequently destroying him.
As Smith wearily reads historical documents on the Senate floor, the Boy Rangers print the truth in their paper. Taylor's thugs threaten the boys, and they physically harm some of the children. The man stops at nothing to protect his project and his machine.
Negative telegrams from the State are brought forth by Senator Paine, which defeats Smith psychologically. Tired and exasperated, he faints on the floor. As a result, Senator Paine's conscience gets to him, and he attempts suicide. When that fails, Paine admits that every word Jefferson Smith speaks is true. Paine confesses he is a fraud who is controlled by Taylor. Mr. Smith goes to Washington, and scores one for democracy.
Additional Film Information
Rate the Film!
Columbia Pictures Corporation released Mr. Smith Goes To Washington on October 19,1939. Frank Capra directed the film starring James Stewart, Jean Arthur, and Claude Rains.