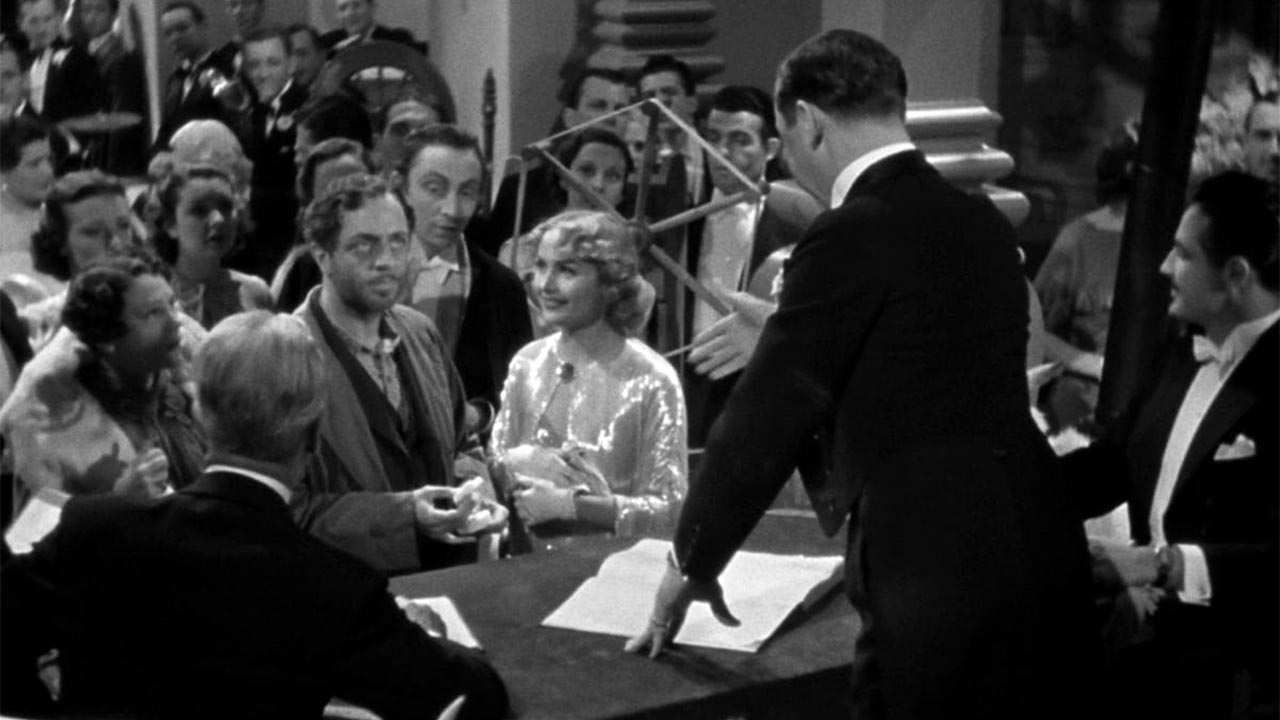 Summaries
My Man Godfrey (1936)
Movie review coming on 1/09/2023
Film and Plot Synopsis
Carole Lombard and William Powell dazzle in this definitive screwball comedy by Gregory La Cava—a potent cocktail of romantic repartee and social critique. Irene (Lombard), an eccentric, wealthy Manhattanite, wins a society-ball scavenger hunt after finding a "forgotten man" (Powell)—an apparent down-and-out drifter—at a dump. She gives him work as the family butler and soon falls head over heels for him. Her attempts to both woo Godfrey and indoctrinate him in the household's dysfunction make for a string of madcap high jinks that has never been bested. La Cava's deft film was the first to garner Oscar nominations in all four acting categories, and it is one of Hollywood's greatest commentaries on class and the social unrest of the Depression era. (Courtesy Criterion Collection)
Buy the Film
My Man Godfrey (The Criterion Collection)
9 new from $19.99
6 used from $15.00
Free shipping
as of November 28, 2022 6:03 pm
*As an Amazon Associate we earn from qualifying purchases.
'My Man Godfrey' Movie Summary
The summary below contains spoilers.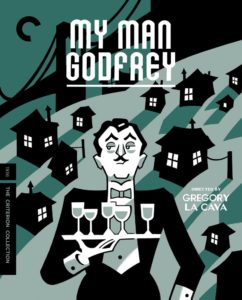 It's the Great Depression and Godfrey Parke aka Godfrey Smith (William Powell ) is an unemployed homeless man living in a New York City Hooverville at an East River dump. Late one night, a spoiled socialite named Cornelia Bullock (Gail Patrick) drives up in her swanky car with her sister, Irene (Carole Lombard) as the two are part of a scavenger hunt.
Cornelia offers Godfrey $5 to be her forgotten man so she can win the hunt's main prize, much to Irene's dismay because she told Cornelia about the dump in the first place want wants to beat her sister. Cornelia's arrogance angers Godfrey and he pushes her in a pile of ashes after refusing her dehumanizing offer. As she heads back to the car, Irene chats up Godfrey and while young and arrogant herself, he finds her to be a generally kind person. He says he will go with her not only to help her beat Cornelia, but to satisfy his own curiosity regarding what a scavenger hunt is all about.
They head to a ballroom of the Waldorf-Ritz Hotel where Irene's businessman father Alexander Bullock (Eugene Pallette) not-so-patiently waits for his wife Angelica (Alice Brady) and her protégé (gigolo), Carlo (Mischa Auer), to play the game. Once Godfrey arrives, the scavenger hunt's judge (Franklin Pangborn) verifies Godfrey is a real forgotten man, and Irene wins the trophy. They ask Godfrey to give a speech and he calls the group a bunch of nitwits before storming off. Irene seems to realize her error and apologizes to Godfrey before asking him to be the family's new butler… and her wish for him to be her protégé. Since Godfrey needs a job, he graciously accepts her offer.
On his first day on the job, the Bullocks' maid, Molly (Jean Dixon), warns Godfrey the family cannot keep butlers more than a day because of their disfunction. However, Godfrey rises to the occasion and performs his job very well. Unfortunately, Cornelia holds a grudge for his stunt with the ashes and she wants him fired and back on the streets in no time flat.
The 18ish year old Irene has a huge crush on Godfrey, but he finds her just as spoiled as Cornelia. When she kisses him, he politely sets boundaries of their employee/employer relationship because he really needs the job.
During a tea party Irene throws, Tommy Gray (Alan Mowbray), an old Harvard pal of Godfrey's recognizes him. Godfrey has to make up a story that he was Tommy's valet at Harvard. When Cornelia presses Godfrey for details, Tommy adds that Godfrey has a wife and five children. As Irene listens on, she becomes upset and announces she's engaged to Charlie Van Rumple (Grady Sutton)—much to his surprise. When everyone but Godfrey congratulates her, she runs off in tears.
The next day, Godfrey meets Tommy for drinks to explain himself. Tommy wants to know why someone from the elite Boston family such as The Parkes is working as a servant. Godfrey tells him that his last relationship left him broke and considering suicide—that was until he found the Hooverville and met the homeless men living there. Their unwavering spirit helped him refocus life's priorities.
As Godfrey returns to the Bullock manor—drunk—Cornelia tries to get him thrown out of the house once and for all. She takes her pearl necklace and hides it under Godfrey's mattress before calling the police to report it stolen. When the police don't find the necklace where she hid them, Cornelia insists they must be there. Daddy Bullock deduces Cornelia is up to no good and he asks the police to leave before telling them he will donate to their pension for waisting their time. He then tells Cornelia to find those pearls because they are not insured and she will lose a great deal of money if she doesn't find them.
Time passes and we find that Irene and Cornelia have just returned from Europe to help Irene get over her broken engagement with Charlie. She's still in love with Godfrey of course, so Cornelia decides to seduce him to spite her sister. To stop her, Irene feigns a fainting spell and falls into Godfrey's arms. He helps her until he realizes she's faking. Now fed up with Irene and the family, Godfrey resigns as the Bullock's butler.
As Godfrey is about to leave, Daddy Bullock tosses Carlo out of the house and then announces to the family (and Godfrey) that their business has failed and he's broke sans their house and a few other items. To make matters worse, he also embezzled his stockholders money behind their backs in an attempt to recoup the losses. That plan failed too and he will most likely be headed to prison for the stunt.
However, Godfrey gives him a bit of good news. He actually pawned Cornelia's necklace in part to short sell Bullock's stocks. He made enough money to save the family from financial ruin as a thank you for their inadvertent help in saving him from his own personal ruin. He used the remaining money to get Cornelia's necklace out of hock—which he gives back to her—and also help with his personal project in helping the forgotten men in the Hooverville get jobs and housing.
A teary-eyed Cornelia confesses to planting the neckless and humbly expresses her gratitude and remorse for her behavior. As Godfrey leaves, Molly (who's also been in love with him) and the Bullocks are left in tears. However, Irene doesn't give up and decides to go after him.
Godfrey takes his remaining profits to his new business—an upscale nightclub called The Dump which he operates with his business partner, Tommy. The two men have hired all of the other forgotten men to work there and plan to use the profits to build a set of SRO-style apartments for them to live.
Irene finds Godfrey there and persuades Mayor Courtney (Reginald Mason)—who is the guest of honor—to perform a civil wedding for her and Godfrey while her chauffeur serves as a witness.
Rate the Film!
Universal Pictures released My Man Godfrey on September 6, 1936. Gregory La Cava directed the film starring William Powell, Carole Lombard, and Alice Brady.