Film and Plot Synopsis
J.J. is a former United States Special Forces soldier who has joined the Central Intelligence Agency. After a failed first mission, J.J. is assigned to a thankless surveillance assignment with his technology operator Bobbi. One of the targets of their assignment, the 9-year-old Sophie, discovers their surveillance and blackmails J.J. into helping her adjust to her new school. Soon, J.J. finds himself becoming involved in the lives of his targets. However, when Sophie's terrorist uncle comes to town, J.J. discovers that it is harder to do his job when he cares about the people he is watching.
'My Spy' Movie Summary
The summary below contains spoilers.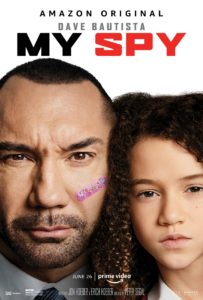 J.J. (
Dave Bautista
) is a former United States Special Forces soldier who has been recently hired as a Central Intelligence Agency (C.I.A.) operative. During his first mission, J.J.'s lack of subtlety causes him to blow his cover in an undercover assignment to bust the Russian mafia and a Middle East terrorist named Hassan (
Basel Daoud
) as they are trying to sell illegal weapons grade plutonium. Nevertheless, J.J.'s boss, David Kim (
Ken Jeong
), assigns him and his technology operator Bobbi (
Kristen Schaal
) a new assignment to surveil the extended family of Victor Marquez (
Greg Byrk
), a French arms dealer. Marquez has acquired construction plans for a miniaturized nuclear bomb which he intends to sell to Hassan. It is alleged that Marquez lost these plans to his brother David, who hid them before he was murdered by Marquez. Kim suspects that the plans may be in the possession of David's widow, Kate (
Parisa Fitz-Henley
), and her 9-year-old daughter Sophie (
Chloe Coleman
). Kate and Sophie recently moved to Chicago from France after David's death.
J.J. and Bobbi move into the same building where Kate and Sophie live. They set up their surveillance in the apartment, but Sophie soon finds one of the hidden cameras. Sophie backtracks the signal and stumbles upon J.J. and Bobbi's base of operations. Sophie blackmails J.J. into keeping her company while she tries to fit into her new life and, more importantly, her new school. J.J. has no experience with children, but he soon bonds with Sophie. Sophie introduces him to Kate and her neighbors Carlos (Devere Rogers) and Todd (Noah Danby) as another resident of the apartment complex. J.J. also trains Sophie in the basics of espionage. He and Kate also slowly find themselves attracted to each other.
Not long after, Kim discovers that J.J. has become personally involved with the subjects of his investigation and pulls J.J. and Bobbi off the mission. J.J. confesses his feelings about Kate to her, but also reveals his assignment to her. Kate feels violated and betrayed that J.J. has brought her back into the world of her deceased husband. She tells J.J. to stay away from her and Sophie. At the same time, Marquez discovers where Kate and Sophie are located. He also learns that they are being surveilled by the C.I.A. Marquez takes measures to counteract the surveillance and coerces his lawyer Koll (Jean-Michel Nadeau) into revealing where David might have hidden the plans.
Marquez fakes his own death, which further causes the C.I.A. to relax their surveillance. He travels to Chicago and confronts Kate, J.J., and Sophie in Kate's apartment. He finds the plans, but Carlos and Todd burst into the apartment and reveal themselves as independent arms dealers looking for the plans. Bobbi's attempts to help, but her efforts result in Marquez escaping with the plans and Sophie as a hostage. J.J. and Kate pursue Marquez to an airfield in Naperville. J.J. grounds Marquez's escape plane and engages in a fistfight with the terrorist. Sophie attempts to escape, but accidentally sets the plane in motion. The plane gets hung up on some wire fencing that prevents it and Sophie from falling off the edge of a cliff.
Marquez forces Sophie, who has hidden the real plans, to surrender them. Marquez prepares to shoot J.J. and Sophie, but Kate clubs him into the fence, and J.J. pushes the plane off the cliff. The plane pulls the fence and Marquez over the edge and the terrorist dies.
As a result of his actions, J.J. is reinstated to the C.I.A. and permanently assigned to Chicago, where he moves in with Kate and Sophie.
Additional Film Information
Rate the Film!
Amazon Studios released My Spy on June 26, 2020. Peter Segal directed the film starring Dave Bautista, Chloe Coleman, and Parisa Fitz-Henley.