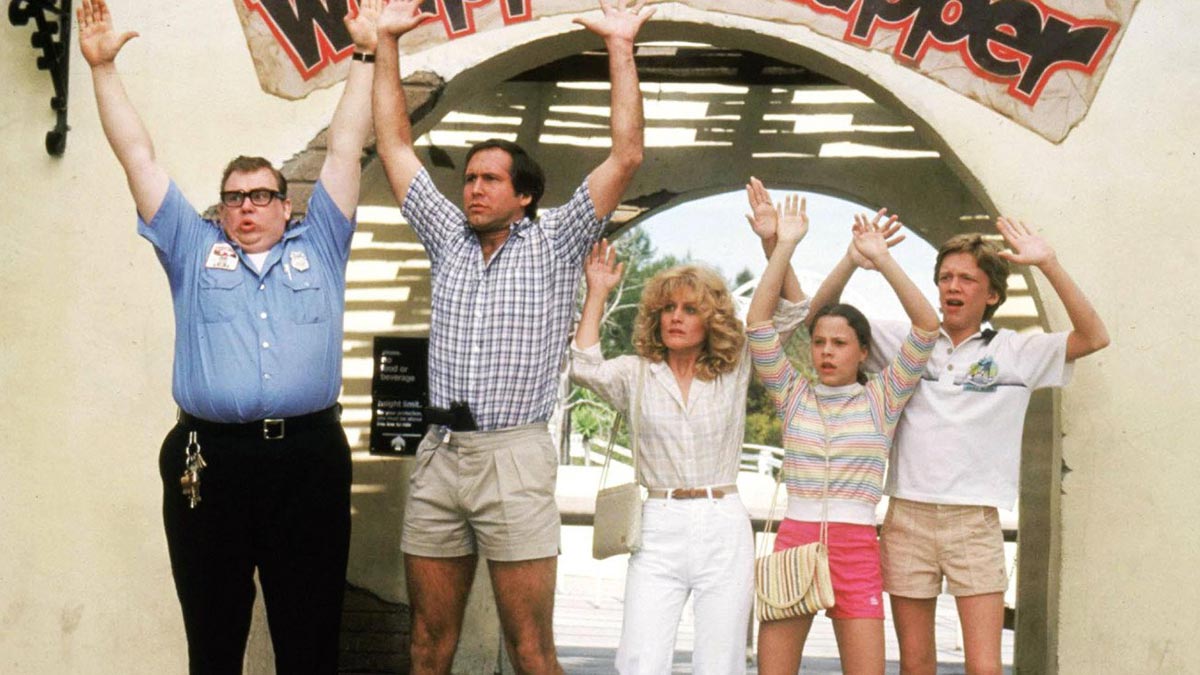 Film and Plot Synopsis
In the film that started the Vacation franchise, Chevy Chase stars as Clark Griswold, the ultimate family man who wants to give his family the ultimate vacation experience. He sets off with his wife Ellen and their two children Rusty and Audrey on a cross country trip to California to visit the Walley World amusement park. Along the way, they encounter bizarre family members, strange tourists' traps, and a beautiful woman who drives a flashy Ferrari. However, Clark must work hard to remember what the most important part of any family vacation is…the family.
Buy the Film
National Lampoon's Vacation [Blu-ray]
14 new from $7.70
18 used from $2.99

as of September 30, 2022 9:53 am
*As an Amazon Associate we earn from qualifying purchases.
'National Lampoon's Vacation' Movie Summary
The summary below contains spoilers.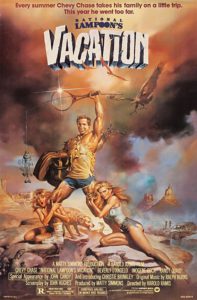 Clark Griswold (
Chevy Chase
) is the ultimate family man who wants to give his family the ultimate vacation experience. Clark works a lot and decides one way to spend more time with his wife Ellen (
Beverly D'Angelo
) and his kids, Rusty (
Anthony Michael Hall
) and Audrey (
Dana Barron
) is to take a cross country trip to Walley World amusement park in California. Ellen wants to fly from their home in Chicago, but Clark insists on driving so he can bond with his family. Clark orders a new car for the trip. However, when he goes to pick it up from the car salesman (
Eugene Levy
) he is given the much less desirable Family Truckster. Clark decides to proceed with the trip and do the best they can.
Along the way, the Griswolds encounter many setbacks, including getting lost in St. Louis and having their car vandalized. While on the road, Clark continues to have encounters with a beautiful young woman (Christie Brinkley) driving a flashy red Ferrari. Clark tries to flirt with the woman, but he constantly embarrasses himself in front of her.
The Griswolds stop in Coolidge, Kansas to visit Ellen's cousin Catherine (Miriam Flynn) and her husband Eddie (Randy Quaid). Eddie leaches some money off Clark and Ellen to support his redneck lifestyle. Eddie also foists Ellen's cranky Aunt Edna (Imogene Coca) and her mean dog Dinky on Clark to drop off at Edna's son Norman's home in Phoenix, Arizona. While in route, Clark is subjected to constant criticism from Edna and constant biting from Dinky.
The Griswolds stop at a dirty campground in South Fork, Colorado for one night. While packing up the next day, Clark forgets to untie Dinky's leash from the bumper before driving off the next morning. Dinky is killed, and Clark is stopped by a motorcycle cop (James Keach) who threatens to arrest him for animal cruelty, but ultimately lets him go. A short time later, Clark encounters the Ferrari woman again on the road. He tries to show off, and inadvertently runs himself off the road. As a result, Ellen loses her bag with all her cash and credit cards. Clark cancels her cards, but the credit card company cancels his by mistake.
Ellen and Clark argue constantly along their drive. Near Monument Valley, Clark crashes the Family Truckster when he drives off the road in the middle of the desert. Clark goes off wandering in the desert to look for help, while his family is eventually saved by some wandering Indians. The Truckster is taken to a local mechanic for repairs. The mechanic shakes Clark down for all the cash he has. At the Grand Canyon, Clark tries to cash a check for cash at a hotel, but they refuse him. Clark steals cash behind the hotel clerk's back and leaves his personal check in its place.
Once they leave the Grand Canyon and begin heading to Phoenix, they discover that Aunt Edna has died in her sleep. Clark ties her corpse to the roof of the car wrapped in a tarp. When they reach Norman's home in Phoenix, they find Ellen's cousin is out of town. Clark decides to leave Edna's body by the back door in the rainstorm with a note. The family has a small, sarcastic memorial for her before getting back on the road. Ellen and the kids do not want to go to Walley World any longer and want to go home. Clark has become obsessed with the trip and has a meltdown in front of his family. He refuses to turn around and presses on with the trip.
When they stop at a hotel for the night, Clark and Ellen argue, and Clark leaves to go to the bar on his own. In the bar, Clark encounters the Ferrari girl who flirts back with him. The Ferrari girl invites Clark to go skinny-dipping with her in the hotel pool, which he does. However, he awakes all the other guests in the hotel with his antics, including Ellen and the kids. Clark tries to lie his way out of it, but eventually he leaves the Ferrari girl to go make up with his wife. Ellen reluctantly forgives Clark and leads him back to the pool where they go skinny-dipping together.
The next day, the Griswolds finally arrive at Walley World. Unfortunately, they discover that the park is closed for two weeks for repairs. Clark finally snaps and proceeds to a sporting goods store to buy a gun. He then leads his family back to Walley World where he takes security guard Russ Lasky (John Candy) hostage. He has Russ take them on all the rides in the park. In the meantime, the Los Angeles Police Department arrives with the park owner Roy Walley (Eddie Bracken) to get control of the situation. Clark and his family are arrested. Clark explains to Roy about his experiences traveling to the park and his family's excitement about coming to Walley World. Roy understands Clark's momentary insanity and decides not to press charges. Roy lets the Griswold family and the police officers enjoy the park as his guests. The final shot shows the family flying back to Chicago with souvenir hats.
Additional Film Information
Rate the Film!
Warner Bros. released National Lampoon's Vacation on July 29, 1983. Harold Ramis directed the film starring Chevy Chase, Beverly D'Angelo, and Imogene Coca.