Summaries
Neighbors 2: Sorority Rising (2016)
Film and Plot Synopsis
In Neighbors 2: Sorority Rising, Mac and Kelly are ready to make the final move into adulthood. However, just as they thought they have reclaimed the neighborhood, they learn that their new neighbors are even more out of control than the last. To evict them, they will need help from their ex neighbor, Teddy.
Buy the Film
Neighbors 2: Sorority Rising [Blu-ray]
9 new from $9.35
6 used from $8.50
Free shipping
as of November 16, 2023 2:54 am
*As an Amazon Associate we earn from qualifying purchases.
'Neighbors 2: Sorority Rising' Movie Summary
The summary below contains spoilers.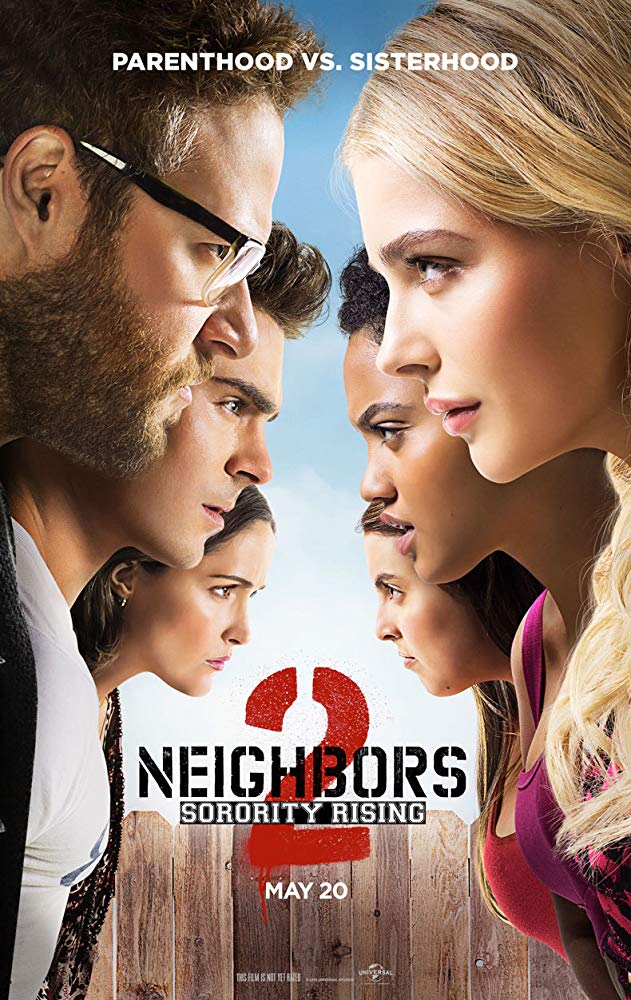 Neighbors 2: Sorority Rising
picks up two years after the events of the first film,
Neighbors
. Mac (
Seth Rogen
) and Kelly Radner (
Rose Byrne
) are trying to sell their home before the arrival of their second child. They have a couple (
Sam Richardson
and
Abbi Jacobson
) who are interested in buying, but before the deal can close, the house has to sit in escrow for 30 days. All they have to do is make sure that nothing changes to depreciate the value of their home for the next month.
Meanwhile, Teddy Sanders (Zac Efron) is at a card game with his old frat brothers Pete (Dave Franco), Scoonie (Christopher Mintz-Plasse), and Garf (Jerrod Carmichael). All of Teddy's frat brothers have been extremely successful since graduation. However, Teddy has struggled due to his criminal record that he acquired after the events of the first film. Teddy is living with Pete, but when Pete's boyfriend, Darren (John Early) proposes to Pete, who accepts, Teddy is asked to move out of the house and sort his life out. Teddy feels betrayed and begins an argument with Pete before storming out of the house.
At the same time, freshman sorority pledge, Shelby (Chloë Grace Moretz) is trying to find her place at college. She is offended to learn that sororities are not allowed to host parties, and can only attend frat parties. While at a frat party, she meets two other freshmen girls, Beth (Kiersey Clemons) and Nora (Beanie Feldstein). They are each appalled at the sexist and pervasive nature of the party and leave.
Not wanting to live by the existing rules, they decide to set up a new sorority, Kappa Nu, to host their own parties where they can control the culture. The following day, the girls try to rent the house next to Mac and Kelly, but they don't have enough money to pay for it. Teddy, who has been crashing in the vacant house, suggests that they throw their first party and put buckets out for donations, which they do. For his suggestion, Teddy is made an honorary member of the sorority and is allowed to live in the house.
Mac and Kelly are shocked to learn that a sorority has moved in next door and are fearful that it will ruin the deal to sell their house. They politely ask Shelby to keep the noise down, which she does not do. Mac and Kelly then report the sorority to Dean Gladstone (Lisa Kudrow), but are dismayed to learn that because the girls are an independent sorority, the dean is unwilling to do anything in fear of a public relations problem involving sexism.
Mac and Kelly reach out to Shelby's father (Kelsey Grammer), but he fails to get the situation under control. Upset at the married couple for trying to get them in trouble, the girls begin to retaliate against the Radners. Mac and Kelly, with the assistance of their good friends Jimmy (Ike Barinholtz) and Paula (Carla Gallo), also start playing pranks on the sorority in the hope that it will chase them away.
The girls slowly learn that they are losing money by throwing the parties and are in desperate need for money to pay their rent. They plan to raise money by selling marijuana at the school's tailgate party. To help their cause, they get all of the other weed dealers on campus arrested. Teddy objects to the girls' plan, so the sorority kicks him out of the house.
In retaliation, Teddy goes to Mac and Kelly and joins their cause to take down the sorority. Teddy and the Radners go to the tailgate to steal the sorority's weed. Although it is a close call, Mac is able to get away from Shelby with the marijuana. In appreciation for his help, Mac and Kelly let Teddy live in their house with them.
The sorority is upset about the theft. Even worse, they are desperate. They retaliate against the Radners by switching their respective phone numbers in their phones with the girls from the sorority and causing the married couple to doubt their relationship with each other. As a result, Mac ends up in Sydney, Australia and Kelly ends up being paranoid. When Mac returns from down under, they find that all of their personal items from the house have been stolen and sold by the girls. To make matters even worse, the buyers of the house are aware of the sorority and are threatening to pull out of the deal with Radners unless they can make the sorority go away within 24 hours.
Meanwhile, the sorority has received an eviction notice unless the can come up with the back rent. Desperate, the girls decide to abandon their morals and throw the type of party that repulses them. They up the sex appeal and hope that it will help them make their rent. Mac and Kelly know that the girls are desperate due to Teddy's suggestion. They know if they can stop this party, the girls will be evicted. Jimmy, Paula, and Teddy infiltrate the party in an attempt to turn off the power. Mac and Kelly wait to call the police. The girls anticipate the neighbors' plans, and take appropriate steps to stop them.
Eventually, the girls are disgusted by how they have had to degrade themselves. Beth and Nora decide to quit the sorority and blame Shelby for abandoning their ideals. Mac and Kelly watch as the girls' friendship begins to disintegrate and begin to feel sorry for them. Kelly intervenes and tells the girls to stay together. She tells them the house is just the house, but they are the sorority. The girls return to the house and change out of their sexy clothes.
They kick out all the chauvinistic fraternity guys and have their type of party. They are willing to except the consequences of being evicted, but they are surprised by a large group of girls who now want to follow their ideals and join the sorority. With a new influx of cash from the dues of their new members, the girls decide to make peace with the Radners and offer to rent their house for the overflow members of the sorority. Mac and Kelly agree as long as they get five buckets of cash a month.
Afterwards, Teddy goes to Pete's house and apologizes for his bad behavior and tells Pete that he misses his best friend. Pete assures Teddy he will never lose his friendship and asks Teddy to be his best man in his wedding, which Teddy accepts.
Three months later, an employed Teddy is getting ready to walk Pete down the aisle. Teddy has become a wedding planner for gay couples, something he finds is suitable for him. Meanwhile, Mac and Kelly are now living in their new home with their new little girl, finding that they are in fact good parents. They are also glad that they don't have any close-by neighbors to bother them.
Add the film to your collection today!
Additional Film Information
Rate the Film!
Universal Pictures released Neighbors 2: Sorority Rising on May 20, 2016. Nicholas Stoller directed the film starring Seth Rogen, Rose Byrne, and Zac Efron.