Film and Plot Synopsis
Maddie thinks she's found the answer to her financial troubles when she discovers an intriguing job listing: wealthy helicopter parents looking for someone to "date" their introverted 19-year-old son, Percy, and bring him out of his shell before he leaves for college. But awkward Percy proves to be more of a challenge than she expected, and time is running out before she loses it all. (Courtesy of Sony Pictures Entertainment)
Buy the Film
No Hard Feelings - Blu-ray + Digital
18 new from $16.98
7 used from $13.75
Free shipping
as of December 2, 2023 6:38 pm
*As an Amazon Associate we earn from qualifying purchases.
'No Hard Feelings ' Movie Summary
The summary below contains spoilers.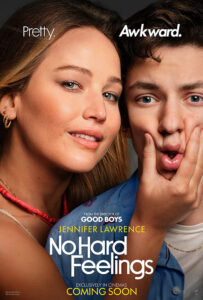 Maddie Barker (Jennifer Lawrence) is a down on her luck parttime Uber driver and parttime bartender who is barely making ends meet while living in Montauk, New York. The mid-30's barmaid is facing bankruptcy after her car is repossessed by her ex-boyfriend Gary (Ebon Moss-Bachrach) and she finds that she has no ability to pay the property taxes that she owes on the home that she inherited from her deceased mother. Maddie is so desperate that she begins looking for options on Craigslist. She finds an unusual posting that offers to provide her with a Buick Regal in exchange for dating a teenage boy. She responds to the post and meets Allison and Laird Becker (Laura Benanti and Matthew Broderick), a wealthy yuppie couple that desperately want their 19-year-old son Percy Becker (Andrew Barth Feldman) to break out of his anti-social shell before he attends Princeton University in the fall. Percy is extraordinarily shy and has had no experiences with girls, drinking, and certainly not with sex. The Beckers slyly ask Maddie to have sex with their son. Desperate, Maddie accepts the job.
Not long after, Maddie visits Percy at the animal shelter where he volunteers under the pretense that she is looking for a dog. Percy is leery of Maddie due to her aggressiveness. Maddie offers to give Percy a ride home from work, and after she misses his turn, he mistakenly believes that she is attempting to kidnap him, and pepper sprays her. In pain induced tears, Maddie tells him that she is interested in Percy, and the two agree to go on a date the next day.
The pair meet at a bar where Percy has his first alcoholic drink, and then proceed to the beach afterwards. Maddie suggests that they go skinny dipping in the ocean which Percy reluctantly agrees to. However, while they are in the water, a group of drunken vacationing teenagers try to steal their clothes. Maddie gets out of the ocean nude and beats up the teenagers and takes back their clothes. Percy is frightened by Maddie's aggression and contempt for the teenagers and refuses to have sex with her. Maddie is angry at Percy's rejection and tries to leave without him. A naked Percy jumps on to the car Maddie borrowed and demands his clothes back. Undeterred, Maddie proceeds to drive with Percy on the hood of the car. The police try to pull Maddie over, but she realizes that if she loses her license, she will surely lose her home. She outruns the police by beating them to a train crossing just before the train arrives. Maddie and Percy apologize to each other after the near-death experience and go back to Maddie's house. She and Percy attempt to have sex, but he develops a severe rash from his anxiety. Maddie takes care of him and calls off the sexual encounter for the night.
Over the next few days, Maddie and Percy continue to date. Each day they learn more about each other and begin to form a friendship. They each reveal to each other that neither one of them went to their high school prom. They decide to imitate a prom night by going out to a fancy dinner. At the restaurant, Maddie coaxes Percy into playing the piano where he plays a romantic cover of Maneater by Daryl Hall and John Oates, a song that Maddie introduced to Percy earlier. Maddie is moved by the song. However, the moment is ruined when a school acquaintance of Percy's, Natalie (Amalia Yoo), comes up to the table and invites Percy to a party that night.
Women have all sorts of reasons for having sex. I mean, I had sex once because I didn't want to commute in the morning. Sara (Natalie Morales)
Afterwards, Maddie and Percy talk about their long-term plans. Percy discusses a relationship with Maddie while she dismisses the idea. Percy is hurt by Maddie's casual treatment of their relationship and asks Maddie to take him to the party where he initially goes in alone. Maddie enters a short time later and becomes confrontational with the teenagers who treat her as if she were a relic. Maddie finds Percy in a bedroom with Natalie, although Percy is still a virgin as he became ill after taking an ibuprofen with alcohol. Natalie takes Percy from the party and drives him home. Along the way, Percy confesses his love for Maddie.
The next day, Percy informs his parents that he wants to stay in Montauk with Maddie instead of going to Princeton. The Beckers panic and call Maddie, who is feeling guilty and wants to call off the whole deal. Laird offers Maddie the car if she can simply convince Percy to go to Princeton. Maddie reluctantly agrees. Percy overhears the conversation between Maddie and his parents. In an act of revenge, Percy invites Maddie to dinner with his parents although neither one of them is aware the other would be attending the meal. During the dinner, Percy excuses himself and goes out and trashes the Buick in a misguided act of revenge. He then returns to dinner and acts like nothing is wrong.
After dinner, Percy takes Maddie to his room. Once there, Percy tries to have sex with Maddie although she is somewhat opposed to the idea while his parents are in the house. After prematurely ejaculating between Maddie's thighs during foreplay, Percy confronts Maddie about the deal she made with his parents and ends their relationship. Percy indicates that he intends to go Princeton again, so the Beckers give Maddie the damaged Buick.
Maddie uses the damaged car to work hard and pay off her debts. She works for Uber for the remainder of the summer and saves enough money to pay off the property taxes on her home and to fix the Buick. After accomplishing her goal, she communicates her excitement to her two best friends, married couple Jim and Sara (Scott MacArthur and Natalie Morales). Sara inquires whether Maddie really wanted to stay in Montauk or whether she was doing it for some misguided attempt to preserve the memory of her mother. Jim and a pregnant Sara also inform Maddie that they are moving away to Florida as Montauk has become too expensive for them to buy a new home to raise a family in.
The changes in her life cause Maddie to have a moment of self-reflection, and she spends the next few weeks making amends to the people that she has wronged over the years. One of her goals is to make amends with Percy. She meets up with him at a Princeton mixer. Maddie makes a sincere apology for misleading him, but also admits that she likes Percy as a friend. Percy is unconvinced and tries to drive away. Maddie refuses to let him go and jumps on the hood of his car. Percy crashes the car into the ocean since he can not see. However, both he and Maddie survive the crash uninjured. As the car is towed away, Percy and Maddie set aside their differences and decide to stay friends.
In the aftermath, Maddie gives her house to Jim and Sara so that they can raise their baby in Montauk. Maddie decides to begin her life anew by moving to California. She offers to drive Percy to Princeton on her way to California. Maddie reveals to Percy that she adopted a dog from the shelter that Percy worked in, Milo, a former police dog who was once addicted to cocaine. As they leave Montauk, Maddie promises to call Percy during her trip to California.
Rate the Film!
Sony Pictures Releasing released No Hard Feelings on June 23, 2023. Gene Stupnitsky directed the film starring Jennifer Lawrence, Andrew Barth Feldman, and Laura Benanti.