Film and Plot Synopsis
Young Noelle Kringle has Christmas in her blood. Mainly because she is the daughter of Santa Claus. During her life, Noelle has always had to support and encourage her brother Nick, who was presumed to take over as Santa Claus one day. After their father dies, Nick begins his training to become Santa Claus and quickly becomes overwhelmed. When Nick disappears right before Christmas, Noelle goes on a funny and heartfelt journey to find him and, ultimately, what Christmas is really about.
'Noelle' Movie Summary
The summary below contains spoilers.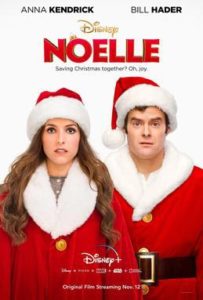 Claus as the world generally knows him. Noelle loves Christmas as much as her, but the heir to the Santa Claus legacy is her brother, Nick Kringle (Owen Vacarro), a child who is hesitant to take on the mantle of his father.
Years later, a grown Noelle (Anna Kendrick) is trying to help Nick (Bill Hader) in his training to become the next Santa after their father died five months before. Nick is struggling with his training and Noelle has been placed in charge of distributing and maintaining Christmas spirit. To help her brother deal with the stress of his responsibility, Noelle suggests that Nick take the weekend off and relax before his big day. Nick takes his sister's advice and leaves one night with the reindeer. However, the reindeer return by themselves a few days later without Nick.
The citizens of the North Pole begin to panic and get angry with Noelle after they learn that she suggested that Nick leave for the getaway. Elder Elf Abe (Michael Gross) and the Elder Elves decide to make Noelle's cousin Gabriel (Billy Eichner) the new Santa Claus. Gabriel was previously the Kringles' tech support and is ill equipped to carry the mantle of Santa Claus. A guilt-ridden Noelle decides to find her brother and sets out for Phoenix, Arizona with Santa's reindeer and sleigh and is accompanied by her childhood nanny Polly (Shirley MacLaine).
Our research indicates that there are only 2,837 nice children in the world. Gabriel Kringle (Billy Eichner)
They land in a mall in Phoenix. The mall's manager Helen Rojas (Diana Maria Riva) gives them permission to leave their reindeer and sleigh as a Christmas exhibit after it becomes a popular holiday attraction at the mall. The display also increases the Christmas spirit in the world. Noelle sets out into the city to find Nick and leaves Polly to watch over the reindeer and sleigh. To help in her search she hires a private investigator named Jake Hapman (Kinglsey Ben-Adir) to find her brother. Jake is a recently divorced dad who shares visitation with his son Alex (Maceo Smedley). Noelle hangs out with Alex and several other people and discovers that she can understand and communicate in other languages. Additionally, she finds that she can determine who is naughty and who is nice.
Ultimately, Noelle tracks Nick down at a yoga studio where he is employed as an instructor. Nick is glad to see his sister but informs Noelle that he is not going to return to the North Pole and his responsibilities as Santa Claus. After an intense argument, Noelle leaves disappointed in her brother. She returns to the mall where a young reindeer named Snowcone arrives with a letter from Noelle's mom, Mrs. Kringle (Julie Hagerty) informing Noelle about the situation at the North Pole. In Nick's absence, Gabriel has used an algorithm to determine that there were only 2,837 nice children in the world worthy of presents from Santa Claus. The elves and Mrs. Claus are concerned that Gabriel will ruin Christmas. Mrs. Kringle tells Noelle in her letter that she needs to bring Nick back home before Christmas. Noelle realizes that if Gabriel only delivers 2,837 presents in the world that he will destroy Christmas spirit.
Noelle takes Snowcone and makes another attempt to convince her brother to return to the North Pole. She tracks Nick down at the Desert Botanical Garden and convinces him to return. Nick meets up with Noelle and Polly at the mall the next day. Noelle tries to continue Nick's training by having him play a mall Santa. During the training, Nick sees Gabriel's text message to the children of the world and understands the threat to the holiday. Additionally, Jake confronts Noelle about her telling Alex that Santa will grant his son's Christmas wish, to spend Christmas morning with his mother and father, something that Jake finds awkward as his ex-wife has remarried. Noelle reveals that she is Santa's daughter which causes Jake to leave. At the same time, the real mall Santa confronts Nick. To prevent a fight, Noelle intervenes and accidentally hurts a police officer. Noelle is arrested and committed to a mental hospital for a psychological evaluation.
Polly visits Jake and asks for his assistance in freeing Noelle. She reveals herself as an actual elf, and Jake begins to believe. Jake helps Noelle escape from the hospital, and she, Polly, Snowcone, and Nick use the sleigh to return to North Pole before Christmas Eve. Once back in the North Pole, Nick nominates Noelle to replace him as the next Santa. The Elders are reluctant, but ultimately accept the nomination after they discover that there is no rule against a woman being Santa Claus. The Elders determine that Noelle has the necessary skills. Noelle sets out on Christmas Eve, and after a couple of missteps, she successfully delivers the presents to the children of the world. She even picks up Jake and delivers him to his ex-wife's house to spend time with Alex just as she promised.
In the aftermath, Noelle is celebrated by the citizens of the North Pole. Gabriel happily returns to his job in tech support while Nick opens a yoga studio. For her role in saving Christmas, Polly is made an elf elder. Noelle settles in as the 24th generational Santa Claus and takes pride in continuing her father's famous legacy.
Additional Film Information
Rate the Film
Disney+ released Noelle on November 12, 2019. Marc Lawrence directed the film starring Anna Kendrick, Shirley MacLaine, and Bill Hader.