Film and Plot Synopsis
In North Shore, Arizonan, Rick Kane, sets out to surf the big wave season on the north shore of Oahu, Hawaii, after winning a local surfing contest in a tiny Arizona wave pool. Once in Hawaii, he immediately finds that he's a fish out of water and surfing in the ocean is much different than a wave pool. After a local surf gang robs him, he has a chance meeting with famous surfboard shaper Chandler. The two bond when they find out they have an artistic connection, Chandler offers Rick a place to sleep and something to eat. Chandler teaches him how to be a soul surfer instead of someone who surfs for fame and money.
Buy the Film
North Shore [Blu-ray]
7 new from $14.29
3 used from $8.59
Free shipping
as of September 12, 2023 7:24 am
*As an Amazon Associate we earn from qualifying purchases.
'North Shore' Movie Summary
The summary below contains spoilers.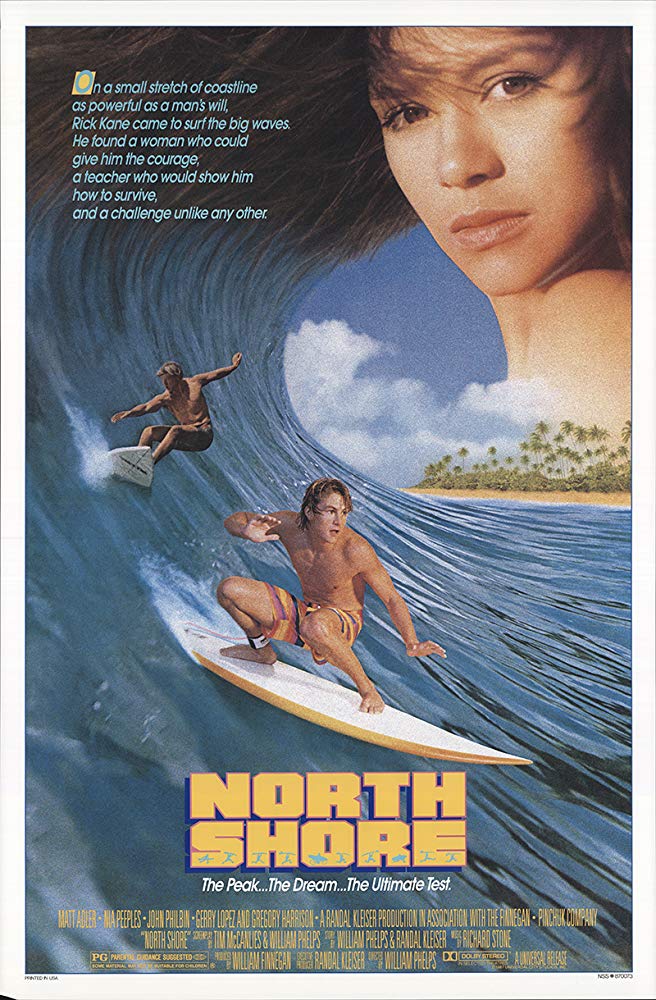 North Shore
begins in the summer in Tempe, Arizona. The recent high school graduate, Rick Kane (
Matt Adler
) wins a surfing contest in a wave tank there. He uses the $500 grand prize to fly to Hawaii before the start of college to try to become a professional surfer.
Six months ago, Rick met a surfer who lives in Honolulu, and he told him if he's ever is in his neck of the woods, he'd have a place to stay. Rick boards a plane, and heads out to find him. Once there, his "friend" is tending bar in a seedy part of town, and he doesn't have a clue who Rick is. He tells Rick to buy a drink or beat it. Two pro surfers, Alex (Robbie Page) and Mark (Mark Occhilupo), are there, and they take Rick to Lance Burkhart's (Laird Hamilton) house for a party.
In the morning, the three go surfing where Rick experiences real waves for the first time. He quickly realizes that surfing in the ocean is much tougher, and he's really not that good at it (but his acting is worse).
While out in the water, our hero meets Vince (Gerry Lopez), the leader of a local surf group named the Hui. Rick's lack of skill causes Vince to wipe out. There's a brief confrontation with Vince's boys, and Rick heads back to shore. There, he finds one of the Hui stole his stuff.
Now, Rick has no money, and no place to stay. He happens upon a local surfer named Turtle (John Philbin) who befriends him, and also a lovely local named Kiani (Nia Peeples) who is Vince's cousin. She also helps Rick out when she can.
Once Turtle introduces Rick to Chandler (Gregory Harrison), a surfboard shaper and soul surfer, things take a turn for the better for him. Chandler teaches Rick all about soul surfing and the art of riding the waves. The two bond over their love of the sea and art. Rick is a talented graphic artist, and Chandler fancies himself as one too. Rick helps Chandler design a more up-to-date logo for his surfboards in exchange for the surf lessons, room, and board; not a bad deal for the kid.
After learning all he can, Rick enters a surf contest on the Banzai Pipeline against Chandler's wishes. Rick makes it to the finals where he's matched up against the top-ranked surf pro, Lance Burkhart. Rick almost wins, but Lance cheats in the end to take the trophy. Unfortunately for him, many people witness it, and he's exposed the next day in the newspaper.
Rick leaves to go to design school in New York while Kiani says she will wait for him, and that is North Shore.
Additional Film Information
Rate the Film!
Universal Pictures released North Shore on August 14, 1987. William Phelps directed the film starring Matt Adler, Nia Peeples, and Gregory Harrison.