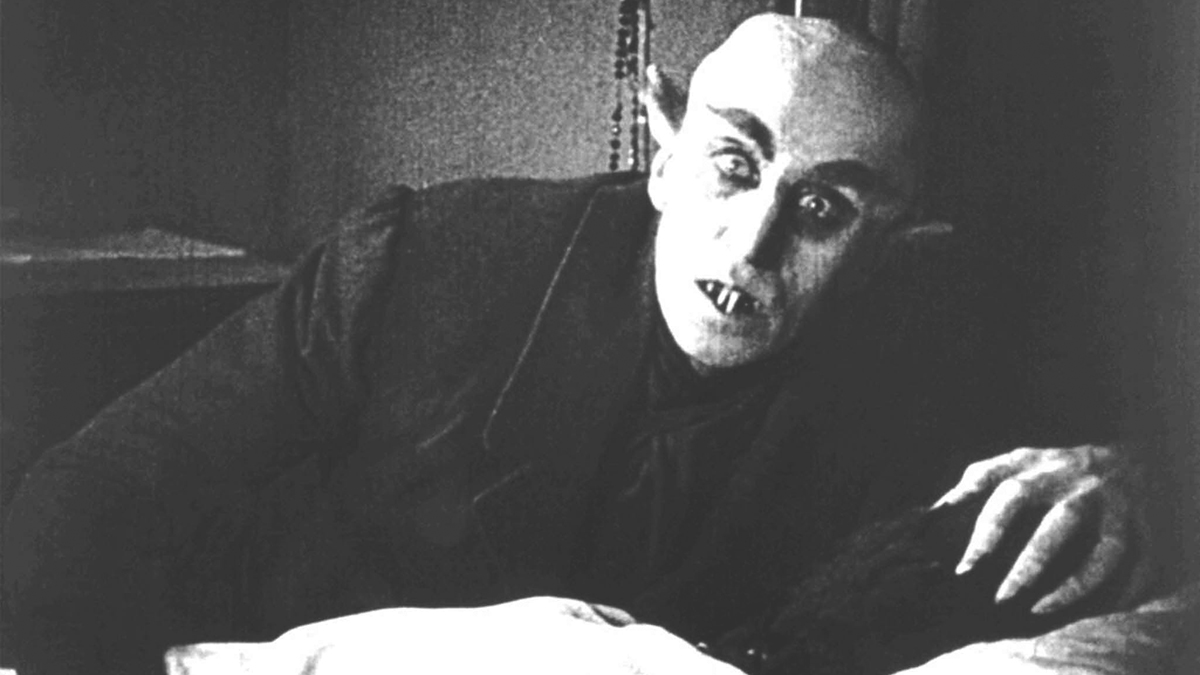 Film and Plot Synopsis
Nosferatu begins in the town of Wisbourg. Estate agent, Mr. Knock, receives a commission from Count Orlok to find a house for him. He dispatches his young assistant, Hutter, to Orlok's castle in the far off Carpathians with orders to buy the vacant house just opposite Hutter's own. The Count is all too eager to buy the proposed property; especially after he sees a photo of Hutter's pretty wife Ellen.
Hutter quickly realizes the man is he's helping is evil when the Count locks him up. Once Orlok travels to Wisbourg, plague descends upon the town, and the people of Wisbourg begin to sense the coming of evil. Hutter eventually escapes Orlok's castle; determined to return home as quickly as possible, but now exhausted and ill, he finds himself in hospital. Hutter nonetheless arrives home the same day as Orlok and the townsfolk begin to panic over the increasing number of deaths.
Buy the Film
Nosferatu: Kino Classics 2-Disc Deluxe Remastered Edition [Blu-ray]
7 new from $19.52
3 used from $10.95
Free shipping
as of November 26, 2022 10:30 am
*As an Amazon Associate we earn from qualifying purchases.
'Nosferatu' Movie Summary
The summary below contains spoilers.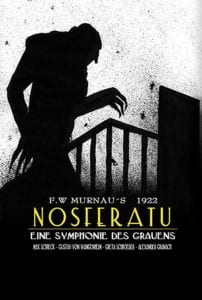 Newlyweds Hutter (
Gustav Von Wangenheim
) and Ellen (
Greta Schröder
) appear to be living an idyllic life in Bremen, Germany until his boss sends Hutter on a mission. Hutter works for a strange man named Knock (
Alexander Granach
) who sends him to Transylvania to assist a Count Orlock (
Max Schreck
) purchase a home in Bremen. Coincidentally, the home the Count chooses to buy is across the street from Hutter and Ellen.
Hutter's trip is eerie from the beginning. No one will get close to the Castle of Count Orlock and Hutter begins to read a strange book about vampyres and Nosferatu.
Things get even stranger when Hutter arrives at the Count's dilapidated castle. The Count is a creepy man and Hutter feels unsafe. The Count sees a picture of Hutter's beautiful wife and appears smitten. Orlock locks up Hutter and loads himself into one of several coffins and sets off for Bremen. He leaves a trail of death in his wake.
Meanwhile, back in Bremen, Ellen and Knock begin to behave as if they have been entranced. Ellen has been staying with friends and she has a sense of impending doom. She decides that she will do whatever to takes to save the people from the evil that is coming.
Knock has been put away in an insane asylum. He appears eager for the arrival of his master.
Hutter is able to escape his prison but is injured from a fall. He helplessly lies in a hospital bed, desperate to save his sweet wife. Amazingly, he makes it home before the evil arrives in Bremen. He is reunited with his wife and they share a brief happiness.
Ellen reads the supernatural book that her husband has returned with and learns what she must do to save them.
Amid death and mayhem, Count Orlock arrives by ship to Bremen and settles in his new home. He does not disappoint in the role of the stalker neighbor as he watches the young couple.
Ellen finds her chance and feigns illness, sending Hutter for the Doctor. When the Count comes, as she knew he would, she allows him to drain her blood. The timing is bad for the Count and he realizes too late that the sun is appearing. The vampire melts away as he is exposed to the sunlight. Ellen has destroyed the Nosferatu and the film ends in a tender embrace.
Additional Film Information
Rate the Film!
Centraal Bureau voor Ligafilms released Nosferatu to theaters on March 4, 1922. F.W. Murnau directed the film starring Max Schreck, Alexander Granach, and Gustav von Wangenheim.