Film and Plot Synopsis
Mitch Martin's life goes into turmoil when he catches his girlfriend cheating on him. He moves into a new house near the college campus. His two married best friends, Frank and Beanie, begin reliving their single lives through Mitch, and begin throwing wild parties at his house. When the Dean of the college tells the group that the house is reserved for student housing, the trio form an unsanctioned fraternity in Mitch's house, and invite various misfit college students to join. When the college still tries to kick them out, the new fraternity is going to have to go old school to keep their home.
Buy the Film
Old School (Unrated and Out of Control!) [Blu-ray]
6 new from $31.56
20 used from $2.93

as of December 5, 2023 8:26 pm
*As an Amazon Associate we earn from qualifying purchases.
'Old School' Movie Summary
The summary below contains spoilers.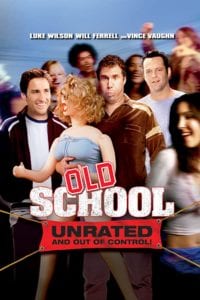 Attorney Mitch Martin (
Luke Wilson
) returns home early from a business trip and finds his girlfriend Heidi (
Juliette Lewis
) watching porn. Initially believing that Heidi was unfaithful, he is relieved. However, a few moments later Mitch realizes that Heidi was planning an orgy. Mitch soon realizes that Heidi partakes in orgies often and decides to break up with her. A few days later, Mitch attends the wedding of his friend Frank "The Tank" Ricard (
Will Ferrell
) and Marissa Jones (
Perrey Reeves
). He runs into his old high school crush, Nicole (
Ellen Pompeo
), but makes an awkward impression on her due to his emotional state.
Shortly after the wedding, Mitch moves into a house located near the campus of Harrison University in upstate New York. Mitch's friend Bernard "Beanie" Campbell (Vince Vaughn) throws a housewarming party for Mitch, which he dubs Mitch-A-Palooza. The party is a huge success. Frank comes to the party without his wife and gets incredibly drunk. In his drunken stupor, he tries to get everyone at the party to go streaking, but no one goes with him. Marissa finds her husband streaking down the street while she is out with her friends. Mitch has a great time at the party and engages in some wild activities including sleeping with Darcie Goldberg (Elisha Cuthbert), his boss' (Terry O'Quinn) young daughter.
The morning after the party, Mitch, Frank, and Beanie run into an old acquaintance whom they used to ridicule at school, Gordon Pritchard (Jeremy Piven). Gordon is now the dean of the college, and he informs Mitch that he has to vacate the house because it's exclusively reserved for campus housing. Beanie proposes starting a fraternity at the house to circumvent the restriction. The trio organize several hazing events throughout the campus, which attracts many of the misfits around the campus including nerdy Jerry (Simon Helberg), overweight Weensie (Jerod Mixon), outcast Spanish (Rick Gonzalez), and elderly Joseph "Blue" Pulasky (Patrick Cranshaw). The new "fraternity" catches the attention of both Gordon as well as the other faculty members.
Frank's activities with the fraternity put a strain on his new marriage with Marissa. He and Marissa separate and Frank begins living at Mitch's place. Frank goes into a depression. A few days later, Frank attends a birthday party for one of Beanie's children with Mitch. Frank accidentally shoots himself with a powerful tranquilizer given to him by the animal wrangler (Seann William Scott) and falls into the pool, nearly drowning himself. At the party, Mitch runs into Nicole again, who has brought her boyfriend Mark (Craig Kilborn) to the party. Mitch walks in on Mark messing around with another girl during the party. Mitch doesn't say anything to Nicole initially, but Mark blames Mitch for messing around with the other girl to cover his tracks.
Later, the fraternity holds a KY lube wrestling event in Mitch's basement. To celebrate Blue's birthday, the boys arrange for Blue to wrestle with two topless coeds. However, Blue drops dead from a heart attack upon seeing the beautiful breasts. The fraternity is devastated by the loss of Blue, especially Frank. After the funeral, Marissa asks Frank for a divorce.
Meanwhile, Gordon plots his revenge against the group and convinces the student council president, Megan Huang (Sara Tanaka) to revoke the fraternity's charter. Gordon convinces Megan to do so by bribing her with promises to help her get into law school. After Megan's ruling, Gordon sends the fraternity a video that not only kicks them out of the house, but also subjects the students in the non-sanctioned fraternity to expulsion.
Mitch, who is now referred to as the Godfather, learns that the group has the right to bypass the Dean's ruling if all of their members complete various activities to prove their legitimacy. Beanie tries to bow out, not wanting to put forth any effort to keep the fraternity open, but Mitch guilts him into participating, pointing out that the students of the fraternity face real repercussions if he doesn't participate as well.
The tests are designed to test all aspects of fraternity life, including academics, athleticism, and school spirit. Frank defeats James Carville (James Carville) in a debate session. The fraternity successfully passes an academic exam by cheating with the help of Mitch's two co-workers, Walsh and Booker (Matt Walsh and Artie Lang). In the school spirit evaluation, the fraternity loses points when Frank unsuccessfully jumps through a ring of fire dressed as the school mascot. However, Frank wins the fraternity some points back by performing well during a floor exercise routine in gymnastic. Beanie aces the rings routine while smoking a cigarette, and Weensie defies physics and completes a successful vault routine.
After the scores are tallied, the fraternity completes the activities with an 84% average. However, Gordon tells them that they failed after he informs them their average was pulled down by the lack of scores for Blue, who died. The fraternity is devastated, but the timely arrival of Megan with a tape recording of Gordon's bribe to her puts Gordon into hot water. Gordon grabs the tape recorder and proceeds to run away. The fraternity chases him down, and Frank grabs the tape from him. The group uses it to get Gordon fired. The fraternity's charter is reinstated and they move in Gordon's former house.
Shortly afterwards, Nicole visits Mitch as he moves out of his old house. She tells him that she dumped Mark after catching him cheating. The two reconcile, and they agree to start seeing each other. Mitch retires as the Godfather, and Frank, now divorced, takes over the leadership of the fraternity. Shortly afterwards, Frank runs into Heidi at the grocery store, and she invites him over to her place where she is having some friends over for a little get together.
Additional Film Information
Rate the Film!
DreamWorks Distribution released Old School on February 21, 2003. Todd Phillips directed the film starring Luke Wilson, Vince Vaughn, and Will Ferrell.