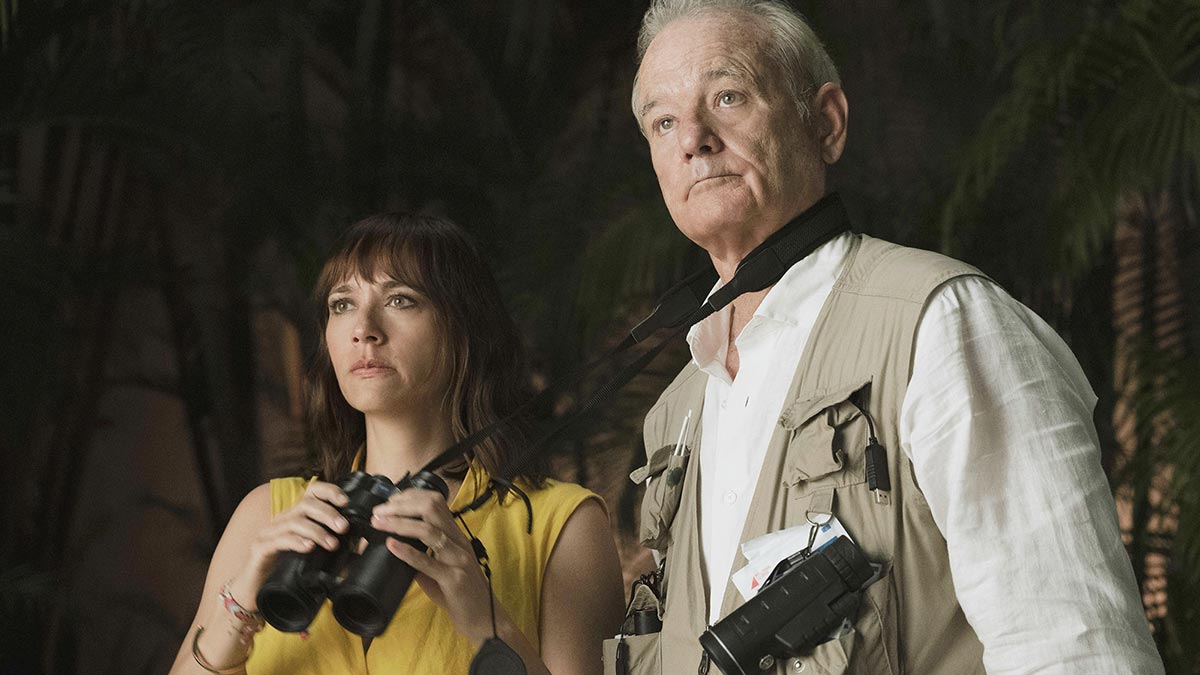 Film and Plot Synopsis
Laura Keane is a struggling writer who is suffering from a bad case of writer's block. She is effectively a stay-at-home mom while her husband Dean takes frequent work trips out of town while trying to build his company. Laura becomes suspicious of Dean and believes that he maybe having an affair. Her fears intensify when she reconnects with her larger-than-life playboy father, Felix, who constantly tells Laura what cheaters do and pushes her to conduct her own investigation. Will Laura give in to her paranoia, or will she maintain her faith in her marriage?
Buy the Film
On the Rocks [Blu-ray]
9 new from $6.99
5 used from $5.00
Free shipping
as of November 11, 2022 8:58 pm
*As an Amazon Associate we earn from qualifying purchases.
'On The Rocks' Movie Summary
The summary below contains spoilers.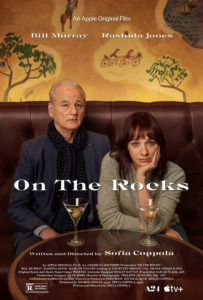 Laura Keane (
Rashida Jones
) is a struggling writer who is suffering from a bad case of writer's block and cannot finish her latest book. Laura has evolved into a stay-at-home mom who takes on most of the responsibilities for her kids while her husband Dean (
Marlon Wayans
) spends most of his time at work. Dean's job as an entrepreneur with an emerging tech start-up keeps him surrounded by young and attractive co-workers. The couple have two daughters, Maya (
Liyanna Muscat
) and Theo (
Alexandra Reimer
and
Anna Reimer
).
One night, Dean returns home from a business trip and climbs into bed with Laura. He kisses her passionately, but when she speaks, he abruptly stops and goes to sleep. Laura becomes concerned that Dean may have not known it was her. The next day, Laura finds a woman's toiletry bag in Dean's luggage. Dead explains that it belongs to his business associate, Fiona Saunders (Jessica Henwick), and he offered to carry it in his suitcase because she could not fit it in her carry-on.
Shortly afterwards, Laura has lunch with her wealthy, semi-retired art dealer father Felix Keane (Bill Murray). She confesses her fears to her father who is himself a longtime playboy who left Laura's mother when she was young. Felix tells Laura that men are biologically wired to cheat and that he is convinced that Dean is having an affair. Felix proposes that Laura investigate what Dean is doing and encourages her to check his cell phone. Laura gives into her paranoia and checks Dean's phone but finds nothing.
A few days later, Dean goes on another business trip during Laura's birthday. He Facetimes Laura on her actual birthday and has the girls present her with his present to her, which is a Themomix. Laura is not excited about the gift. Felix arrives a little while later to take her out to dinner for her birthday, despite Laura refusing his offer before. At dinner, Felix reveals that he had Dean followed and reports that he was spotted shopping for jewelry at Cartier.
Laura grows more and more suspicious. A few nights later, Felix picks her up in his vintage sports car, and they stake out Dean as he attends a work dinner. They observe Dean getting into a cab with Fiona, and Felix speeds through the streets trying to follow them. Felix and Laura are pulled over for Felix's reckless driving by two police officers, but Felix charms his way out of the ticket by bringing up the fact that he knows one of the officer's father.
The next day, Felix discovers that Dean is planning a trip to a Mexican resort, which Laura knows nothing about. Shortly afterwards, Dean casually tells her about the trip, which bothers Laura. Dean tells Laura that Fiona is going on the trip with him. Laura grows increasingly suspicious and calls Felix, who convinces her to follow Dean to Mexico in order to spy on him.
At the resort, Laura and Felix spot a woman in Dean's room. Laura rushes to confront Dean, but she is shocked to find Fiona in the room with her girlfriend. Fiona tells Laura that Dean gave them his room on the beach because he was returning home early. At that moment, Dean calls Laura on the phone to tell her that he left Mexico early and that he will be home in a few minutes. Laura realizes that her paranoia has driven her crazy, and she lashes out at Felix for feeding her fears. She accuses her father of being selfish and expresses her anger of how he treated her mother years before.
Laura returns to New York. Dean is confused and upset as to why Laura followed him to Mexico. The couple have a heart-to-heart conversation where they share their respective fears and insecurities. Laura communicates that she has felt alienated due to Dean's constant trips. Dean tells her that he has been working as hard as he could to ensure that he provides for the family. The couple reconciles. In the aftermath, Laura finally overcomes her writer's block. She and Felix make amends during his next visit. Dean takes Laura out for a belated birthday dinner and presents her with a second birthday gift, an engraved Cartier watch. Laura takes off the vintage watch Felix had previously given to her and puts on Dean's gift.
Additional Film Information
Rate the Film!
A24 and Apple TV+ released On The Rocks on October 2, 2020. Sofia Coppola directed the film starring Bill Murray, Rashida Jones, and Marlon Wayans.