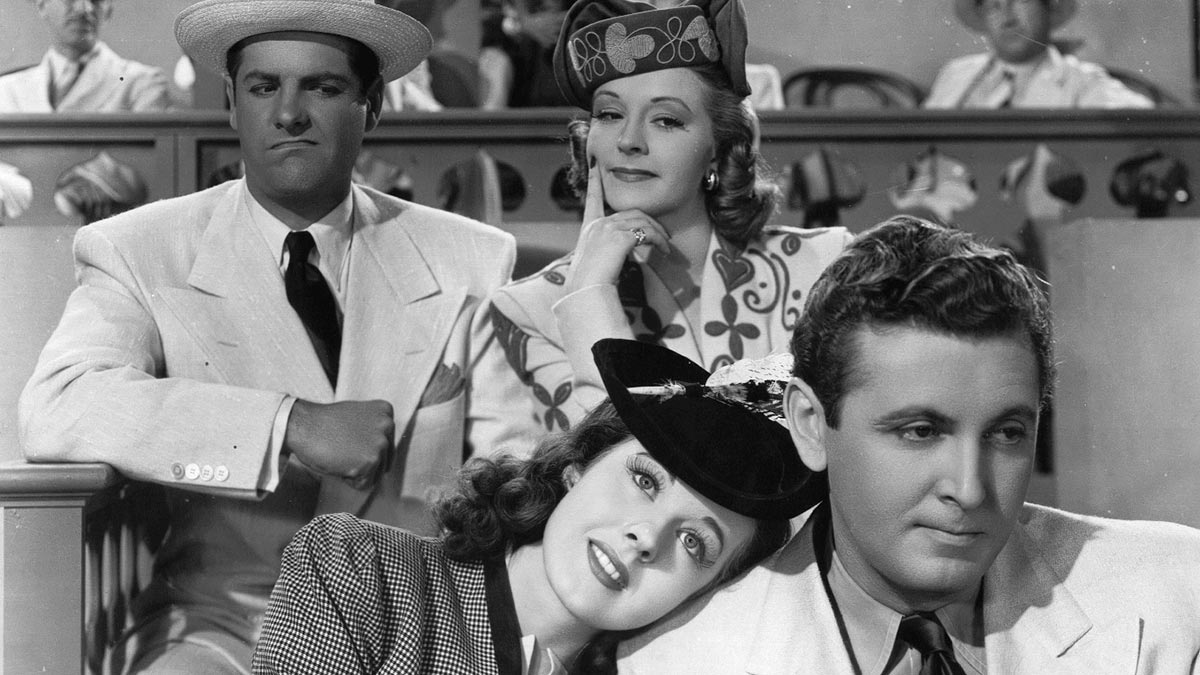 Film and Plot Synopsis
Based on the 1914 book Love Insurance and a remake of the 1919 film of the same name, One Night in The Tropics marks the film debut of Abbott and Costello. Jim "Lucky" Moore and Steve Harper are best friends. Steve is engaged to marry Cynthia, but his ex-girlfriend Mickey keeps interfering with the wedding plans. Lucky comes up with a love insurance policy that guarantees a million dollars to Steve if he does not marry Cynthia. Now, the only question is whether the two sworn bachelors will marry the women that they each actually love.
Buy the Film
Abbott & Costello: The Complete Universal Pictures Collection [Blu-ray]
5 new from $100.97
3 used from $99.99
Free shipping
as of November 19, 2022 11:16 am
*As an Amazon Associate we earn from qualifying purchases.
'One Night in the Tropics' Movie Summary
The summary below contains spoilers.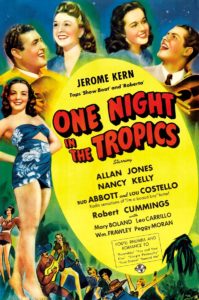 Friends Jim "Lucky" Moore (
Allan Jones
) and Steve Harper (
Robert Cummings
) have two different perspectives on love. Steve believes in the concept of love, while Lucky is more skeptical. Steve is deeply in love with his fiancée, Cynthia (
Nancy Kelly
). On the day of their wedding, Steve meets Cynthia's Aunt Kitty Marblehead (
Mary Boland
) who disapproves of Steve. Aunt Kitty calls off the wedding which Cynthia agrees with after Steve tears her wedding dress.
The next day, Steve tries to write a letter that will get Cynthia to take him back. Lucky is an insurance salesman. He comes up with a scheme that will help Steve get Cynthia back. Lucky comes up with a love insurance policy that will pay out $1 million if Steve does not marry Cynthia. Either way, Steve will come out a winner. While Steve is on the phone with Cynthia making amends, Steve's ex-girlfriend, Mickey Fitzgerald (Peggy Moran) shows up at the door. Mickey is still in love with Steve and tells him that she wants him back. Steve tells Mickey that he does not want to be with her and that he is done with the reckless lifestyle that Mickey lives.
Meanwhile, Lucky informs his father James (Richard Carle) about the policy. His father is appalled by Lucky's policy and tells him that he needs to find someone to underwrite the policy. Lucky approaches the nightclub owner, Roscoe (William Frawley), who agrees to underwrite the policy. Lucky meets Cynthia at Roscoe's club and discovers that he is attracted to her. Mickey shows up at the club. Steve tries to hide her from Cynthia. Mickey begins singing a song with the club's band and serenades Steve directly. Cynthia begins to become suspicious, and ultimately catches Steve and Mickey kissing in a phonebooth. She tells Lucky that she is ending her relationship with Steve. When Roscoe sees both Steve and Cynthia leave the club unhappily, he informs Lucky that there better not be any problems with the marriage or Lucky will be in trouble. To make sure he covers himself, Roscoe sends his two bumbling enforcers, Abbott and Costello (Bud Abbott and Lou Costello) to ensure that the wedding occurs as planned.
The next day, Steve jokes about committing suicide when Lucky comes running in with news. Lucky tells Steve to pack his bags because Cynthia is traveling to San Marcos. Lucky heads off to get tickets on Cynthia's cruise liner, while Steve begins packing his things. Mickey shows up at Steve's and tricks him in to revealing his travel plans. She also discovers Steve's love insurance policy. Mickey begins feeding Steve with drinks to prevent him from making his departure time. At the boat dock, Lucky gets concerned when Steve is late arriving to the launch and is forced to board the ship without him. This gives time for Abbott and Costello to do an abbreviated version of "Who's on First?" Roscoe, Abbott, and Costello find Steve drunk at his apartment. Roscoe orders the boys to send Mickey to Kansas City, and Roscoe states that he will find a way to get Steve to San Marcos.
On the boat, Lucky runs into Cynthia. Cynthia is cold and dismissive towards Lucky. Lucky sings a song that moves Cynthia. Lucky's singing lures Cynthia out of her cabin, and Lucky tries to apologize to Cynthia on her behalf. She accepts the apology and tells Lucky that she will still marry Steve in San Marcos on Saturday. Aunt Kitty meets Lucky and immediately likes him. She tells Cynthia that she should pursue a relationship with Lucky and not Steve. At the same time, Abbott and Costello arrive in San Marcos with Mickey. The incompetent duo allowed the devious Mickey to buy their tickets to Kansas City, and she diverted their trip a little further south. Everyone else arrives at the hotel in San Marcos at the same time.
Cynthia finds Lucky singing again on the veranda. Cynthia begins to find herself attracted to Lucky. Steve finds the two of them on the veranda. Steve pulls Lucky aside and tells him that Mickey is at the hotel. Showing an interest in Cynthia, Lucky tells Steve that Mickey must really love him to pursue him all the way to San Marcos. Lucky then receives a telegram from his father stating that Roscoe is threatening him over the underwriting. Lucky then backpedals and pushes Steve to pursue Cynthia again. Steve is confused on which girl he should go after.
Back at the hotel, Cynthia and Mickey encounter each other. Mickey reveals that Lucky wrote the love insurance policy for Steve and that is why he is pushing her to marry Steve. Cynthia is angry and plots her revenge. She calls and invites both Lucky and Steve to the bullfights the next day with her and Mickey. At the bullfight, Cynthia and Mickey make both Lucky and Steve jealous by flirting with the bull fighters and showing affection towards their dates. Cynthia states that she is having so much fun being engaged that she wants to delay the wedding, which panics both Steve and Lucky.
Later that night, Mickey flirts heavily with Lucky. Steve begins to get angry, but Cynthia also begins to get jealous. When Cynthia begins to serenade Rudolfo (Don Alvardo), one of the bullfighters, Lucky begins to get jealous. Lucky returns the favor by singing to Mickey which makes Cynthia more jealous. However, Lucky begins singing to Cynthia in the middle of the song, but Cynthia remembers the deception that Lucky and Steve were trying to pull and leaves with Rudolfo. Lucky calls his father in New York and tells him that he loves Cynthia.
The day of the wedding, Roscoe arrives in San Marcos to make sure that the wedding goes off without a hitch. Neither Steve nor Lucky want the wedding to go forward, but it is Cynthia who calls off the wedding. Roscoe enters the wedding with his gun and orders Steve and Cynthia to marry so he does not have to pay out on the policy. Lucky throws some fruit at Roscoe, grabs Cynthia, and runs away. Roscoe, Abbott, and Costello pursue them. Mickey grabs Roscoe's discarded gun and orders Senor Escobar (Leo Carrillo) to marry her and Steve, which Steve is fine with. Lucky explains to Cynthia that he loves her, and they hide out in a town festival. Roscoe eventually catches up with Lucky and Cynthia and tells them that he does not have to pay the million dollars because Steve married Mickey instead. Lucky realizes that Cynthia loves him in return and the two share a passionate kiss.
Additional Film Information
Rate the Film!
Universal Pictures released One Night in the Tropics on November 15, 1940. A. Edward Sutherland directed the film starring Allan Jones, Nancy Kelly, and Robert Cummings.