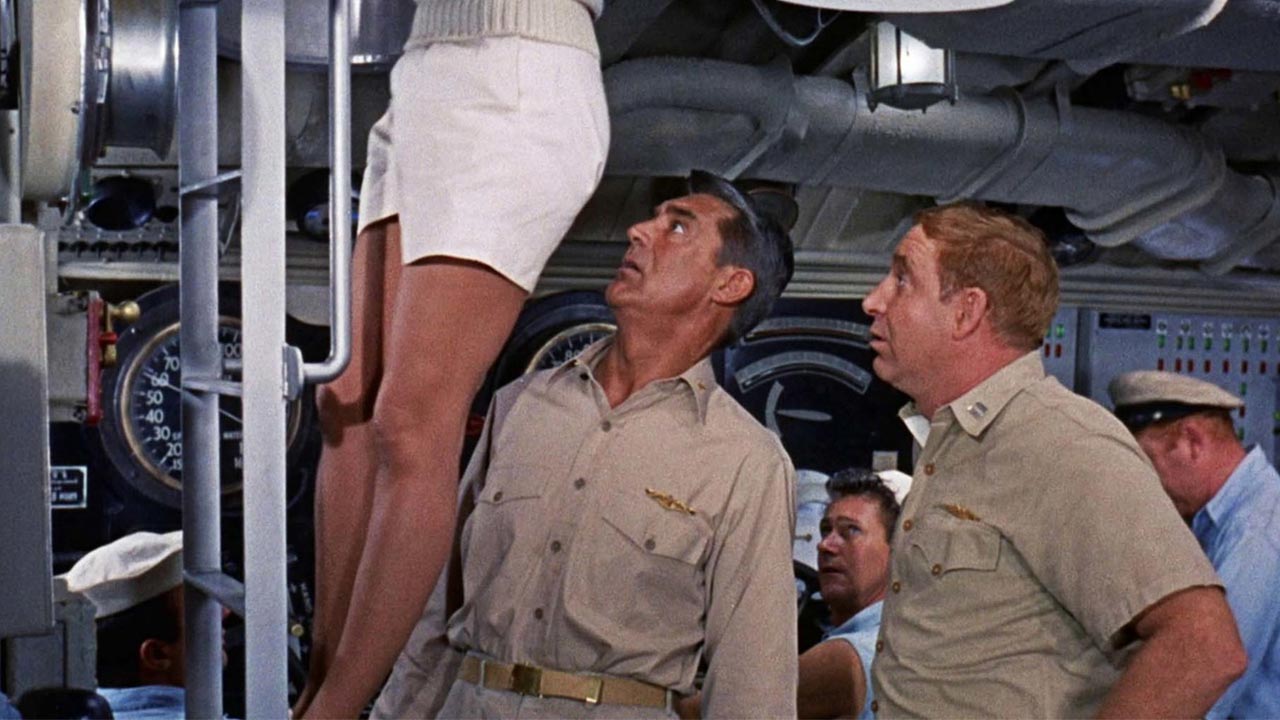 Summaries
Operation Petticoat (1959)
Movie review coming on 4/10/2023
Film and Plot Synopsis
During World War II, Lieutenant Commander Matt T. Sherman finds his submarine, the USS Sea Tiger badly damaged after a Japanese air raid sinks it. With the help of his remaining men and the newly reassigned (but completely unethical) Lieutenant Junior Grade Nick Holden, the men set out for port in Darwin, Australia to make proper repairs. Along the way, Holden swindles the Army for necessary parts for the submarine and convinces Sherman to take on board five stranded U.S. Army nurses and gaggle of pregnant women and their children. However, Sherman's ship winds up with a pink overcoat and nearly sunk by the U.S, Navy before Sherman and Holden fall in love—but not with one another—unless their bromance counts. And that is Operation Petticoat.
Buy the Film
Operation Petticoat [Blu-ray]
8 new from $19.12
11 used from $11.01

as of December 6, 2022 1:55 am
*As an Amazon Associate we earn from qualifying purchases.
'Operation Petticoat' Movie Summary
The summary below contains spoilers.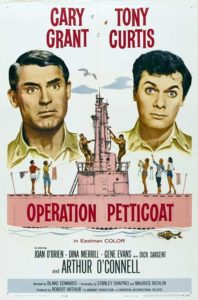 Our film begins in present day 1959. We see U. S. Navy Rear Admiral Matt Sherman (Cary Grant) board an obsolete submarine named the USS Sea Tiger on the day she's set to be retired. Sherman, once her commanding officer, begins reading his wartime personal logbook and we get a war-time flashback.
We cut back to December 10, 1941 where a Japanese air raid sinks the Sea Tiger while she is docked at a Navy Yard in the Philippines. The then Lieutenant Commander Sherman and his crew begin repairs so that they may set sail for Darwin, Australia before the Japanese return. However, 18 of his crew have already been transferred to other posts once the Sea Tiger is sunk. To help Sherman, Lieutenant, Junior Grade Nick Holden (Tony Curtis), an admiral's aide, is reassigned to Sea Tiger—even though he has no submarine training or experience.
What Holden lacks in military ability, he has abundance of as a scrounger and thief, and he convinces Sherman to make him the ship's supply officer. With the help of a former Marine Sergeant/current escaped prisoner named Ramon (Clarence Lung)—who was caught misappropriating Navy property to run his own restaurant—Holden figures out a way to obtain the parts and materials Sherman needs for repairs, going as far as stealing them when necessary. As this goes on, the Chief Motor Machinist's Mate, Sam Tostin (Arthur O'Connell), uses the parts from engine numbers 3 and 4 to keep numbers 1 and 2 running, albeit poorly. Throughout the film, number 1 constantly backfires and emits puffs of black smoke.
Once the crew of the Sea Tiger get's the submarine afloat again, it's in such a sad state that Holden hires a local witch doctor to cast a spell of protection spell on her. They set sail for Marinduque, but only find five stranded U.S. Army nurses on the island. Holden convinces Sherman to take the women back to safety, partly because he's got the hots for Second Lieutenant Barbara Duran (Dina Merrill).
Sherman questions that decision to allow them on board after he has a bunch of embarrassing encounters with the well-endowed and equally clumsy nurse, Second Lieutenant Dolores Crandall (Joan O'Brien). At one point, as Sherman prepares his sub to attack an enemy oil tanker moored to a pier, Crandall accidentally sets off a torpedo when she gets too close to Sherman, causing the torpedo to miss the ship and "sink" a truck on the shore. With their location revealed, the enemy fires on them, and the Sea Tiger flees.
Eventually, the Sea Tiger arrives on the Island of Cebu where Sherman plans to drop the nurses off, but the Army refuses to accept them without the proper orders—especially with the Japanese closing in on Army troops. To make matters worse, Sherman has a list of supplies for the Army he needs to rebuild his ship, but they have none to spare. Sherman orders Holden to get the supplies, no questions asked, and Holden sets up a casino where he will trade casino chips for Army parts. The plan works.
One of the supplies Chief Torpedoman Molumphry (Gene Evans) needs is silver lead paint for the Sea Tiger's protection, but Holden is only able to get red and white lead primer paint. Sherman orders the paint to be mixed so that they will have enough to paint the entire exterior which results in the entire vessel taking on a pink hue. Unfortunately, a Japanese air raid on New Years Day 1942 forces Sherman to leave before the crew can apply a top coat of navy gray over it. To make matters worse (again), the locals show up with their pregnant women and children—who are not pregnant—so that the Sea Tiger can take them to safety as part of the deal Holden made with the men to help him with his casino scam.
After that raid, Tokyo Rose begins making fun of the pink submarine over the radio. The U.S. Navy hears her, but has no knowledge of any allied vessels painted pink. So they believe the ship is a Japanese trap, and they order the Sea Tiger to be sunk on sight. When an American destroyer spots the Sea Tiger, it opens fire, forcing the submarine to dive. The U.S. Navy then sends out depth charges to destroy it. Sherman attempts trick the Navy into believing they sunk the Sea Tiger using the old "oil slick and fake debris field with blankets, pillows, and life jackets launched from a torpedo tube" ploy. The trick doesn't fool anyone. Holden then gets the bright idea that Sherman should eject the nurses' lingerie into the ocean, and that does the trick. Crandall's bra convinces the destroyer's captain that "the Japanese have nothing like this", and he ceases fire. The Sea Tiger, in all its pink glory, arrives at Darwin to the catcalls of the other Navy vessels—battered but under her own power.
We then cut back to the present day (1959) as (now) Commander Nick Holden, his wife (the former Lieutenant Duran), and their two sons arrive. Sherman tells Holden that even though they are retiring this Sea Tiger, Holden will command the new nuclear-powered submarine, also named the Sea Tiger. Sherman's wife (the former Lieutenant Crandall) arrives late with their four daughters in tow and rear-ends his staff car as she comes to a stop. This causes it to lock bumpers with a Navy bus which then drives away, dragging Sherman's car with it. As Dolores apologizes profusely, Sherman reassures her that it will be fine when the bus stops at the main gate.
As Commander Holden takes the Sea Tiger out on her final voyage, the number 1 engine lets out one final backfire of smoke for a happy ending.
Rate the Film!
Universal International released Operation Petticoat on December 5, 1959. Blake Edwards directed the film starring Cary Grant, Tony Curtis, and Joan O'Brien.