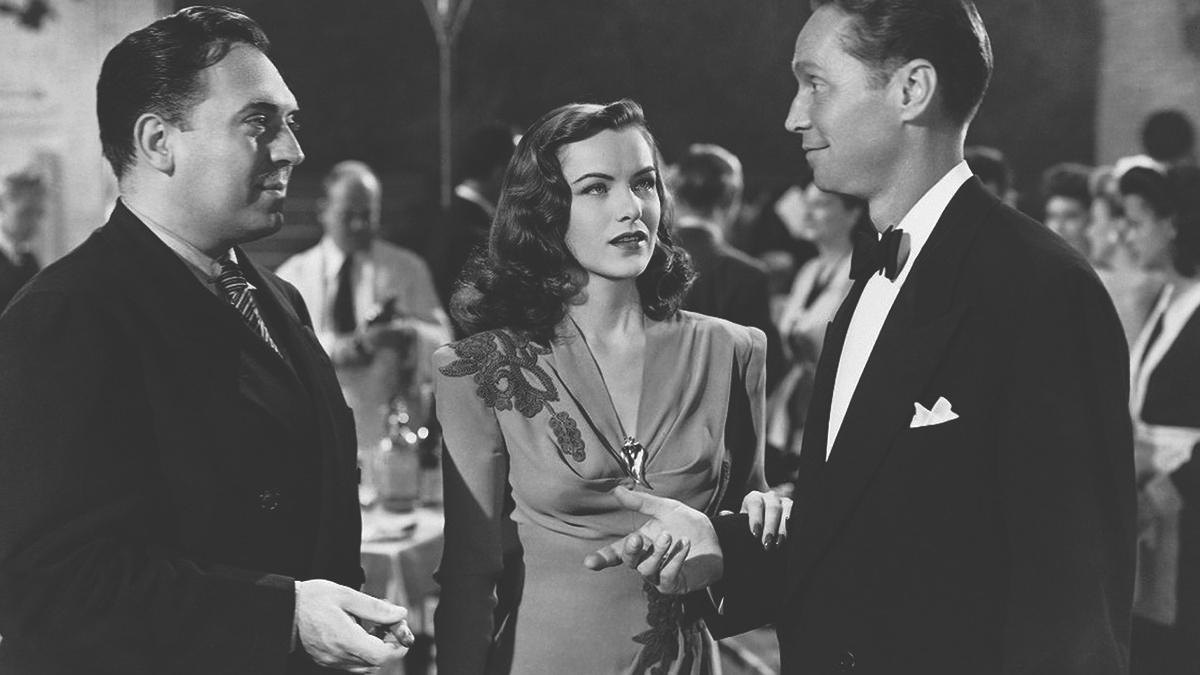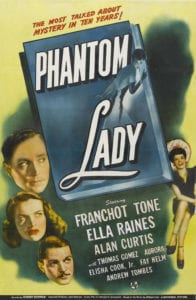 1944's Phantom Lady is a crime/drama film-noir starring Franchot Tone, Ella Raines, and Alan Curtis. Robert Siodmak directed this film which is based on Cornell Woolrich's novel of the same name.
Phantom Lady tells the story of engineer Scott Henderson (Alan Curtis) who's wrongly convicted of strangulating his wife. His secretary, Carol Richman (Ella Raines), sets out to find a phantom lady, who's Scott's only alibi, with the help of Scott's best friend, Jack Marlow (Franchot Tone), and Police Inspector Burgess (Thomas Gomez). Only then does the real killer reveal themselves.
The acting in this film is top notch for the most part. Ella Raines is a stunningly beautiful woman, and plays strong women very well. She's the driving force of everything good in this film as it's success is due to her excellent performance.
Franchot Tone as Jack Marlowe is pretty chilling. Known more for his work on the New York stage, Franchot teeters on the edge of sanity and insanity very well, and is very effective as Scott's best friend.
Character actor Elisha Cook, Jr. as a nightclub drummer, has possibly the most memorable scene in the film. He takes Ella Raines to an after hours dive to show her how he can keep a beat and keep it strong. The scene is clearly a euphemism for electric sex with cuts between Cook's manic pounding on the drums, closeups of his crotch, and Ella urging him on to a sweaty climax. It's not something you will see in many 1940s films.
I really liked Thomas Gomez as Inspector Burgess, and his rapport with Ella Raines, but Alan Curtis as Scott Henderson was a little flat. I never really believed he loved Ella's Carol; even at the end, but he was reasonably effective as the framed man who accepts his fate.
While I enjoyed the film, I felt it started out slow. Ella's character doesn't show up for quite some time, and she's the best thing about the movie. Once she appears, however, the film moves along at a great pace with many twists and turns.
The ending (after the big reveal) was somewhat unsatisfying. As I said, I don't believe Scott truly loves Carol. However the majority of this film is awesome. It's never boring or predictable, and only has a few plot holes, but then what film doesn't. The cinematography is excellent as well.
End of the day, this film is a great murder-mystery, and it has Ella Raines in it. What more do you need? Add this one to your list of film noirs to see in your lifetime.
What do you think of the film? Let us know in the comments below.
Disclaimer
Affiliate links contained in this post will take you to Amazon.com and/or the iTunes Store. This Means when you click a link, and purchase an item, the MHM Podcast Network will receive an affiliate commission. Advertisers and Affiliate Partnerships do not influence our content. See our Terms of Use about the inclusion of affiliate links on this site for more information.
Rate the Film!
Universal Pictures released Phantom Lady on January 28, 1944. Robert Siodmak directed the film starring Franchot Tone, Ella Raines, and Alan Curtis.