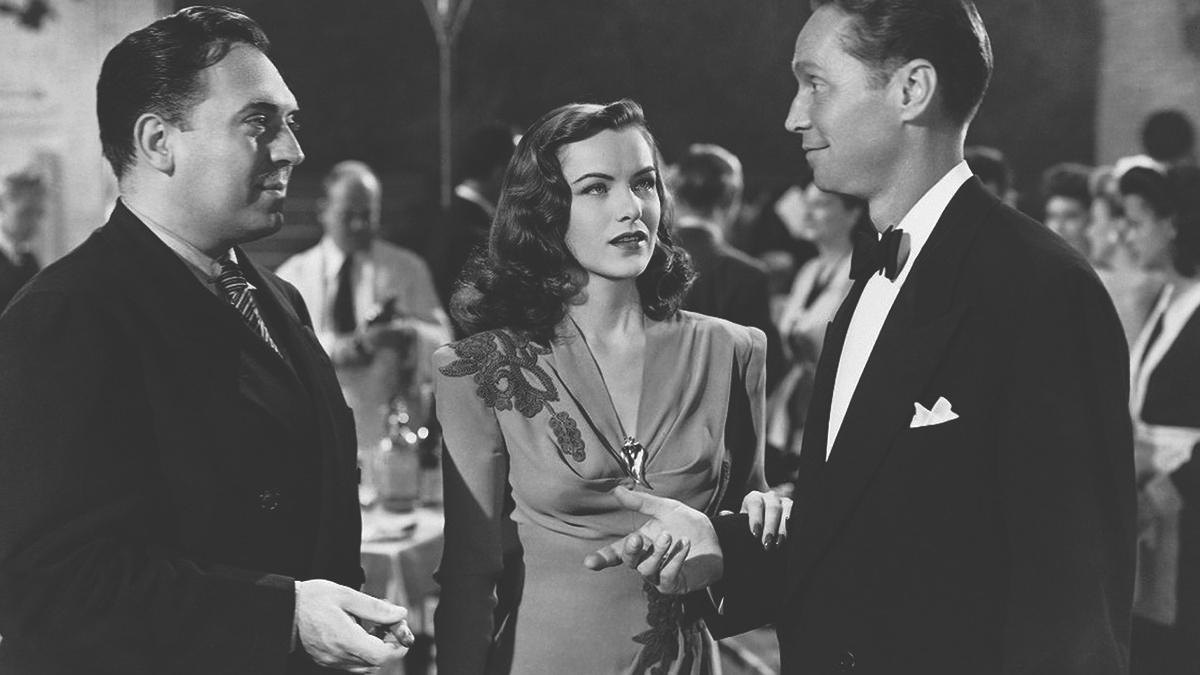 1944's Phantom Lady is a crime/drama film-noir starring Franchot Tone, Ella Raines, and Alan Curtis. Robert Siodmak directed this film which is based on Cornell Woolrich's novel of the same name. Universal Pictures produced and distributed this film which was released on January 28, 1944 and has a run time of 87 minutes.
Movie Summary
Phantom Lady is about an engineer named Scott Henderson (Alan Curtis) who, after a fight with his wife on their wedding anniversary, heads to a bar to drown his sorrows. There he strikes up a conversation with a mysterious lady who is just as despondent as him and he gets her to accompany him to a Broadway show uptown because he has an extra ticket. The lady agrees with one condition… she will not give her name or reveal any information about herself. 
After this innocent encounter ends, the two go their separate ways, but when Scott arrives home, he turns on the lights to find three police officers sitting in the dark waiting for him—his wife dead in the bedroom from strangulation with one of his neckties. With Scott their prime suspect, these four men retrace his night's steps in search of his only alibi—this phantom lady. However, any person the group questions remembers seeing Scott with a woman. 
Scott is charged and convicted of murdering his wife, and with 18 days before the state electrocutes him for murder, his devoted secretary, Carol Richman (Ella Raines), whom Scott refers to as Kansas, sets out to find the phantom lady with nothing more than her love for Scott and the help of Police Inspector Burgess (Thomas Gomez)—who sent Scott up the river but now thinks he's innocent—and Scott's dearest friend Jack Marlow (Franchot Tone). Does Carol save Scott from certain death? Well this is a film noir, so things never seem to go according to plan.
Cast
Franchot Tone gets top billing in this film even though he first appears half way in the film, but he was the name of the cast at that time. He was in 1933's Dancing Lady, 1935's Mutiny on the Bounty, and 1935's Dangerous—lots of great films in the 30s. He plays Jack Marlow—Scott's best friend who was out of the country at the time of the murder—Franchot teeters on the edge of sanity and insanity very well, and is very effective as Scott's best friend. He can be a little over the top but is great playing off Ella Raines.
Speaking of which, Ella Raines plays Scott's love-struck secretary, Carol Richman—Kansas. I guess she wasn't a terribly a well-known star at this point. She only made 22 films total in her career and they were released between 1943 and 1956. Ella made three films in 1944 that I enjoy—this one, Tall in the Saddle with John Wayne, and The Suspect which Robert Siodmak also directed. Not only is Ella a stunningly beautiful woman, she plays strong women very well, and is the driving force of everything good in this film. As Kansas, she's a feisty and determined woman—not Tall in the Saddle levels of feisty—but feisty just the same. She's the only one who sticks up for Scott when all seems lost and puts herself in danger to prove his innocence.
Alan Curtis is Scott Henderson—the man wrongfully accused for strangling his wife to death—Curtis never a terribly big name but managed to make 55 films between 1936 and 1951. His big break was in 1943's Flesh and Fantasy. Curtis doesn't really have a lot of screen time in this film because he's in jail most of it and there's nothing exceptional in his performance and not a whole lot for him to do once the premise of this film's established. Any male actor of the day could have played this role, but that's not saying Curtis' performance was at all bad.
Character actor Elisha Cook, Jr. as a nightclub drummer, has possibly the most memorable scene in the film. He takes Kansas to an after hours dive to show her how he can keep a beat and keep it strong. The scene is an overtly sexual euphemism with cuts between Cook's manic pounding on the drums, closeups of his crotch, and Ella urging him on to a sweaty climax. It's not something you will see in many 1940s films.
I really liked Thomas Gomez as Inspector Burgess, and his rapport with Ella Raines, but Alan Curtis as Scott Henderson was a little flat. I never really believed he loved Kansas; even at the end, but he was reasonably effective as the framed man who accepts his fate.
Final Thoughts
While I enjoyed the film, it starts out a bit slow. Ella's character doesn't show up for quite some time, and she's the best thing about the movie. Once she appears, however, the film moves along at a great pace with many twists and turns.
My one call out is about half way in the film, there's a big reveal, which as the viewer, I had already figured out, but it's spoon fed to us, and it unfortunately weakens the overall film for me. I'm not going to spoil anything because I think everyone should watch this film, but just know the second half falls a little flat and the ending was somewhat unsatisfying for me.
As I said, I don't believe Scott truly loves Carol. However the majority of this film is pretty great. End of the day, this film is a fun murder-mystery, and it has Ella Raines in it. What more do you need? I'm going to give this film 3.5 stars out of 5.
Film Recommendations
If you like this film, there's three others by Robert Siodmak that you might also like:
The Killers (1946)
1946's The Killers starring Burt Lancaster in his debut, Ava Gardner, and Edmond O'Brien. This one is about two professional killers who invade a small town and kill a gas station attendant referred to as the Swede. The lead Insurance investigator looks into the case against his boss' orders because he considers it trivial. The investigator soon uncovers a complex tale of treachery and crime which are all linked to a seductive woman named Kitty Collins.
The Spiral Staircase (1946)
1946's The Spiral Staircase starring Dorothy McGuire, George Brent, and Ethel Barrymore. Set in 1916, some one in a small town is killing disabled women. A mute girl named Helen, who works for the Warren family, fears that she could be the killer's next victim.
Criss Cross (1949)
1949's Criss Cross starring Burt Lancaster, Yvonne De Carlo, and Dan Duryea. This one is set in the small town of Los Angeles, California, where the obsessed Steve Thompson tries to reconcile with his ex-wife, Anna but unfortunately, Anna has married the gangster, Slim Dundee. Steve thinks he can save here even after friends warn him otherwise. This sets Steve on a very dangerous journey.
Rate the Film!
Universal Pictures released Phantom Lady on January 28, 1944. Robert Siodmak directed the film starring Franchot Tone, Ella Raines, and Alan Curtis.