Film and Plot Synopsis
Martha and Sean are a Boston couple on the verge of parenthood whose lives change irrevocably when a home birth ends in unimaginable tragedy. Thus, begins a yearlong odyssey for Martha, who must navigate her grief while working through fractious relationships with her husband and her domineering mother, along with the publicly vilified midwife, whom she must face in court. A deeply personal, searing, and ultimately transcendent story of a woman learning to live alongside her loss. (Courtesy of Netflix)
'Pieces of a Woman' Movie Summary
The summary below contains spoilers.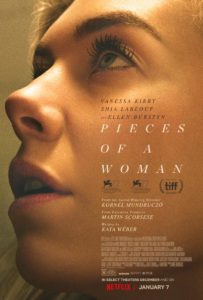 Martha Weiss (
Vanessa Kirby
) and Sean Carson (
Shia LaBeouf
) are a young unmarried couple living in Boston, Massachusetts. Martha is pregnant with the couple's first child, and the couple is anxiously awaiting the birth. One night, Martha goes into labor at the couple's home, and Sean calls their midwife, Barbara, as the couple wish to have a home birth. Barbara is unavailable and sends another midwife, Eva Woodward (
Molly Parker
), in her place. The birth is a difficult one for Martha as she struggles with nausea and pain during her contractions. Once Martha is dilated to ten centimeters, Eva realizes the baby's heart rate has dropped dangerously low. Sean becomes concerned and Eva directs him to call an ambulance. Nevertheless, Martha gives birth to a baby girl prior to paramedics arriving. The baby initially appears to be healthy and fine. However, Eva notices that the baby appears to be in distress as she begins to turn blue. The baby stops breathing, and Eva tries to revive her. Ultimately, the child goes into cardiac arrest and dies. Martha and Sean are devastated.
After the child's death, Martha walks through the world in a haze, her body still believing that she has a child to feed. Her gaze often lingers on the children of other parents. A month after their child's death, Martha and Sean attend an appointment with the coroner (Domenic Di Rosa). Sean is eager to find out what went wrong so that he can place blame somewhere, while Martha is more reluctant. The couple learns that the cause of death has still not been established, but the coroner does determine that the baby was in a low-oxygen environment for too long. The couple is informed that proceedings have begun against Eva for her part in the child's death. Sean is frustrated and overcome with emotion. He storms out of the meeting while Martha calmly remains. She tells the coroner that she would like to donate her daughter's body to science, something that does not sit well with Martha's mother Elizabeth Weiss (Ellen Burstyn).
As time continues to pass, Martha's relationships with her mother and Sean continue to be strained. Elizabeth continually pressures Martha to have a funeral and bury her daughter's remains. At the same time, Sean and Martha grow more distant from each other as they continue to remain in a deep state of depression. The couple struggles to connect physically which frustrates Sean and further widens the divide. Sean returns a minivan that Elizabeth bought for the couple, against Sean's wishes, so that he can get the money. Elizabeth puts Sean in contact with Martha's cousin, Suzanne (Sarah Snook), a lawyer who talks to Sean about a potential lawsuit against Eva which could be lucrative for the couple. Unfortunately, Sean and Suzanne begin having sex with each other, and Sean resumes using cocaine after being sober for seven years. At the same time, Martha begins kissing random men at dance clubs that she goes to by herself. Martha and Sean's relationship continues to unravel as Martha finds out that Sean sold the minivan and has stopped showing up for his job.
Shortly afterwards, Martha and Sean attend a family gathering at Elizabeth's house. Suzanne and Martha's sister Anita (Iliza Shlesinger) are also in attendance. Sean attempts to engage with the family, but Martha remains physically and emotionally distant from everyone. Elizabeth continues to want to talk about the funeral and the upcoming trial against Eva which Suzanne is prosecuting. Martha has no intention of attending the trial, but Elizabeth pressures her to testify. It leads to a confirmation between mother and daughter where Elizabeth indicates that she blames Martha for her baby's death due to her insistence on having a home birth. Elizabeth wants Martha to stand up for what she believes is justice for her dead granddaughter. After the fight, Elizabeth has a conversation with Sean where she tells him that she has never liked him and offers him a check for a large sum of money to leave Boston and never return. Before leaving Elizabeth's house, Sean has a conversation with Suzanne on the porch. He indicates that he is moving back to Seattle. Suzanne realizes that there is no future in any relationship with Sean and wishes him good luck. Some time later, Martha drops Sean off at Logan International Airport where he catches a flight to Seattle. The couple hardly speak to each other as they part ways.
Several months later, Martha testifies at Eva's trial. Martha struggles slightly during cross examination by the defense attorney when he asks Martha what her baby looked like. Martha struggles to remember the details of her child and asks the judge for a recess. During the recess, Martha goes to a photo shop that has a sheet of negatives awaiting development from the night of her daughter's birth. She and Sean have never followed through with getting them developed. She prints a photo of her with her baby before she died and has an emotional breakdown. She returns to court and asks the judge to allow her to address the court. In front of Elizabeth, Suzanne, and Eva, Martha states that Eva is not at fault for the death of her baby and that she does not blame her. Eva looks on with gratitude.
Once back home, Martha discovers that some apple seeds that she started in her refrigerator have started to sprout, symbolizing new life. Soon after, Martha enjoys a coffee with her mother and her sister and even laughs for the first time. A month later, Martha stands alone on the edge of a bridge that Sean helped to build and scatters her daughter's ashes into the river.
Years later, a small girl climbs an apple tree and picks an apple. The girl sits in the tree and enjoys eating the apple. Martha approaches and calls for the young girl, who is named Lucy. Lucy is Martha's daughter. Martha helps Lucy out of the tree and the two go inside together.
Additional Film Information
Rate the Film!
Netflix released Pieces of a Woman on December 30, 2020. Kornél Mundruczó directed the film starring Vanessa Kirby, Shia LaBeouf, and Ellen Burstyn.