Film and Plot Synopsis
In Pretty Woman, Vivian Ward works as a prostitute on Hollywood Boulevard. One day, she runs into the man of her dreams named Edward Lewis while looking for a John. While she doesn't know he's her savior and he doesn't know that she's anything more than a streetwalker, the two wind up changing each other's lives. When he offers her money to stay with him for an entire week, he shows her what it's like to be rich and famous. However, money can't buy you happiness, so Edward must become a better person if he's going to keep this pretty woman.
Buy the Film
Pretty Woman [Blu-ray]
6 new from $8.99
17 used from $3.71
Free shipping
as of June 5, 2023 4:50 am
*As an Amazon Associate we earn from qualifying purchases.
'Pretty Woman' Movie Summary
The summary below contains many spoilers and feeble attempts at humor.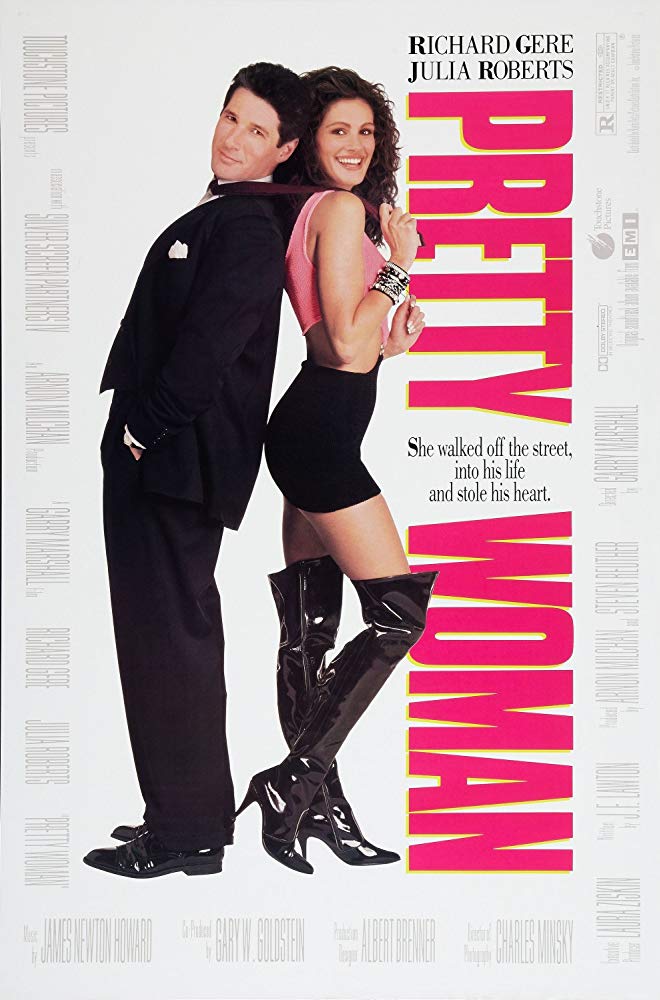 Pretty Woman
shows that when you get caught between the Moon and Studio City, the best thing you can do, is buy your love. Released in 1990, this film is the timeless tale of boy meets whore, but this strumpet for your trumpet isn't just any hooker–she's a Disney doxy, and like all the animated adulteresses that came before her: Cinderella, Snow White, Aerial, and that bitch, Lady; there is a strong streak of wholesome goodness in her that will inspire your young children for years to come.
The fairy tale begins
Our vivacious vixen, Vivian Ward (Julia Roberts), is your typical 80s cocksucker (ala Jamie Lee Curtis in Trading Places and Dolly Parton in Best Little Whorehouse In Texas) with a mouth like a vice but a heart of gold. Your traditional girl-next-door, Vivian decides to move to Los Angeles with a boyfriend that treats her like shit in the hopes of finding fame and fortune. When things don't work out for the Southern Belle du Jour, she does what any red-blooded American girl does, she refuses to return home and turns to the pound patch to make ends meet.
Enter the brave night to swoop in and save our fare maiden. Edward Lewis (Richard Gere) is in Beverly Hills to acquire James Morse's shipping company. Eddie makes his money buying troubled companies before breaking them up into valuable little pieces. He then sells them off for billion-dollar profits. You see, Eddie has Oedipal complex, and one of the first companies that he dismantled and sold was his father's, whom he had issues with. Since that time, he has grown to love the Power acquisitions bring him and shows No Mercy to those in his way, but through the power of the poonany, everything is about to change.
Directions on Hollywood Boulevard
Eddie encounters Vivian on Hollywood Boulevard, the streetwalking equivalent to K-Mart. Eddie is having trouble driving his employee's expensive car back to his hotel. Vivian offers to give him directions…for $5.00, then seeing his desperation, she ups it to a whopping $10. This girl is a wheeler and dealer for sure. It takes Eddie a few moments to figure out how to get it in Gere, but our sporting lady knows how to get things racing, and off they go.
Vivian's horsepower dazzles Eddie so much that he purchases her services for the night. Love is best when you can pay the woman to leave the next morning, but once again, this is fairy-tale fornication. Our girl has values; she's wholesome, she flosses, doesn't use a pimp, and comes complete with a Rainbow Brite selection of condoms. She will do anything, except kiss on the mouth.
After a Breathless night of hamster high jinx, Eddie decides to purchase Vivian's services for the rest of the week for $3,000. She will be his literal beck and call girl, but before she can begin servicing Eddie, he has to turn this slattern slut into a pretty woman. Can anyone say 80s shopping montage? Here we go! Oh wait, this is Rodeo Drive and her Frederick's of Hollywood ensemble isn't going to get her any service until Eddie whips out his Knight-in-shining-armor credit card that he never leaves home without and uses it to save the day. Now, Miss Family Values can return to get revenge on those bitches who wouldn't serve her the day before.
Vivian and Eddie continue spending time together
Now that she is high class, Vivian does what high class people to do: go to dinner, watch polo matches, fly on private jets, cry at the opera, and screw the hell out of the man that makes it all possible.By this time, Eddie is more worried about entertaining Vivian than pursuing the Morse Company. I guess a condom will stop the sperm, but not the love. A kiss on the lips can't be far behind. Eddie's new found compassion for life urks his lawyer, Philip Stuckey (Jason Alexander). He can't believe that Eddie is being Unfaithful to his true nature and storms off to ask Jerry for advice at lunch.
As the two's love blossoms, our lady-of-the-night learns the true meaning of what it is to be a fairy tale princess. The man who will sweep you off your feet will be the man who can buy you what ever you want when you want it, but Vivian doesn't like the offer Eddie makes. It sounds so dirty–like she would be whoring her body or something–and this woman is now pretty, so she holds out for her fairly tale ending.
Eddie changes for the better
Eddie's change is not just related to Vivian. He no longer wants to dismantle the Morse Company. Nope. He wants to build, not destroy the Morse Company. They build the ships. The Navy buys the ships. The ships have sailors. The sailors buy prostitutes, and the prostitutes then buy baby formula. Trickle Down Economics at is best.
Eddie saves the village, now it's time to win the girl. He overcomes the useless plot point of his Primal Fear of heights, and Vivian gives up the snatch patch so she can go back to school. We all know that is a bunch of shit, because if she's going to marry a millionaire, she never has to work a day again for the rest of her life even if Eddie doesn't come for her. The School of Life already taught her that lesson.
The Final Analysis
Disney wants us to believe that prostitution can be a lucrative profession, as long you find the right John, and generations of people agree.
Additional Film Information
Rate the Film!
Touchstone Pictures released Pretty Woman on March 23, 1990. Garry Marshall directed the film starring Richard Gere, Julia Roberts, and Jason Alexander.