Film and Plot Synopsis
Christine is a student at an exclusive all-girls private school. She's in love with Jim who attends an academy for boys nearby. A fellow classmate named Jordan also has the hots for Jim, and is willing to anything to steal him away. When Christine and Jim run away together for the weekend, their sexcapade isn't as romantic as they had hoped. Throw in Jim's BFF who's banging Christine's BFF, Betty; an awkward Parents' Day, and a few '80s nerds, and wacky hijinks ensues.
Buy the Film
Private School [Blu-ray]
3 new from $16.99
1 used from $24.06
Free shipping
as of September 22, 2023 6:07 pm
*As an Amazon Associate we earn from qualifying purchases.
'Private School' Movie Summary
The summary below contains spoilers.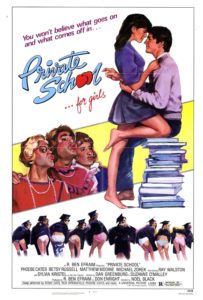 Private School begins one evening night at the Cherryvale Academy for Women in Southern California. Christine Ramsay (
Phoebe Cates
) is a student reading passages from a pornographic novel to her roommate, Betsy Newhouse (
Kathleen Wilhoite
). We see the girl's boyfriends, Jim Green (
Matthew Modine
) and Bubba Beauregard (
Michael Zorek
), outside their window; visiting from the nearby Freemount Academy for Men. Along with a token '80s nerd named Roy (
Jonathan Prince
), the boys make a human ladder to see in the window.
Bubba takes many Polaroids of a senior named Jordan Leigh-Jensen (Betsy Russell) while she showers. She spots him in a mirror and then goes to Christine's room wearing nothing but a towel. Bubba reaches through the window and grabs it, but his excitement, the other boys collapse beneath him, and they all tumble to the ground. Jordan returns to her room, and tells her roommate Rita Flugel (Kari Lizer) how much she hates Christine. Rita thinks she's just jealous of her and Jim's relationship. While Jordan denies it, she decides to seduce Jim to break him and Christine up.
That same night, students from both schools head to the Cherryvale ballroom for a dance. The school's headmistress named Miss Prudence Dutchbok (Fran Ryan) greets everyone and introduces the visiting ladies of the Cherryvale Building Committee. They are sponsoring construction of a new wing for the school, so everyone needs to be on their best behavior! She escorts the committee back to her office only to find Bubba and Betsy getting ready to make sweet, sweet love on her couch. Their arrival ruins the fun.
The next day, the committee's tour of the school continues. They arrive to Ms. Regina Copuletta's (Sylvia Kristel) sex ed class right as she gives a song and dance about reproduction. Jordan of course wants to know what's more important; length or width. By the time class is over, Christine's decided she is ready to give her v-card to Jim, and makes a an awkward weekend reservation for them at a seaside love nest called the Hotel D'Amour.
Then during the equestrian class later in the day, Jordan flashes her lovely lady lumps for everyone to see; hoping to entice Jim. While yes, they are quite enticing—in fact some of the nicest bareback riding you'll ever see. Jim and Christine next head out to some buy condoms from Martin Mull, and more awkwardness ensues.
That night, Bubba and Roy egg Jim on to call Christine. When he does, Jordan listens in on another phone. Jim tells Christine that he loves her, and Jordan jumps into the conversation; mocking him before hanging up. Time for some revenge! Betsy sneaks into the locker room and sabotages a few cheerleader uniforms thinking they are Jordan and Rita's.
When the girls later put on the uniforms, Betsy realizes the wrong people have grabbed the sabotaged uniforms. Grinning from the sideline of the football field, Betsy tells Christine to keep an eye on Coach Whelan (Julie Payne) and Rita. Each woman has a breast flop out of their uniform a they practice their cheerleading routine. The school girls, Jim, Bubba, and the entire Freemount football team have a good laugh (some are turned on I'm sure). Miss Dutchbok doesn't know for sure who's responsible for the little stunt, but she blames Jordan, Rita, Christine, and Betsy for it. She restricts them to campus for the whole week because even if they are innocent, they have done plenty in the past to warrant the restriction.
A few nights later, Jim, Bubba, and Roy dress as girls so they can visit Christine and Betsy. However, when they get inside the dorm, Jordan immediately recognizes them. She takes Bubba to Betsy's room, and takes Jim, who claims to be Christine's sister, to hers for a sexy massage and seduction. Roy is left to fend for himself.
In Betsy's room, she tells Bubba she wants some foreplay before they have sex. He balks. Instead, he climbs out the window and spies on Jim before falling off the window sill. He then heads over to the gym to watch the girls shower. His luck runs out when he finds himself trapped inside the sauna with Miss Dutchbok.
Back in Jordan's room, Jim must finally reveal who he really is when she tries to take his shirt off. Jordan then pushes him into the hallway where she accuses HIM of trying to seduce HER in front of Christine as she comes back to the dorm. Jim pleads his innocence to Christine, but she stupidly believes Jordan instead, and runs off. By now, Bubba's escaped the sauna and found Jim and Roy. Dejected, the boys return to their own dorm alone.
Cue the sad Christine '80s montage where Jim tries to win her back to no avail.
The next weekend is Parents' Day! Jim decides to explain the funny misunderstanding he's had with Christine to her father (Burke Byrnes). Dad says Christine's her own woman, but he'll put in a good word for Jim. Betsy tells Christine she's giving Bubba another chance after leaving her the other night, and if she can forgive Bubba, Christine can forgive Jim. Besides, Christine never cancelled the hotel reservation.
Meanwhile, Jordan's impatiently waiting for her perennially late father, Mr. Leigh-Jensen (Frank Aletter) who likes to make an entrance. When he does show up, his latest trophy wife, a very young woman named Bambi (Karen Chase) tags along. Needless to say, Jordan's a bit embarrassed, and annoyed with her father and new step-mother.
Speaking of embarrassment, Rita's father, Frank (Richard Stahl) is always drunk, and today's no different. When he accidentally pushes Miss Copuletta into the swimming pool, Jordan's father rescues the woman. With her encouragement, he gives her a little mouth-to-mouth resuscitation, and Bambi angrily leaves.
Out in the parking lot, Miss Dutchbok mistakes the Leigh-Jensen's chauffeur named Chauncey (Ray Walston) for his employer and she asks him for a donation to the school. Chauncey takes Miss Dutchbok inside his limousine, pulls a curtain closed, and gives her a different kind of deposit.
Bubba and Betsy show up, and thinking the limo is empty, do they try to do the dirty in the front seat until they realize they are not alone. Betsy takes a microphone Chauncey uses to yell at people outside the car as he drives and places it behind the curtain. It broadcasts the attempted seduction of Miss Dutchbok to all of the parents at Parents' Day. However, the naughty headmistress reaches through the curtain and chokes Bubba. This causes him to accidentally release the emergency brake, and the limousine to careen through the party; finally coming to a stop in the swimming pool.
An unspecified amount of time passes and Christine and Jim finally leave for the Hotel D'Amour. Over at the Freemount campus, Bubba bets Roy (and anyone else) that he can persuade Jordan to remove her clothes for him. Expecting to meet Jim, Jordan enters his room unaware that several boys are hiding in it. When Bubba sprays her with red wine, Jordan takes off her dress, and demands Bubba go get her some soda water so she can get rid of the stain. Betsy shows up, and when the two girls realize Bubba and his friends are being sleaze balls, they beat Bubba with sticks, and then push him out the window. He lands on the cold ground surrounded by empty beer cans.
We cut to the honeymoon hotel where Jim learns how to tip. Unfortunately, there's nothing romantic about the place, and Christine winds up getting sick from the complimentary champagne. The two go to bed without anyone losing their virginity. The next morning, when Christine finds Jim on the beach, they make sweet, sweet love in the waves From Here to Eternity style; no harm comes to Martin Mull's condoms. They stay safe in their wrappers!
More unspecified amount of time passes, and it's graduation day at Cherryvale. Jordan arrives late because her father decided to marry Miss Copuletta that morning. Jim's there with Roy who is dressed as a middle-aged man and Bubba dressed as a woman. A drunk Mr. Flugel flops down in an occupied seat next to Bubba and tries to cop a feel. Bubba knocks him out cold with his purse.
As Chauncey looks on in the parking lot from his limo, Miss Dutchbok finishes her commencement speech. Betsy leads the graduating girls in a happy goodbye poem, "Graduation, Cherryvale! You won't forget us soon! Sunny days ahead of us! We leave behind this moon!" The girls then moon the crowd to show us their happy endings.
Additional Film Information
Rate the Film!
Universal Pictures released Private School on July 29, 1983. Noel Black directed the film starring Phoebe Cates, Betsy Russell, and Matthew Modine.