Film and Plot Synopsis
Cassandra "Cassie" Thomas seems to be a stuck in a rut thirty-year-old who lives with her parents. However, she is a dangerously smart and cunning woman who has been traumatized by the suicide of her childhood friend, Nina. Nina was raped by a fellow classmate when she and Cassie attended medical school years before. When Cassie sees an opportunity to get revenge on everyone that she believes is responsible for Nina's death, the question is not will Cassie take advantage of the opportunity, but how far is Cassie willing to go.
Buy the Film
Promising Young Woman - Blu-ray + Digital
11 new from $9.79
21 used from $4.34
Free shipping
as of June 4, 2023 10:26 pm
*As an Amazon Associate we earn from qualifying purchases.
'Promising Young Woman' Movie Summary
The summary below contains spoilers.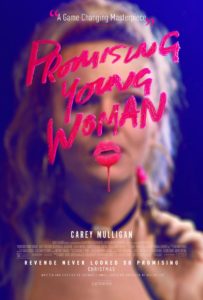 The film opens in a bar where three friends observe an attractive woman who appears to be severely intoxicated. One of the friends, Jerry (
Adam Brody
), approaches the woman, named Cassandra "Cassie" Thomas (
Carey Mulligan
), and asks her if he can take her home. She agrees, but Jerry takes her to his place instead. He offers her a drink and then attempts to have sex with her. Cassie stops his attempts and reveals that she is completely sober. Cassie's tone and deception freak out Jerry.
The next day, Cassie is working at her job at a coffee shop when she is approached by a former classmate from medical school, Ryan Cooper (Bo Burnham). Ryan tries to flirt with Cassie, but she is not interested and openly spits in Ryan's coffee. Surprisingly, Ryan drinks the coffee anyways and continues to ask her out. Cassie continues to reject him. That night, Cassie is acting intoxicated again when she is picked up by a guy named Neil (Christopher Mintz-Plasse). Neil does not try to have sex with her, but he does try to kiss Cassie. Cassie lets him off with a warning.
The audience then finds out that Cassie lives with her parents Stanley and Susan Thomas (Clancy Brown and Jennifer Coolidge). Cassie appears to be stuck in life having dropped out of medical school after her childhood best friend, Nina Fisher, was raped by another fellow classmate Alexander "Al" Munroe (Chris Lowell). The school and the legal system dropped the investigation rather than accuse Munroe of rape. In the aftermath, Nina committed suicide and Cassie was devastated by the loss of her best friend.
Look how easy that was. I guess you just had to think about it in the right way. I guess it feels different when it's someone you love. Cassie Thomas
A few days later, Ryan comes back to the coffee shop and continues to pursue a relationship with Cassie. During their conversation, Ryan reveals that Munroe is going to get married in a few weeks. Cassie begins a plan to get revenge on those she holds responsible for Nina's rape and suffering. Initially, she meets with Madison McPhee (Alison Brie), a friend who did not believe Nina was raped. She meets Madison for lunch, and they talk about their days in school, including Nina. Madison indicates that she still does not believe Nina was raped. Cassie gets Madison drunk and then hires a man to take Madison to a hotel room. The next day, Cassie begins receiving voicemails from a distraught Madison, who has no memory of what happened the day before.
Next, Cassie targets Elizabeth Walker (Connie Britton), the medical school dean who dismissed Nina's case for lack of evidence. Cassie lures Elizabeth's teenage daughter Amber (Francisca Estevez) into her car by posing as a makeup artist for a popular boy band. Afterwards, Cassie attends a meeting with Walker under the pretense of resuming her medical education. During the conversation, Cassie asks her about Nina's case, and Walker downplays the incident. Cassie reveals to Walker that she dropped Amber off at a dorm room with a group of drunk male students. Cassie also provides Amber's cellphone to Walker when she tries to call her daughter in a panic. A panicked Walker apologizes for her dismissal of Nina's allegations, and Cassie reveals that Amber is safe at a diner.
That night, Cassie forgets to meet Ryan for a date. Instead, Cassie lures another man (Sam Richardson) at a bar into taking her home. As they are leaving the bar, Cassie runs into Ryan. Ryan is devastated, and after he confronts Cassie he leaves. Cassie's target realizes that she is sober and recognizes her from the previous night when his friend Jerry picked her up. He leaves her in the parking lot.
The next day, Cassie visits Jordan Green (Alfred Molina), Al's lawyer, who harassed Nina into dropping her charges with the police. Green is disturbed by his actions as a lawyer and expresses true remorse for his involvement in suppressing the truth. Green informs Cassie that he suffered a mental breakdown over his overwhelming guilt. Cassie forgives him. Shortly afterwards, Cassie visits Nina's mother (Molly Shannon), who urges Cassie to move on with her life. Cassie decides to abandon her revenge. As a first step, she goes to Ryan's apartment and apologizes for lying to him. He forgives her, and the two begin to date. Soon they fall in love, and Ryan becomes a staple of Cassie's new positive life.
A short time later, Madison confronts Cassie outside of her parents' house, desperate to know what happened to her after their lunch. Cassie reassures her that nothing happened. Madison gives Cassie an old phone containing a video of Nina's rape. Before leaving, Madison directs Cassie to never contact her again. A conflicted Cassie watches the video, realizing that she will return to her old ways. In the video she sees Munroe raping Nina. However, she also sees that Ryan is one of the spectators who sat and watched as her best friend was raped. Cassie goes to Ryan's work and threatens to release the video unless he tells her where Munroe's bachelor party is being held. Fearful that his career as a doctor could come to an end, Ryan tells her the location of the party and begs for Cassie's forgiveness. Cassie rejects his apology.
Cassie proceeds to the bachelor party, dressed as a stripper. Cassie wears a necklace with half of a charm with Nina's name on it. Once there, she drugs all the party goers and takes Munroe upstairs. Cassie handcuffs Munroe to a bed and reveals her identity. Munroe continues to deny what he did and states that he was only a kid when it happened. Cassie takes a scalpel and tries to carve Nina's name into Munroe's stomach. However, Munroe breaks free from one of the handcuffs and suffocates Cassie with a pillow. The next morning, Munroe's friend Joe (Max Greenfield) calms a panicked Munroe and helps him dispose of the body by burning it in the woods near a small stream. Cassie's parents file a missing person report, and the police begin a criminal investigation. Ryan is questioned, and he informs them that Cassie was mentally unwell. Ryan does not tell police that Cassie was going to the bachelor party.
A few days later, Green receives a package from Cassie with the video of Nina's rape and instructions to follow if she does not return. Cassie's boss (Laverne Cox) at the coffee shop finds Cassie's half of the charm neckless with Cassie's name on it under the cash register. Soon after, Munroe is at his wedding reception, where Ryan is in attendance. Ryan begins receiving several scheduled texts from Cassie, signed with her and Nina's names. The implication is that Cassie has used Green to release the video. The police arrive at the reception and arrest Munroe for the murder of Cassie. In flashback, the police are shown to find the chard remains of Cassie with Nina's half of the charm neckless.
Additional Film Information
Rate the Film!
Focus Features released Promising Young Woman on December 25, 2020. Emerald Fennell directed the film starring Carey Mulligan, Bo Burnham, and Alison Brie.