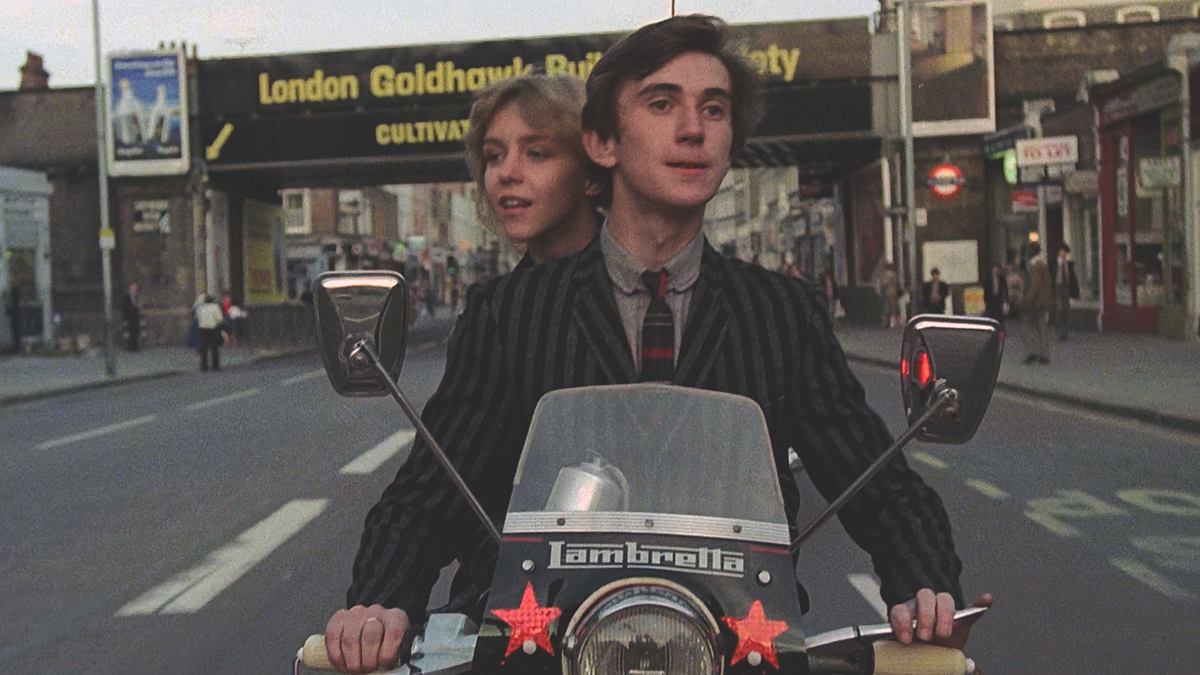 Film and Plot Synopsis
Our antihero is Jimmy, a teenager dissatisfied with family, work, and love. He spends his time knocking around with his clothes-obsessed, pill-popping, scooter-driving fellow mods, a group whose antipathy for the motorcycle-riding rockers leads to a climactic riot in Brighton.
Buy the Film
Quadrophenia (The Criterion Collection) [Blu-ray]
6 new from $27.98
5 used from $19.95
Free shipping
as of December 5, 2022 1:46 pm
*As an Amazon Associate we earn from qualifying purchases.
'Quadrophenia' Movie Summary
The summary below contains spoilers.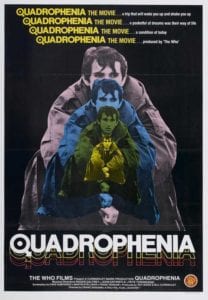 Quadrophenia begins in London ca 1964. Jimmy Cooper is a young Mod living in Ruttsville. He's dissatisfied with his parents and his job as a post room runner at an advertising firm. Jimmy and his Mod mates, Dave, Chalky, and Spider spend their free time riding around town on scooters, fighting their rivals the Rockers, partying, and downing amphetamines.
It turns out that Jimmy's childhood friend, Kevin, is a Rocker, and after that gang attacks Spider, the Mods retaliate with a beat down of their own on Kevin. Jimmy initially participates in the attack, but when he sees the victim, he yells at his buddies. He doesn't stop the attack though, so he rides off in a huff on his scooter.
The rivalry will escalate between the two clubs/cults/gangs (whatever you want to call them) during an upcoming holiday weekend at a seaside town called Brighton. Jimmy wants to be noticed as what the cool kids call a "face", so he asks Steph, whom he has a crush on, to ride into town with him. It's not happening though. She's planning on riding with an older and more respected Mod named Pete.
As they get ready for the big weekend, some of the boys buy drugs from the London gangster, Harry North. However, he cheats them, and sells them fake pills. The boys vandalize his car in return for the favor, and then rob a pharmacy where they find some of their favorite drugs.
The weekend arrives, and the Mods ride on down south to Brighton. There, Jimmy meets a Mod he names Ace Face…a bit temperamental that one. He next heads to a dance hall where he spots Steph. It looks like Pete has ditched her for an American hottie, so Jimmy agrees to introduce her to Ace Face, but once on the floor, he tries to dance with her instead. She denies him once again, and leaves Jimmy to dance with Ace Face.
Jimmy isn't deterred. He climbs up and onto the balcony's edge, and begins dancing for the crowd below. This attention leads to much applause, but pisses off Ace Face. Jimmy dives off the balcony and into the crowd where the bouncers promptly snatch him up, and toss him out.
Steph's now completely alone as the boys have all ditched her, so Jimmy puts his moves on her again. He wants her to stay with him for the night, but the third time is not the charm for Jimmy, and she shoots him down yet again; instead, opting to stay with another girl. Poor Jimmy.
The following morning, the boys meet at a local cafe, and then start trouble along a quaint promenade. The police arrive to quell the little uprising. Jimmy and Steph flee down an alleyway where they take a hot second to examine each other's undercarriages in the melee for a quick shag.
The two emerge from their bit of buggery only to find themselves in the middle of the riot. With the police now detaining everyone, Jimmy and Ace Face quickly find themselves under arrest. When the town fines them £75 for their offenses, Ace Face smugly offers to write the magistrate a check for it; much to the delight of his fellow Mods.
Once Jimmy returns home to London, he begins a downward spiral mostly due to his depression. When his mother finds a stash of amphetamines, she promptly tosses them…and him out of her house. Jimmy then quits his job after they question him about his tardiness. He uses his severance money to buy more pills, and to make things worse for him, Steph is now dating his buddy Dave. This leads to a little spat with Dave, and to Steph completely rejecting him.
Not too long after, Jimmy crashes the only thing he has left that he loves in the world; his Lambretta scooter. With it now destroyed from the accident, he takes a train back home. This leads to him popping more and more pills which increases his mental instability.
To clear his head, Jimmy returns to Brighton. There he relives a bit of that glorious weekend where he rioted in the streets and banged Steph. However, he unexpectedly finds his idol, Ace Face, working as a lowly bellboy at one of Brighton's hotels which really stings.
Disenfranchised with life even more, Jimmy steals Ace's scooter, and drives off to Beachy Head…and getting very close to the edge of the cliff I might add. We see the scooter fly off the cliff top, and the film ends with Jimmy walking away into the sunset.
Rate the Film!
Universal Pictures released Quadrophenia on November 2, 1979. Franc Roddam directed the film starring Phil Daniels, Leslie Ash, and Phil Davis.